EMBL and Helmholtz Health join forces
Stronger together: EMBL and Helmholtz Health formalise their collaboration in research and development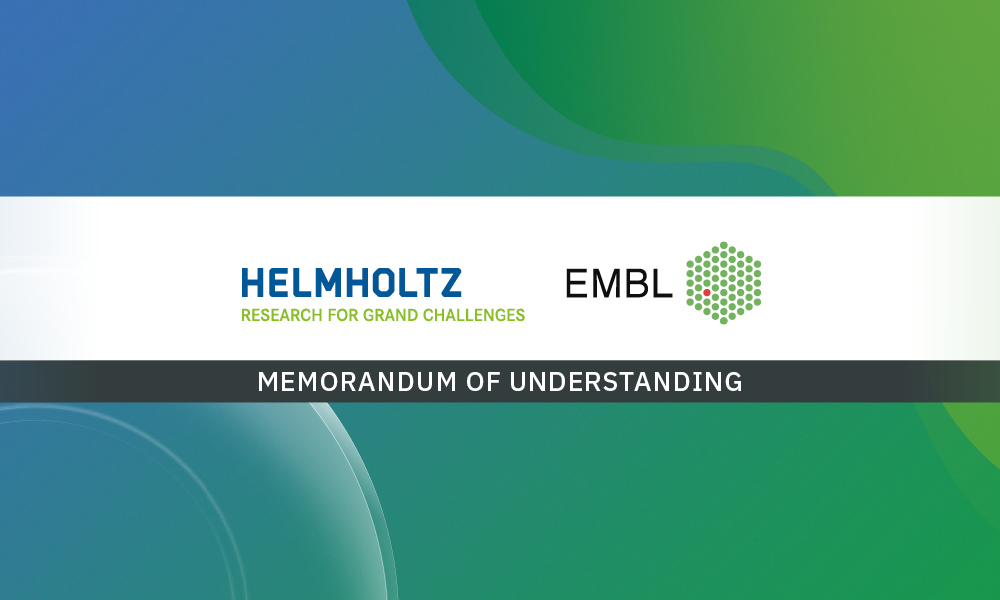 EMBL and the six Helmholtz Centers of the Research Field Health (Helmholtz Health) are expanding their collaboration. The two research organisations are cooperating to expand the frontiers of health research and advance scientific progress for human health.
Data science, microbiome research, environmental research, infection biology, and health and disease research with a special focus on cancer and antibiotics – these interdisciplinary topics are the focus of the memorandum of understanding (MoU) signed by EMBL and Helmholtz Health. With this agreement, the two organisations will join forces to address pressing challenges for science and society. They hope to further advance European research in the fields of prevention, epidemiology, and personalised medicine, as well as contribute to knowledge and technology transfer.
"This collaboration between Helmholtz Health and EMBL will enable more efficient responses to societal challenges, such as future pandemics, climate change, and antimicrobial resistance," said EMBL Director General Edith Heard. "By working together in the areas of human ecosystems, infection biology, and environmental biology, we can improve human and planetary health."
Otmar D. Wiestler, President of the Helmholtz Association, said: "EMBL and Helmholtz Health combine their enormous strengths across countries and disciplines and are building up extraordinary scientific expertise. We need creative and innovative approaches in health research to consistently advance the topic of prevention. At the same time, with this cooperation we offer talented young scientists on both sides the unique opportunity to conduct interdisciplinary research at EMBL and Helmholtz."
"The scientific interests of EMBL and Helmholtz Health complement each other perfectly, so that the collaborations can add real value to research and thus bring tangible benefits to health," said Michael Baumann, Vice-President for the Research Field Health and Chairman of the Board of the German Cancer Research Center (DKFZ).
In the Helmholtz Association, 18 scientific-technical and medical-biological research centres work together strategically and programmatically in six research fields. In the field of health, the six centres that make up Helmholtz Health focus on the early detection and early treatment of diseases for a healthy and long life. The six centres are the German Cancer Research Center, the German Center for Neurodegenerative Diseases (DZNE), the Helmholtz Centre for Infection Research (HZI), the Helmholtz-Zentrum Dresden-Rossendorf, the German Research Center for Environmental Health (HMGU) and the Max Delbrück Center for Molecular Medicine in the Helmholtz Association (MDC). EMBL, the European flagship laboratory for life sciences, conducts basic research in molecular biology and explores the history of life. The new MoU extends existing relationships between EMBL and individual Helmholtz Centers. This includes a local alliance with the German Electron Synchrotron (DESY) and an MoU on joint research projects with the German Cancer Research Centere (DKFZ). EMBL scientists also cooperate with researchers at other Helmholtz Health.
---
Gemeinsam stark: EMBL und Helmholtz Health bauen ihre Zusammenarbeit in Forschung und Entwicklung aus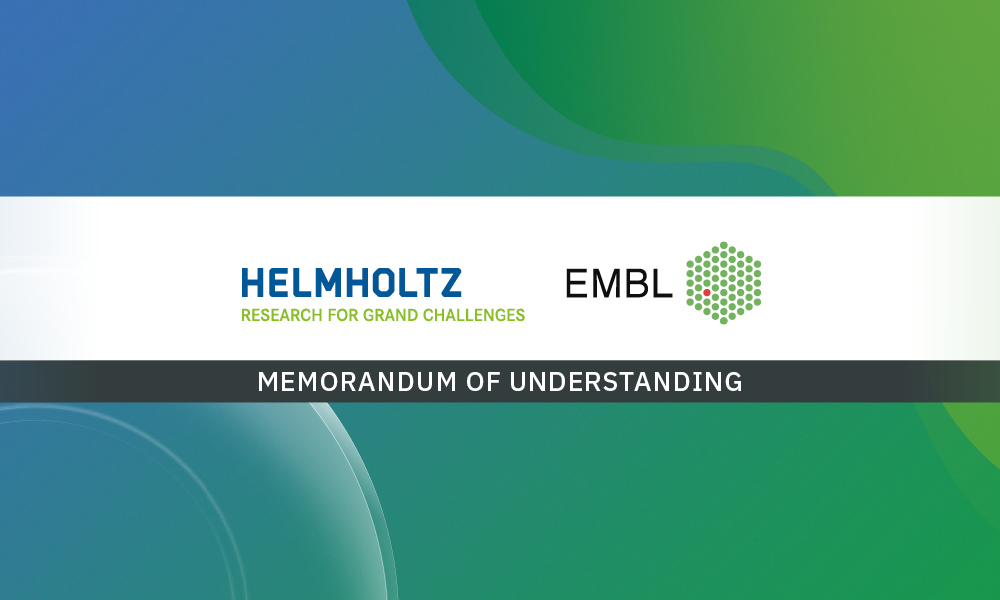 EMBL und die sechs Helmholtz-Zentren des Forschungsbereichs Gesundheit (Helmholtz Health) intensivieren ihre Zusammenarbeit. Damit kooperieren zwei herausragende Forschungsorganisationen, um die Grenzen der Gesundheitsforschung zu erweitern und den wissenschaftlichen Fortschritt für die Gesundheit der Menschen voranzubringen.
Data Science, Mikrobiomforschung, Umweltforschung, Infektionsbiologie sowie Gesundheits- und Krankheitsforschung mit besonderem Fokus auf Krebs- und Antibiotika – diese interdisziplinären Themen stehen im Mittelpunkt der vom Europäischen Laboratorium für Molekularbiologie (EMBL) und vom Helmholtz Forschungsbereich Gesundheit (Helmholtz Health) unterzeichneten Absichtserklärung. Mit der Vereinbarung wollen EMBL und Helmholtz Health ihre Zusammenarbeit intensivieren und ihre Kräfte bündeln, um die drängenden Herausforderungen für Wissenschaft und Gesellschaft gemeinsam anzugehen. Ziel ist es unter anderem, die europäische Forschung in den Bereichen Prävention, Epidemiologie sowie personalisierte Medizin weiter voranzutreiben und einen Beitrag zum Wissens- und Technologietransfer zu leisten.
"Diese Zusammenarbeit zwischen Helmholtz Health und EMBL wird es ermöglichen, effizienter auf gesellschaftliche Herausforderungen wie künftige Pandemien, Klimawandel und Antibiotikaresistenzen zu reagieren", sagt EMBL-Generaldirektorin Edith Heard. "Indem wir in den Bereichen menschliche Ökosysteme, Infektionsbiologie und Umweltbiologie zusammenarbeiten, können wir die Gesundheit von Mensch und Erde verbessern."
Otmar D. Wiestler, Präsident der Helmholtz-Gemeinschaft, sagt: "EMBL und Helmholtz Health bündeln ihre enormen Stärken länder- und fachübergreifend und bauen eine außerordentliche wissenschaftliche Expertise auf. Wir benötigen kreative und innovative Ansätze in der Gesundheitsforschung, um das Thema Prävention konsequent voranzubringen. Gleichzeitig bieten wir mit dieser Kooperation talentierten Nachwuchswissenschaftlern auf beiden Seiten die einmalige Möglichkeit, interdisziplinär bei EMBL und Helmholtz zu forschen."
"Die wissenschaftlichen Interessen von EMBL und Helmholtz Health ergänzen sich hervorragend, so dass die Kooperationen einen echten Mehrwert für die Forschung bedeuten und damit einen spürbaren Gewinn für die Gesundheit erbringen können", sagt Michael Baumann, Vorstandsvorsitzender des Deutschen Krebsforschungszentrums und Vizepräsident für den Forschungsbereich Gesundheit.
In der Helmholtz-Gemeinschaft arbeiten18 naturwissenschaftlich-technische und medizinisch-biologische Forschungszentren in sechs Forschungsbereichen strategisch-programmatisch zusammen. Im Bereich Gesundheit (Helmholtz Health) konzentrieren sich sechs Zentren darauf, Erkrankungen rechtzeitig zu erkennen und frühzeitig zu behandeln – für ein gesundes und langes Leben.
Die Absichtserklärung unterzeichneten: Das Deutsche Krebsforschungszentrum (DKFZ), das Deutsche Zentrum für Neurodegenerative Erkrankungen (DZNE), das Helmholtz-Zentrum für Infektionsforschung (HZI), das Helmholtz-Zentrum Dresden-Rossendorf e.V. (HZDR), Helmholtz Zentrum München – Deutsches Forschungszentrum für Gesundheit und Umwelt (HMGU) und das Max-Delbrück-Centrum für Molekulare Medizin in der Helmholtz-Gemeinschaft (MDC).
EMBL, das europäische Vorzeigelabor für Biowissenschaften, betreibt Grundlagenforschung in der Molekularbiologie und erforscht die Geschichte des Lebens. EMBL arbeitet bereits mit zwei Helmholtz-Zentren zusammen, in einer lokalen Allianz mit dem Deutschen Elektronen-Synchrotron (DESY) und in einer Absichtserklärung zu gemeinsamen Forschungsvorhaben mit dem Deutschen Krebsforschungszentrum (DKFZ). EMBL-Wissenschaftler kooperieren außerdem mit mehreren anderen Helmholtz Zentren, z. B. mit dem Helmholtz Zentrum München – Deutsches Forschungszentrum für Gesundheit und Umwelt (HMGU), dem Helmholtz-Zentrum für Infektionsforschung (HZI) und dem Max-Delbrück-Centrum für Molekulare Medizin (MDC) in Berlin.
---