DKFZ and EMBL intensify cooperation
The two research institutions have signed a joint Memorandum of Understanding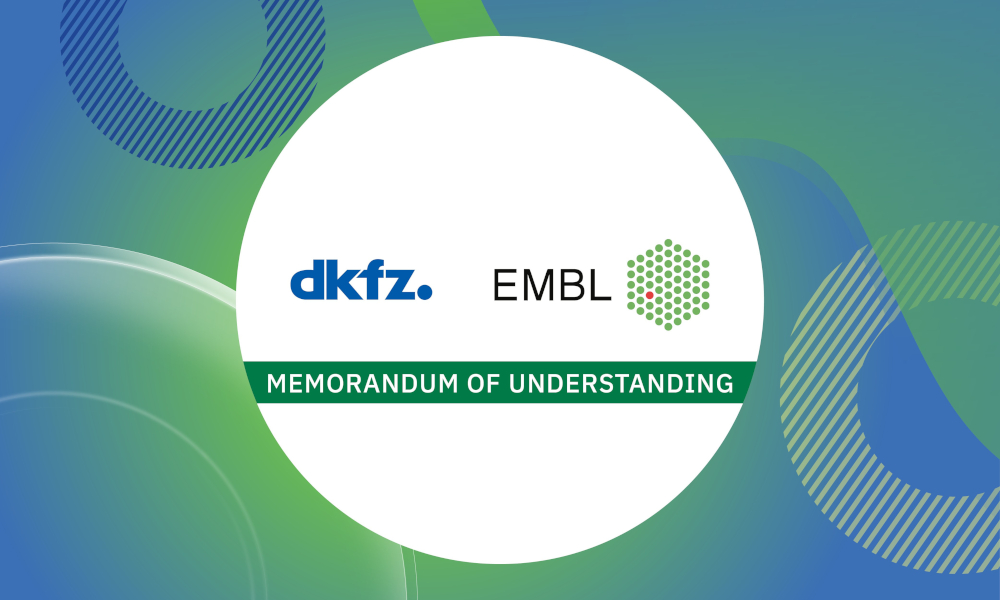 The development of new strategies for processing and analysing life science data, the further development of scientific imaging, the search for new active substances for drugs: These are the tasks that the German Cancer Research Center (DKFZ) and the European Molecular Biology Laboratory (EMBL) want to tackle together in the future. The two research institutions, which are among the international leaders in their fields, have now signed a joint Memorandum of Understanding to intensify their cooperation.
The research spectra of the two Heidelberg-based institutions are closely intertwined: EMBL covers broad areas of molecular biology at the highest scientific level and researches the fundamental processes of life. The expertise of the internationally renowned DKFZ researchers ranges from basic cancer research, which is strongly influenced by molecular biology, to all steps of translation and early clinical trials. "Our research interests coincide in so many areas and this is precisely why we want to combine our scientific strengths in the future," says Edith Heard, Director General of EMBL. Michael Baumann, Chairman of the Board of DKFZ, adds: "We want to facilitate the exchange of research data, share technology platforms and offer talented young scientists the opportunity to conduct research at both institutions."
EMBL and DKFZ have already been successfully collaborating in some research areas, for example in chemical biology for the development of new active substances or in the evaluation of tumour genome sequencing data. This cooperation is now to be considerably expanded and intensified. Further joint research interests exist in particular in the area of developing new AI applications for medicine and life sciences. The further development of innovative scientific imaging techniques as well as molecular single-cell analyses that can depict the evolution of cancer tumours are also to be jointly advanced in the future.
DKFZ und EMBL intensivieren Zusammenarbeit
Die beiden Forschungseinrichtungen haben eine gemeinsame Absichtserklärung unterzeichnet
Die Entwicklung neuer Strategien zur Verarbeitung und Analyse lebenswissenschaftlicher Daten, die Weiterentwicklung der wissenschaftlichen Bildgebung, die Suche nach neuen Wirkstoffen für Medikamente: Diese Aufgaben wollen das Deutsche Krebsforschungszentrum (DKFZ) und das Europäische Laboratorium für Molekularbiologie (EMBL) in Zukunft gemeinsam angehen. Die beiden Forschungseinrichtungen, die in ihren Fachgebieten zur internationalen Spitze zählen, haben nun eine gemeinsame Absichtserklärung unterzeichnet, um ihre Zusammenarbeit zu intensivieren.
Die Forschungsspektren der beiden in Heidelberg ansässigen Institutionen greifen eng ineinander: Das EMBL deckt auf höchstem wissenschaftlichen Niveau weite Bereiche der Molekularbiologie ab und erforscht viele grundlegende Prozesse des Lebens. Die Expertise der international renommierten DKFZ-Forscherinnen und Forscher erstreckt sich von der stark molekularbiologisch geprägten Krebs-Grundlagenforschung über alle Schritte der Translation bis hin zu frühen klinischen Studien. "Unsere Forschungsinteressen stimmen in so vielen Bereich überein und genau deshalb wollen wir in Zukunft unsere wissenschaftlichen Stärken bündeln", sagt Edith Heard, Generaldirektorin des EMBL. Michael Baumann, Vorstandsvorsitzender des DKFZ, ergänzt: "Wir wollen den Austausch von Forschungsdaten erleichtern, Technologieplattformen gemeinsam nutzen und talentierten Nachwuchswissenschaftlern die Möglichkeit bieten, an beiden Häusern zu forschen."
Auf einigen Gebieten arbeiten EMBL und DKFZ bereits seit längerem erfolgreich zusammen, etwa in der Chemischen Biologie zur Entwicklung neuer Wirkstoffe oder bei der Auswertung von Daten der Tumorgenom-Sequenzierung. Diese Kooperation soll nun erheblich ausgeweitet und intensiviert werden. Weitere gemeinsame Forschungsinteressen bestehen insbesondere im Bereich Entwicklung neuer KI-Anwendungen für Medizin und Lebenswissenschaften. Auch die Weiterentwicklung innovativer Techniken der wissenschaftlichen Bildgebung sowie molekulare Einzelzell-Analysen, die die Evolution von Krebstumoren darstellen können, sollen in Zukunft gemeinsam vorangebracht werden.
Related links