Pol III enzyme grips DNA and begins reading fast
EMBL researchers uncover how a key enzyme that helps cells make new proteins starts its work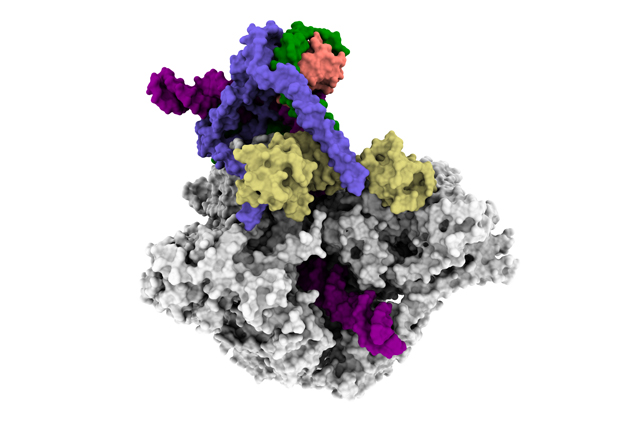 In order to create new tissue, growing and dividing cells need large amounts of protein. In order to do this, a cell sends enzymes to read the genetic instructions, the DNA, and create different types of RNA that, along with helper proteins, cooperate to produce the desired proteins. Although researchers have long known that one such enzyme—RNA polymerase III or Pol III, for short—is a key player in this process, a new study published today in Nature reveals why Pol III is so efficient and how it likely begins to split the two DNA strands apart so quickly. Study authors and EMBL researchers Christoph Müller and Matthias Vorländer break down their findings and explain what they may mean for human health.
What did you find?
Matthias Vorländer: We investigated Pol III in brewer's yeast using a kind of high-resolution microscopy called cryo-electron microscopy. This allowed us to observe Pol III together with a transcription factor—a helper protein that tells Pol III where to start reading the genetic information. We could work out a detailed mechanism how these two key elements work together and how they hold the promoter—the part of the DNA that initiates this process of creating RNA from DNA—really tightly in its grasp by forming a kind of cage around the DNA.
Christoph Müller: The second major aspect is that we now understand how Pol III, along with transcription factors, begins unwinding the DNA so quickly. While other polymerases lose time gathering external factors necessary to begin this process of separating the strands of DNA, Pol III has all the parts it needs already built in, which allows it to start work in less than a second. There's a real elegance in its simplicity.
Why is this important?
Matthias Vorländer: Many cancers are associated with overactivity of Pol III, so potentially, one could design drugs that treat cancer by reducing the activity of Pol III.
Christoph Müller: Pol III is also one of the main controls of longevity. Research has shown that yeast and fruit flies with less active Pol III live longer than those with unaffected Pol III. Although my group focuses on basic research, perhaps one day in the far future, medical researchers might find a way to decrease the activity of Pol III in humans in order to help people live longer, too.