EMBL and ESRF renew collaboration agreement
EMBL and the European Synchrotron Radiation Facility (ESRF) extend their Joint Structural Biology Group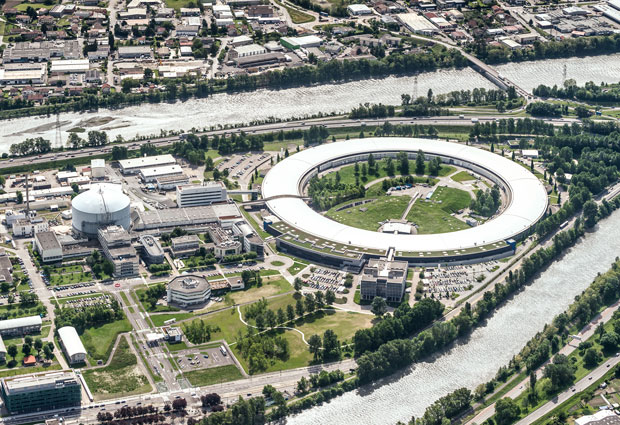 Today, EMBL and ESRF re-expressed their commitment to working together by extending their bilateral collaboration agreement until 2021. The first agreement was signed in 1997, soon after the opening of ESRF. It sets out how the two institutions collaborate on developing new instruments and offering innovative services to structural biologists worldwide.
Under the agreement, EMBL and ESRF scientists and engineers have automated most instruments on the X-ray beamlines, allowing users to collect diffraction data more easily and efficiently, on increasingly small crystals. One recent joint achievement is the full automation of the process of protein structure determination, from protein crystallization to online data collection, via robotic crystal harvesting. This pipeline will be particularly useful to systematically screen how small molecules bind to proteins, an important part in the drug development process. It is therefore not only of interest to academic users, but also increasingly to pharmaceutical companies.
"The ESRF/EMBL Joint Structural Biology Group has an amazing record of instrumentation and methods development that has kept the ESRF at the forefront of structural biology using synchrotron radiation," explains Stephen Cusack, head of EMBL's Grenoble site. "The JSBG has brought enormous benefits to both institutions."
To remain on top of the most recent technological developments, EMBL, ESRF, and IBS decided to complement the instruments available on campus with a powerful cryo-electron microscope: the Titan Krios, inaugurated today. The instrument will be run by a joint ESRF/IBS/EMBL team, with Michael Hons as the participating scientist from EMBL.
This will bring a new possibilities for scientists in Grenoble and for external users. Building on the JSBG's experience with automated sample handling, and on its spirit of collaboration, it is planned to develop new automated technologies for improving sample preparation for cryo-electron microscopy.
Related links