Europe PMC now indexes preprints
Europe PMC hopes to offer a more comprehensive literature search by indexing preprint abstracts from Crossref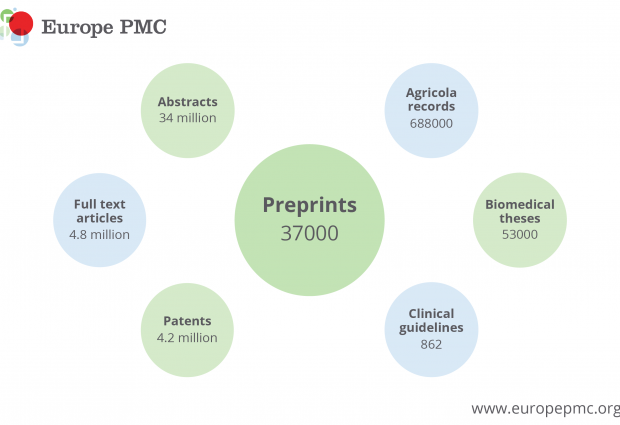 Europe PMC, the discovery platform for life science literature, based at the European Bioinformatics Institute (EMBL-EBI), will include preprint abstracts in the search results, alongside peer-reviewed content, to make science reported in preprints readily discoverable. To begin with, over 37 000 preprints will be available in Europe PMC from July 10, 2018.
Europe PMC is an online repository that provides access to worldwide life science research articles, linked to underlying open research data. Europe PMC currently contains over 34 million abstracts, including all of PubMed, and almost 5 million full text, peer-reviewed research articles, in collaboration with PMC USA.
Rise in preprint popularity
"We've seen an impressive rise in preprint popularity in the life sciences in the last few years – it's a great way to rapidly communicate research results. As more and more peer-reviewed papers start their life as published preprints, it is going to be very interesting to see what effect this has on publishing culture in the life sciences," explains Johanna McEntyre, the Team Leader for Literature Services at EMBL-EBI and Principal Investigator for Europe PMC. "For example, we will need to explore how the availability of preprints will affect peer review processes and practice, credit, and attribution systems, or how we cite the previous work of others."
"We hope that including preprint abstracts into Europe PMC search results, will not only enhance their discoverability, but also provide a community platform to explore some of these open questions."
Accelerate knowledge discovery
"This is a great step forward for open research that will bring life science preprints into one searchable system," adds Robert Kiley, Head of Open Research at the Wellcome Trust. "It will help us to better understand who is using preprints and how we can support the scientific community to share their findings more quickly to accelerate knowledge discovery."
To begin with, Europe PMC will add preprints with DOIs via Crossref services, which will initially include bioRxiv, PeerJ Preprints, ChemRxiv, F1000Res, and the Open Research platforms powered by F1000: Gates Open Res, Wellcome Open Res, HRB Open Res, AAS Open Res, and MNI Open Res. The preprints will clearly be marked as such to differentiate them from peer reviewed research articles. The preprints will be discoverable in the context of peer-reviewed publications in existing infrastructure via one searchable system.
This post was originally published on EMBL-EBI News.
Related links