Humans of EMBL: Outreach
Discover how EMBLers across all sites share their passion for science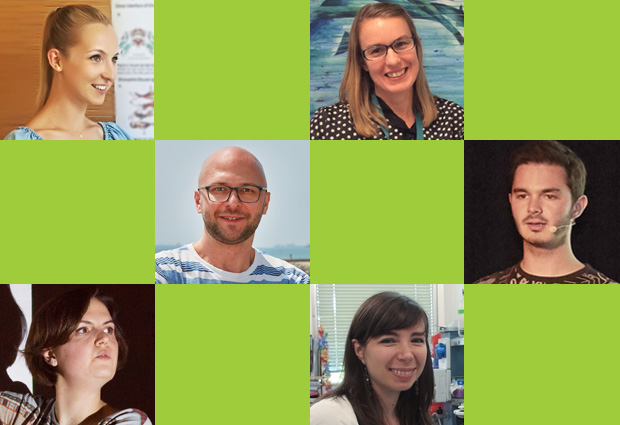 Chiara Morelli
Predoctoral Fellow, EMBL Rome
Doing outreach is part of my DNA. My grandma was a science teacher and she gave me my first microscope when I was six! We would do experiments together and we really enjoyed it. In a way, she was doing outreach with me, and it worked: I've always wanted to become a researcher! Now, I do my best to challenge people's preconceptions about science and scientists.
Last year I was a tutor for the Adamas Scienza summer school. For two weeks, high school students join the labs and get a peek at the research going on at EMBL. This summer school is unique because the experiments we do with the students must be part of our research, not something new. We actually did experiments that I will use in my PhD project; that's something that Rossana and Tommaso – the Adamas organisers – are very keen on. In my case, we used fluorescent dyes to characterise the neurons I was interested in. At the end of the week, the students had a microscope picture of what they had been doing in the lab that they could take home with them. They were very happy about it – one of the students told me that she hung the image on her bedroom wall!
As a tutor, you can see the students' enthusiasm, their will to learn. They are very curious and ask a lot of questions. This is a one-of-a-kind summer school and an enriching experience. I'm looking forward to doing it again and I hope the project will grow!
Alice Clark
Scientific Database Curator, EMBL-EBI
In our office, my computer is everyone's favourite because of the PDB Art project, in which school students email me pictures of their artwork! I'm an annotator at the Protein Data Bank in Europe (PDBe) and, in addition to annotation, each of us has a project we're involved in. The PDB Art project began by chance: Sameer, my boss, was telling one of his daughter's school friends about the beautiful molecules in the PDBe and she asked if she could draw them for her art class at school. So he put me in touch with her. We met and I explained to her how proteins are represented in different ways, and how to use the PDBe website. Then she did the project on her own. Six months later, the photos of the artworks arrived in our office. They're amazing! It was from here that the project developed into what it is today.
In this project, I'm not always teaching science formally or in a traditional way. To me, the art students involved don't need to understand what an amino acid is, but to understand that we are built of proteins and that they are relevant to our everyday life. I tell them how, when they take some medicine, it does something to a protein in their body. I feel that students who gave up science a couple of years ago are still getting a flavour of it and will be able to appreciate it more, because this way it's more accessible. It's very different from what I usually do, but I'm happy to get outside my comfort zone for this – I really enjoy it!
Pauline Juyoux
Predoctoral Fellow, EMBL Grenoble
I really like explaining my research to people who have a completely different background. They have interesting questions that make me look at things in new ways. That's one of the reasons why I enjoyed giving a talk at Pint of Science in Grenoble. I was very lucky to participate, because Pint of Science is an open event and Grenoble is my hometown, so my family and friends had a chance to learn more about the work I do in the lab.
Preparing the presentations, together with Erika Pellegrini, was extremely interesting. We realised how many things we assume people know: even the way we represent things is not obvious to people outside the field! I also learnt that you need to master what you say, to be able to express difficult concepts in a simple way and make people understand. As a scientist, you learn a lot doing public outreach: you improve your presentation skills and the way you explain your research. It's a lot of work, but really motivating because you see people getting excited about what you're doing. This is especially important when you spend long days in the lab and it's not working and you're not feeling excited about it. I really like when people ask, "Oh, hasn't anyone done this before?" And you reply, "No, that's why I'm trying!"
Philipp Walch
Predoctoral Fellow, EMBL Heidelberg
I really enjoyed the Science Movie Night. The room was full of interested people who stayed long after the movie – Contagion – finished, because they had a lot of questions. Contagion was a very good choice, I think it's a very accurate movie in terms of science. That allowed us to stop the movie several times and explain to the audience what was happening. It was a lot of work to prepare, but so much fun, because you get to watch the movie beforehand and analyse the smallest bits and pieces – even the smallest pieces of dialogue that no one will listen to, and you're like: "Ha! Let me fact check this!" and everything was actually pretty accurate!
I also enjoyed it because, as a scientist, it's good to take a step back and look at the bigger picture: why am I doing research? What is the purpose of it? I think outreach is a good way to change our perspective. Working at EMBL I get to do what I love, and that's a privilege. Scientists build their reputation, publish research, and get to travel and meet interesting people. I hope we deserve these good things, but I believe we need to give something back to the society that enables us to do them. There are a lot of ways to do this, like teaching or getting involved in science policymaking, but I would recommend participating in outreach activities. To everyone, I'd say: "Do it!" All these noble reasons first, but also because it's a lot of fun!
Sandra Kozak
Predoctoral Fellow, EMBL Hamburg
For a couple of years I've participated in EMBL Hamburg's 'Night of Science'. It's a popular event and the visitors usually come with their kids, who want to play, and then the adults stay around and start asking questions. I usually give a simple explanation of the concept of protein crystallisation to the kids, who then have to imitate the crystal packing with rubber ducks to get some candy. While the kids play, I use a poster to give a more in-depth explanation for the adults, who usually have a lot of questions.
When doing outreach and explaining the biology we do at EMBL, I often hear the question: when are we going to cure cancer? What I like to reply is that science is not only about developing new drugs against cancer – there's also a huge need for basic research. I try to explain how basic research will eventually help to cure cancer, but we first need to understand a whole bunch of things. If we don't know about them, we might miss the next breakthrough – in cancer research or any other field of science. I always explain that at EMBL we do basic – not applied – science, which lays the foundation for further steps. I explain why we study protein crystals, what kind of information we can get from them, and how they're different from salt ones. I explain that proteins are extremely important molecules that constitute our bodies, and have many functions in cells. Eventually, people get the idea that it's not only about curing cancer: there's also important research going on that will form the initial steps towards other breakthroughs.
Antoni Matyjaszkiewicz
Postdoctoral Fellow, EMBL Barcelona
For a couple of years, I performed with a friend as a science busker at 'Green Man': an electronic and folk music festival in Wales. We used visual and interactive science experiments to demonstrate the practical applications of science, and to start conversations. Sometimes it had unexpected outcomes!
One of the experiments we did was related to resonance, which is something very important in engineering because it can cause bridges to fall down. We had differently shaped plates, like squares and triangles, and we would put sand on top of them. Then we would run a violin bow up and down the side of the plates and show that, depending on the shape of the plate and how we'd run the bow, different patterns – known as 'Chladni figures' – emerge. With the square plate, for example, if you oscillate slowly a cross forms. If you go faster, you get more intricate patterns. We met a guy who designed musical instruments. He told us that when luthiers are carving guitars and violins by hand, they use the same technique to make sure the air is resonating inside the instrument properly. It's a basic way to investigate resonance without using maths! Since people have been carving wooden string instruments for hundreds of years, they know about the patterns the sand should form without modelling it mathematically.
I really enjoyed discovering unexpected things from talking to people. It's very nice to see them get excited about science and its applications, and to have discussions that make them see that science is not as dry as it seemed in school. That's the part I enjoy the most.
Related links