Diving into Autumn
Participants learn about EMBL's ocean biodiversity research at the Fall Gala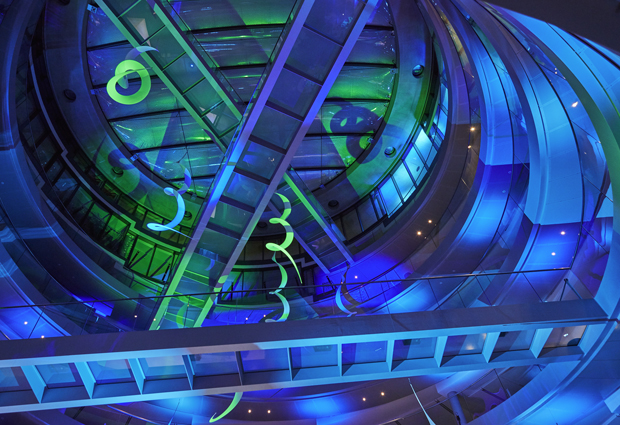 For one special evening in September, EMBL's Advanced Training Centre was transformed into an underwater grotto on the occasion of EMBL's autumn gala, or Herbstgala. Upon invitation of Iain Mattaj, EMBL's Director General, 140 participants from the worlds of science, business and politics came together for this benefit event. Among the invited guests were also a group of EMBL Teens – the youngest members of the Friends Programme – who had the opportunity to directly interact with EMBL researchers and supporters. EMBL's ocean biodiversity research was the central theme, thus the scene was set with "green algae" streaming down from the ceiling high above. The auditorium foyer, bathing in the last of the sun's rays, was illuminated in blue and green light, while participants convened at glowing tables to enjoy an evening of speeches, films and performances.
Much of the action pivoted around the Tara Ocean expedition, a four-year journey around the world that has enabled researchers to learn much more about crucial plankton species in the world's oceans. These hidden depths were explored during a panel discussion featuring EMBL's Peer Bork, Steffi Kandels-Lewis, Eric Karsenti and Rainer Pepperkok, moderated by Volker Mosbrugger, Director General of Senckenberg. This followed an inspirational speech by Herbert Nitsch, the world's free-diving record holder – also known as 'the deepest man on Earth'. Guests were regaled with fine food created by EMBL's head chef Michael Hansen. Entertainment was provided by pianist Rick Coleman and by the Victoria Söntgen Ensemble with an eye-catching dance performance exclusively created for this event.
The gala, which was organised by EMBL's Office of Resource Development, also featured images from the Life in Perspective exhibition – 3D portraits of plankton from the Tara Ocean samples photographed by EMBL's Sebastien Colin. These were auctioned at the dinner, the proceeds of which will support EMBL ocean biodiversity research in areas ranging from marine model organisms to the ocean microbiome and plankton imaging.