Welcome: Isidro Cortés-Ciriano
Isidro Cortés-Ciriano's research group, based at EMBL-EBI, uses a range of techniques – from whole-genome sequencing to single-cell technologies – to explore cancer genomics.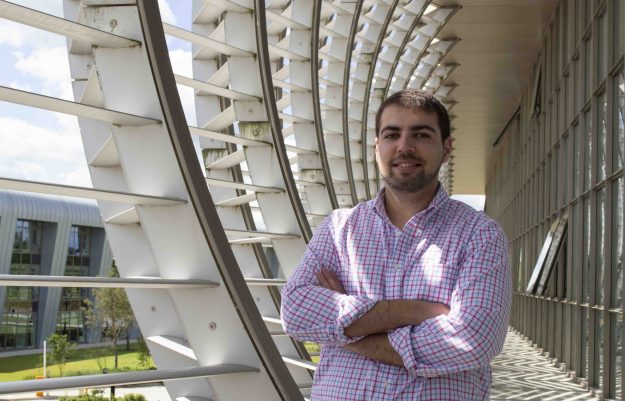 Tell me about your professional background.
I'm originally from Zaragoza, Spain. I completed my undergraduate studies in biology and biochemistry. However, from the first programming lessons I attended, it became crystal clear that computational biology was undeniably my thing. After my Master's degree, I earned a PhD from the Pasteur Institute. Then, funded by a Marie Curie fellowship, I moved to the US to do a postdoc at Harvard Medical School, in the laboratory of Peter Park. I came back to Europe for a short postdoc at the University of Cambridge, under the supervision of Andreas Bender.
My previous work mostly focused on the analysis of cancer genomes using whole-genome sequencing data.
What is your research group focusing on?
We explore cancer genomes using diverse sequencing techniques – from whole-genome sequencing to single-cell technologies – to better understand the underpinnings of cancer, with a particular focus on genome instability. In addition, we integrate genomic and epigenomic data from preclinical models and clinical samples to discover genomic alterations predictive of response to anticancer therapies.
What are you hoping to achieve?
The highest impact for my group's research would be the translation of our findings into clinical practice. For instance, we aim to develop computational tools that could improve how we match patients to treatments. I would also be very happy if our work helped us understand how mutations in different cell types turn cells cancerous.
What kind of people would you like to recruit in your team?
I'm currently looking to recruit PhD students, postdocs and clinical research fellows with strong analytical skills and a good understanding of cancer biology. Intrinsic motivation and curiosity, in my opinion the key catalysts in any scientific endeavour, are also a must. We are currently looking for a Postdoctoral Fellow, with applications closing on September 6.
What are the big challenges in cancer genomics?
Dissecting the contribution of extrinsic and intrinsic factors to cancer development is still a big challenge. Understanding the functional impact of mutations and genome instability on malignant transformation, and the interactions between cancer cells and the immune system during tumour development, are also major open research questions. Finally, developing reliable biomarkers for therapies represents a major challenge for the implementation of truly personalised medicine.
Why did you choose EMBL-EBI?
Needless to say, research at EMBL is fantastic, and EMBL-EBI is the core of bioinformatics in Europe. Here, I have the necessary resources and freedom to develop my research programme, and being in the Cambridge area is also a great opportunity, given the many possibilities to establish collaborations.
What's your philosophy for leading a team?
In my experience, freedom is essential, not only to schedule one's working hours and other obligations, but also scientifically. I always encourage my team to explore and develop their own ideas. I believe in team science, so openness to collaborate with others is essential. In fact, we collaborate with wet-lab biologists and clinicians very closely, which I find very enriching.
What is the best advice you've ever received?
In terms of professional advice, the idea that although data is fascinating, you should always think about what biology you can learn from big data analysis. On a more personal level, the best advice has been to focus and not get lost doing too many things at once. This was very useful to me, as my research interests are very diverse.
What's one thing we couldn't find out about you from Google?
I love natural history and reading, and I've been known to spend a lot of time in art galleries. I find that if you're stuck with something at work, doing something completely unrelated can sometimes unlock the thinking process in the most surprising ways and, more importantly, allows for previous efforts to settle down and blossom.
This post was originally published on EMBL-EBI News.