Enzyme research made easier
The freely available Enzyme Portal helps researchers study enzymatic activity by making it easier to explore all enzyme-related information in EMBL-EBI's public data resources.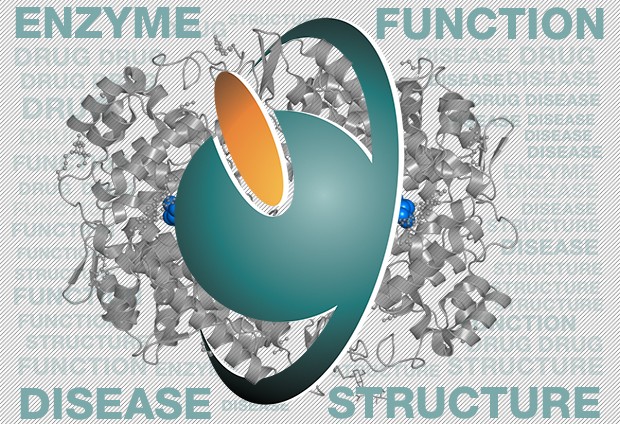 EMBL-EBI has relaunched the Enzyme Portal, the unified public data resource for enzyme researchers. Now fully integrated with UniProt and the EBI Search, the Enzyme Portal integrates information from several resources, saving researchers valuable time by providing a concise, cross-linked summary of their enzyme or protein of interest.
The Enzyme Portal searches major public resources including the UniProt Knowledgebase (UniProt KB), the Protein Data Bank in Europe (PDBe), Rhea, Reactome, IntEnz, ChEBI and ChEMBL, and provides a concise summary of protein sequences and their function, small-molecule chemistry, biochemical pathways, drug-like compounds, catalytic activity and taxonomy information. It also provides cross-references to the underlying data resources, making it easier to explore the data further.
"Enzymes play a vital role in all life processes and are used extensively in biomedicine and biotechnology," says Maria Martin, who leads UniProt Development at EMBL-EBI. "Information about enzymes is available in several different resources, each of which is built with different communities in mind. Researchers are not always aware of how much is available for them and often go to the same resources, missing out on potentially valuable information. The Enzyme Portal brings all of this public information together in one place – it is a unique, invaluable resource for scientists and health researchers working in both academia and industry."
The possibility to compare at both the sequence and structure level is great, and very useful for non-bioinformatics people.
Within the Enzyme Portal, the powerful EBI Search engine now indexes a more refined set of enzymes from UniProt, including new enzymes and orthologs in a wide range of species. The sequence search is now based on the enzyme sequence library, using EBI-NCBI Blast. The service offers new search entry points to enzymes according to disease, Enzyme Classification, taxonomy (model organisms) and pathway. There is also a basket functionality, which allows users to store and compare multiple enzymes.
"Delivering a robust, scalable and user-friendly portal has been our main focus," says Joseph Onwubiko of EMBL-EBI. "The Enzyme Portal has been redesigned to help users understand, interpret and combine a large amount of publicly available information about enzymes."
The Enzyme Portal's interface is now more intuitive, re-designed based on usability research. Enzyme summaries on the result and entry pages now offer clearer descriptions and set out more complete orthology relationships. Users can easily view enzyme summaries with annotations from PDBe, Rhea, Reactome, IntEnz, ChEBI, ChEMBL and Europe PMC, all of which now provide data to the Enzyme Portal through web services.
"I work with enzymes, combining molecular phylogeny and molecular enzymology, and I found the Enzyme Portal's new comparison tool really handy – it's not something you usually see on enzyme websites," says Laura Mascotti of the Universidad Nacional de San Luis in Argentina. "The possibility to compare at both the sequence and structure level is great, and very useful for non-bioinformatics people."
Future work on the Enzyme Portal includes incorporating relevant tools for enzyme analysis such as EC-Blast. The team will also work on extending international collaborations for enzyme prediction systems.
This post was originally published on EMBL-EBI News.
Related links