PhD goals: why not start a company?
Daniel Elias Martin Herranz, a PhD student at EMBL-EBI, is launching a company that uses epigenetics to improve people's wellbeing and health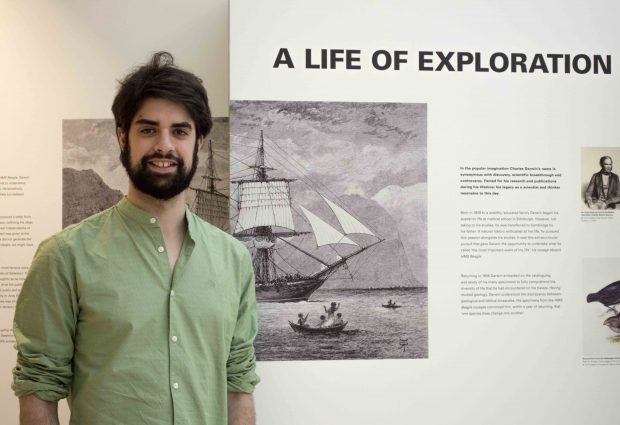 Daniel is in the third year of his PhD degree at EMBL-EBI, in the Thornton Group, but unlike other PhD students, he is also starting a company. We caught up with Daniel to find out more.
Tell us about your start-up
It all started with a conversation I had with co-founder Thomas Stubbs, who was doing his PhD in Wolf Reik's group at the Babraham Institute. We had been working on the epigenetics of ageing for a while. We wanted to explore how we can use epigenetic data to predict certain things people care about – diet, exercise, stress, air pollution etc. One day, I got contacted on LinkedIn by someone at RebelBio, the world's first business accelerator for the life sciences. RebelBio offers seed funding, lab space, mentorship, and other helpful support for starting your own business.
Tom and I thought it was a great opportunity and we went ahead with it. We joined forces with the other co-founders, Toby Call (PhD in Industrial Biotechnology from Cambridge) and Charles Ball (expert in marketing and sales) – that's how our company, Chronomics, was born.
What are the steps for setting up a business?
It was quite challenging, especially because of the timeline. Of course, we had an idea, but there was a lot of work to do before we could turn that into an actual company. RebelBio interviewed us and they liked our vision. Within ten days, we had secured $100k investment in our idea!
Within ten days, we had secured $100k investment in our idea!
That's when things got real. We had one week to sign all the legal documents, tell our supervisors and consider a move to London. In an almost serendipitous way, everything came together and we incorporated the company. The support of Janet Thornton, my supervisor, was a crucial step in the process and I am incredibly thankful to her.
What kind of product or service will you offer?
Epigenetics is a big deal within the research community, but there is huge potential to transfer its value to society. We want to use epigenetic data to monitor wellbeing and health over time and help people improve their lifestyles. A personalised, preventive and proactive paradigm of health.
We want to use epigenetic data to monitor wellbeing and health over time and help people improve their lifestyles
The papers bombard us with all this health advice, like eat more fruit and veg, exercise more, quit smoking, do yoga etc. Some of it feels a bit random and evidence-based recommendations are urgently needed. Using DNA methylation data, we want to measure the effect of lifestyle changes at the molecular level.
We send people a saliva collection kit, sequence the sample, process the information and give them access to their results through our secure online platform.
Who is the service aimed at?
Elite athletes, tech enthusiasts or people who are keen to monitor their health are likely to be the early adopters. We're also targeting organisations, because many employers offer certain tests as part of their health package. These include eyesight, blood, cholesterol tests, so they might be interested in incorporating epigenetics as well.
How has your work at EMBL-EBI supported your ability to make this leap?
In my PhD, I am trying to understand the biological mechanisms behind the epigenetic clock, which is a predictor of biological ageing that uses DNA methylation. I also had the opportunity to work with Tom and Wolf from the very beginning and this was a great fit from a personal and scientific point of view. I've been exposed to an amazing community of researchers here, both on the computational side at EMBL-EBI and the wet-lab side at the Babraham.
It seems like you're at a time of great change – what next?
We want to put everything we have into this. We just finished our time at the accelerator and it has been a roller-coaster experience. A lot of pressure but also a lot of fun and the opportunity to meet incredible people. We are currently starting our next funding round and several venture capital firms have already shown interest.
Would you recommend this experience to others?
Absolutely, yeah! If you have ideas you want explore as an entrepreneur, you should definitely try it. You can do great science and be an entrepreneur at the same time. Entrepreneurship gives you more freedom in how you push things forward and teaches you a lot of things that are also useful in academia. In the end, I'm still doing what I love – great science, learning new things and meeting people.
Related links