EMBL scientists receive prestigious ERC Starting Grants
Maria Bernabeu and Wojciech Galej have each been awarded €1.5 million to research malaria and pre-mRNA splicing, respectively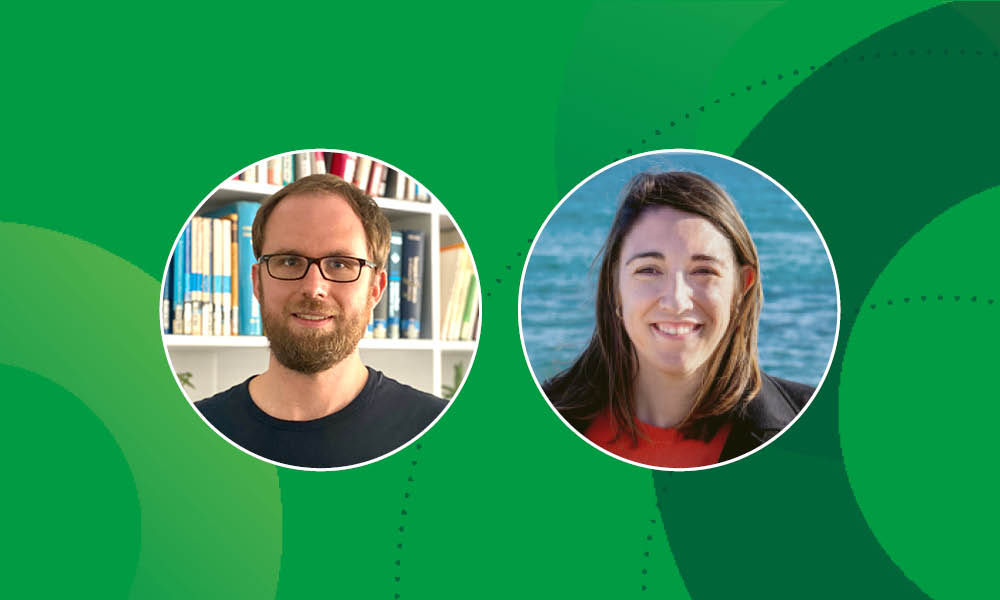 Maria Bernabeu's group at EMBL Barcelona studies cerebral malaria – but in a very unique way. This neurovascular complication of the parasitic disease accounts for more than 400,000 deaths each year in Sub-Saharan Africa, most of them in children under the age of five. The origins of this complication are still unknown, mainly because of the impossibility of accessing a patient's brain at the time of the infection and the lack of good animal models.
Bernabeu joined EMBL Barcelona as a group leader in October 2019. Her research group recreates living human blood vessels in the lab, through which she can flow human red blood cells – both healthy ones and those infected with malaria. In her project Mal3D-BBB, for which she was awarded the European Research Council (ERC) grant, she plans to use this technology to create a 3D replica of the brain microvessels – known as the blood–brain barrier (BBB) – to understand how malaria parasites cause damage in the brain. By recreating this complex human pathology 'in a dish', Bernabeu's group will then be able to add immune system cells, immune signalling molecules called cytokines, and coagulation factors thought to contribute to brain damage, to analyse the changes at the molecular, cellular, and tissue levels.
"If we can understand the pathogenic mechanisms of cerebral malaria, we will have clues to develop, or reuse, drugs that improve disease outcome and reduce patient mortality," explains Bernabeu.
At EMBL Grenoble, Wojciech Galej studies large RNA–protein complexes involved in gene expression. He joined EMBL as a group leader in 2016. His ERC-funded project will focus on a process known as pre-mRNA splicing. During this process, the precursors of instruction-carrying molecules called messenger RNAs are edited to remove those segments – known as introns – that do not contain the information needed to make proteins. Splicing is catalysed by an extremely large RNA–protein complex – the spliceosome.
In humans, the majority of introns are cut out by the major type of spliceosome. Some introns, however, must be excised by specialised machinery. This 'minor spliceosome' is what Galej and his group study. Introns that depend on the minor spliceosome are relatively rare, but are located in genes with critical cellular functions. Several genetic disorders are associated with malfunctions of the minor spliceosome.
"Our goal is to obtain functional and structural insights into this process, which were largely missing until now," explains Galej. "In the long term, mechanistic understanding of the process involving the minor spliceosome may have an impact on human health."
With this award, Bernabeu and Galej join other EMBL scientists holding an ERC Grant.
A bigger and interdisciplinary group
The European Research Council is Europe's main research funding organisation, and their Starting Grants award young group leaders across Europe €1.5 million over five years to carry out research projects.
Bernabeu's plan is to recruit an interdisciplinary group of biologists, engineers, and biophysicists to develop her project. This will include engaging in collaborative work with other research groups at EMBL, as well as the Mesoscopic Imaging Facility at EMBL Barcelona, and the Electron Microscopy Core Facility at EMBL Heidelberg. Key to this project will be collaborations with scientists at the London School of Hygiene and Tropical Medicine, and clinicians at Ispat General Hospital in Rourkela, India. "Our aim is to bring together expertise from different scientific fields to develop the 3D BBB model, which will not only have future applications in malaria, but also in other diseases that affect the brain vasculature, such as Alzheimer's or COVID-19."
Galej's group already has talented researchers working on his project, but the grant will enable him to make additional hires. "Thanks to the ERC grant, I will be able to recruit a PhD student and two more postdocs in order to expand our current expertise and explore new research directions," he says. Another crucial aspect for him is to strengthen existing collaborations within EMBL. "We're very lucky to have access to excellent services offered by the EMBL core facilities, in particular the Proteomics Core Facility and the Cryo-EM Service Platform. With new collaborations, we're also planning to expand our research towards more functional, in vivo studies and transcriptome-wide analysis of splicing patterns."