Awards & Honours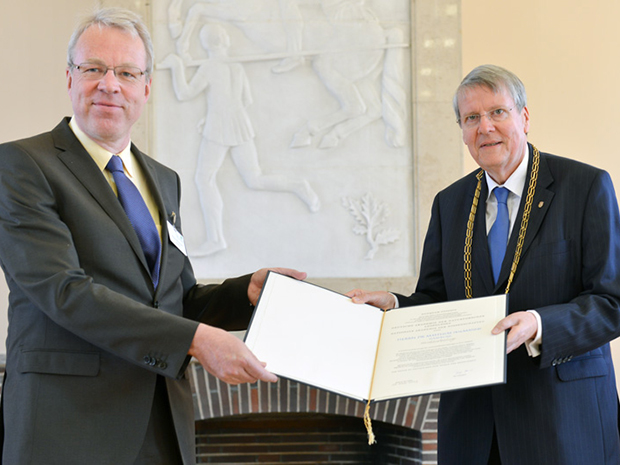 'This award is recognition of the work we do in Hamburg and of the successes we have seen here in the field of structural biology'
Matthias Wilmanns, Head of EMBL Hamburg, on his inauguration as a member of the German Academy of Sciences Leopoldina on 22 May. Read the full story>
EMBO announced more than 100 new members in May, among them group leader Anne-Claude Gavin. "I truly feel honoured and proud," she says, "this represents a great opportunity to more actively participate in the dissemination and promotion of biochemistry and systems biology." She joins more than 1600 EMBO members recognised for their outstanding contributions to the life sciences, including numerous alumni and 18 current EMBL scientists. Read the full story >
Group leader Maja Köhn has been awarded the 2014 Friedmund Neumann Prize. Established by Berlin's Ernst Schering Foundation in 2012, the 10 000 Euro prize goes to young scientists undertaking outstanding basic research in biology, chemistry or medicine. The prize rewards her interdisciplinary approach, combining molecular biology, biochemistry and synthetic chemistry to study phosphatases.
Ewan Birney, Joint Associate Director of EMBL-EBI, has been elected to the Fellowship of the Royal Society. Founded in the 1660s, the Royal Society includes the most eminent scientists, technologists and engineers in the UK and Commonwealth. "This fellowship represents both recognition of the prominence of bioinformatics in the life sciences and an opportunity to discuss infrastructures for contemporary life science research at the highest levels,"says Ewan. Read the full story >

Janet Thornton, Director of EMBL-EBI, has been elected to the Fellowship of the Academy of Medical Sciences, alongside alumna and Scientific Head of EMBL Australia, Nadia Rosenthal. The Academy of Medical Sciences is an independent organisation that campaigns to ensure advances in medical science are translated into benefits for patients – its Fellows are the UK's leading medical scientists.