Scientific twins
Despite being 700km apart, EMBL in Heidelberg, Germany, and Central European Institute of Technology (CEITEC) in Brno, Czech Republic, are currently getting much closer.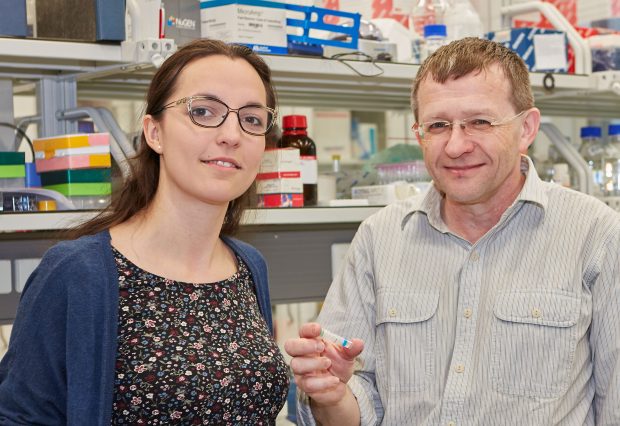 Supported by the newly-signed EU-funded twinning project MEDGENET, scientists from both institutions will travel to visit each other: from EMBL to give training, and from CEITEC to refine their knowledge in various techniques.
Katerina Cerna, PhD student at CEITEC, and Vladimir Benes at EMBL are the first such pair of scientific twins: Cerna spent two weeks in the GeneCore facility that Benes heads in April 2016, learning from its friendly team.
"This project really empowers CEITEC with deciding what expertise they want to develop and what tools they need to get it," explains Vladimir. "They were already able to attend trainings and conferences before, but now they are developing a full programme of courses, lectures, and summer schools that fulfils their needs. We are only there to facilitate its implementation, and provide trainers."
What are your research interests?
Globally, our research group studies the environment of malignant B-cells, mostly in leukemias: what cells do they interact with, and how these interactions help the malignant cells to survive and even to overcome the therapy. My PhD project is more specifically focused on microRNAs, and long non-coding RNAs: some have been identified as potential prognostic and predictive markers in leukemias but their exact roles and functions are still not well understood.
This project is very interesting because it touches on different scientific areas, from sample preparation through the microRNA and mRNA sequencing to bio-informatics, but also has potential applications in the medical field. When we will understand better the role of these various forms of RNA molecules, we hope to be able to uncover new therapeutic targets… so we need to collect as much good quality data as possible, as quickly as possible.
What is the focus of your training at EMBL?
I am here to refine my practical skills and knowledge about mRNA sequencing. CEITEC is starting its own sequencing facility and, although we have good equipment, we are still lacking expertise; so when I am back, I hope to be able to run the sequencing for my group, and teach people in other groups how to get the best possible data.
I am here to refine my practical skills and knowledge about mRNA sequencing.
It will be a necessary complement to the course on microRNA sequencing that some people from GeneCore delivered at CEITEC last summer: it is good to get more high-quality training with them, but also to catch up in sunny Heidelberg.
However, although the names sound similar, the techniques for microRNA and mRNA are quite different. I need to learn how to use the machines, treat the sample, and select the best procedure to obtain high quality data worth analysing for the bio-informaticians. We generate a lot of data and we need to make sure that our colleagues analysing them can do so in good conditions: some of them should go very soon to the EBI to get some training there too.
What are your plans for the future?
Firstly to finish my PhD and in the near future I want to make sure that I bring back a valuable new expertise in my group, and that I can pass it on to other people. Further down the line I would like to apply to come back to EMBL, maybe as a visitor, because I find it a very inspiring and motivating environment and I hope to bring some of it to Brno too. But we'll see what the future holds.