First powder over EMBL Grenoble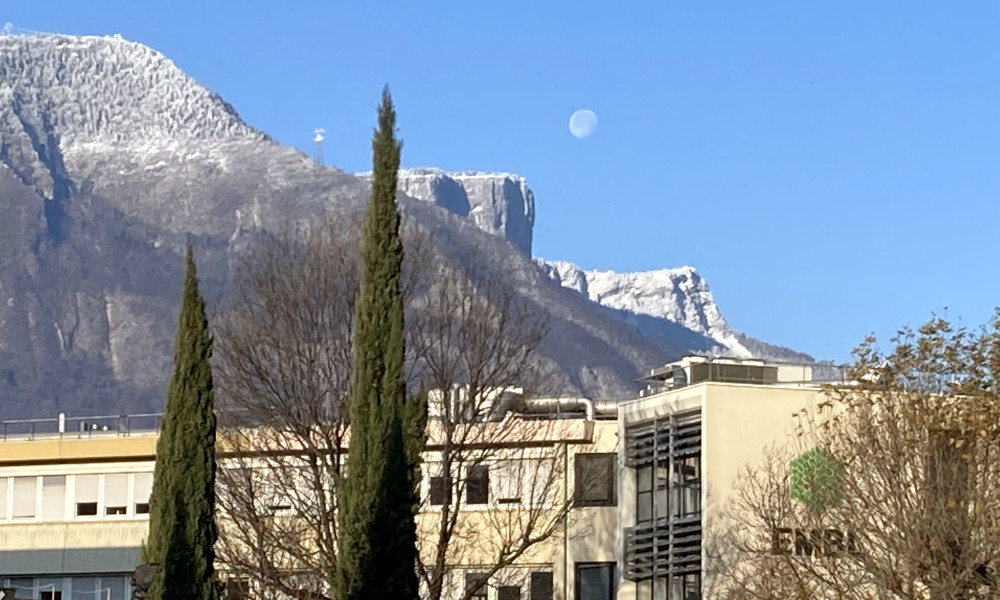 "At the end of every street is a mountain", said the 19th-century French writer Stendhal about Grenoble. The European Photon and Neutron science campus, where EMBL Grenoble is located, together with the European Synchrotron Radiation Facility, the Institut Laue-Langevin, and the Institut de Biologie Structurale, is one of the places in Grenoble that offers a clear view of all the mountains surrounding the city. Staff at EMBL Grenoble can enjoy these views during all seasons, and especially during winter when the snow starts to fall over the mountains.
In this picture, the first snowflakes have fallen on the Vercors Mountains, right behind the EMBL Grenoble building, and an almost full moon is showing up during a sunny morning. An inspiring combination to start the day!
Activities at EMBL Grenoble focus on structural biology research and services. The research groups at EMBL Grenoble focus mainly on RNA biology and infection biology: in particular, the structural biology of protein–RNA complexes involved in gene expression and host–pathogen interactions. The latter includes work on important human viral, bacterial, and parasite pathogens. In addition, three technology-focused teams develop innovative automated structural biology technologies and make these available as services to the broader scientific community. These technologies relate to protein crystallisation; structure determination by X-ray crystallography, small-angle scattering, and cryo-electron microscopy; and ligand screening for drug development.
Credit: Eva Kowalinski/EMBL
If you have a stunning picture of your science, your lab or your site, you can submit it here.
---