Welcome: Simone Mattei
The new team leader offering services in electron microscopy discusses his hopes and plans for the forthcoming EMBL Imaging Centre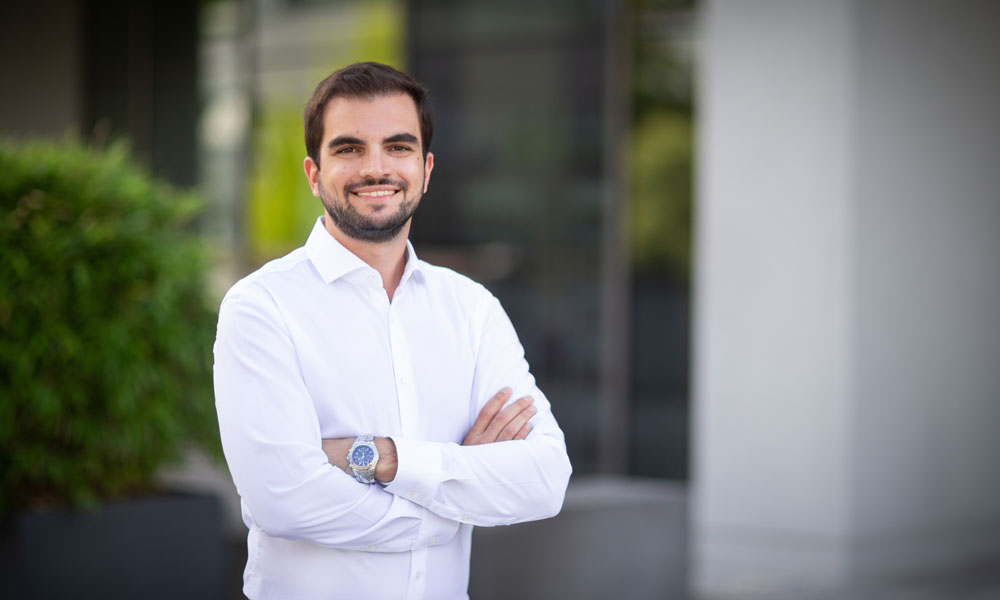 Having spent years working towards a career in aeronautics, a conversation with a friend caused a change of direction for Simone Mattei. Now he's returning to EMBL as the new team leader in the electron microscopy and technology service. His team is working on electron microscopy technologies, which they will do from the EMBL Imaging Centre when it opens in 2021. Simone is looking forward to sharing new approaches to imaging.
What are your earliest memories of being interested in science?
It actually came comparatively late, because I'd always imagined myself pursuing a career in aeronautics and was quite focused on that. It was the industry my dad worked in, and so I decided to study it too. In the process, I become a qualified pilot, as well as an expert on things like air traffic control and weather! In my twenties, a friend spoke to me about biotechnology and I came to realise what an incredible range of interesting possibilities it could open up. From that point on, I was hooked. A bachelor's degree in biotechnology was followed by a master's in medical and molecular biotechnology. My career has really been guided by my curiosity ever since then.
What was it that attracted you to EMBL as a place to work?
It was back in 2012 when I first got a taste of all that EMBL has to offer young scientists. For two months I was a visiting master's student working under Peer Bork, the head of EMBL's Structural and Computational Biology Unit. I found it such a positive experience that I applied for the PhD programme, and stayed at EMBL until 2017. What really struck me then, and still appeals now, is how much sharing and openness there is at EMBL. Everyone is happy to talk about their work, to share ideas, and to collaborate. There isn't a hierarchical atmosphere, and that means younger scientists can get feedback and inspiration from those who are more experienced and at the cutting edge of new research. In many ways, I feel that all science institutes should operate in the way that EMBL does.
Your group specialises in techniques that enable highly automated preparation and screening using cryo-electron microscopy, or cryo-EM. Can you explain a bit more about the role this can play?
Cryo-EM has become such a powerful tool for us to use, and over the last few decades it has revealed just how useful it can be. Although it's an incredibly rewarding tool, we're still in the early stages of working out the best ways to harness it so that we can get the levels of throughput and reproducibility we need. That's particularly important when it comes to the preparation of samples for cryo-EM, because fragile and complex samples need to be treated in a way that doesn't damage or disrupt them. By developing pipelines that allow sample preparation to be as automated as possible, we can increase throughput and really speed up the rate of our work. This has lots of benefits, including for industry where there is a great need to understand interactions on an atomic level and to perform screening for hundreds of different molecules, for example during the process of drug development. That level of work really needs an efficient system, and that's why what we're trying to develop with the new EMBL Imaging Centre could open so many doors.
What are your ambitions for the forthcoming EMBL Imaging Centre?
The Imaging Centre is not just a new concept for EMBL: as a facility it's a new concept for Europe as well. It's the first EMBL imaging facility that will be focused on external users, and it offers amazing potential for building connections and boosting collaboration. Our first challenge is to get the centre up and running, and create the best network for enabling scientific interactions. We also want to enable the light microscopy and electron microscopy teams to work together and bridge the gap between these two imaging modalities. One of the great things about the centre is that it's located just across from the EMBL research units, which means that we can interact closely with those groups and develop the new methods required to answer their challenging biological questions. There's still so much more we can do to offer imaging services in a new way, and to start with something like a blank canvas makes it a very exciting challenge! EMBL is providing the opportunity to really look at how we provide these services, and that's a big deal for scientists and for industry.
How do you balance your life as a scientist with life outside work?
It's never easy! I think my colleagues would say the same, and it feels like we are in an incredibly busy time at the moment. My wife helps me to detach from the work – we met during our studies and she stayed in the aeronautical industry, so it's nice to have that outside perspective. I do like to travel and to explore, and am hoping to have a bit more chance to do this once things are up and running with the centre.
What would you be if you weren't a scientist?
I've got a real passion for history, and I sometimes think I'd like to be a historian. I come from Rome so maybe I have to say I like history! But I'm also fascinated by the kind of history that takes you away from the big historical events, and gets into the context of life for ordinary people. Their lives have always been an integral part of the historical background that eventually led to those big events that we learn about. What were their living conditions? What really mattered to them? Why did they make the choices that they did? It's a bit like doing an experiment, trying to look inside something and work out what is going on at a deeper level and asking, "why have things happened in the way they have?" Perhaps it's not so different from science in the end.