Welcome: Matthew Hartley
From the early days of hand-drawn sketches to today's high-tech microscopes, biology has always relied on images to make sense of the living world. As imaging technologies become more accessible, it's essential to have a central repository where they can be stored, easily accessed, and analysed.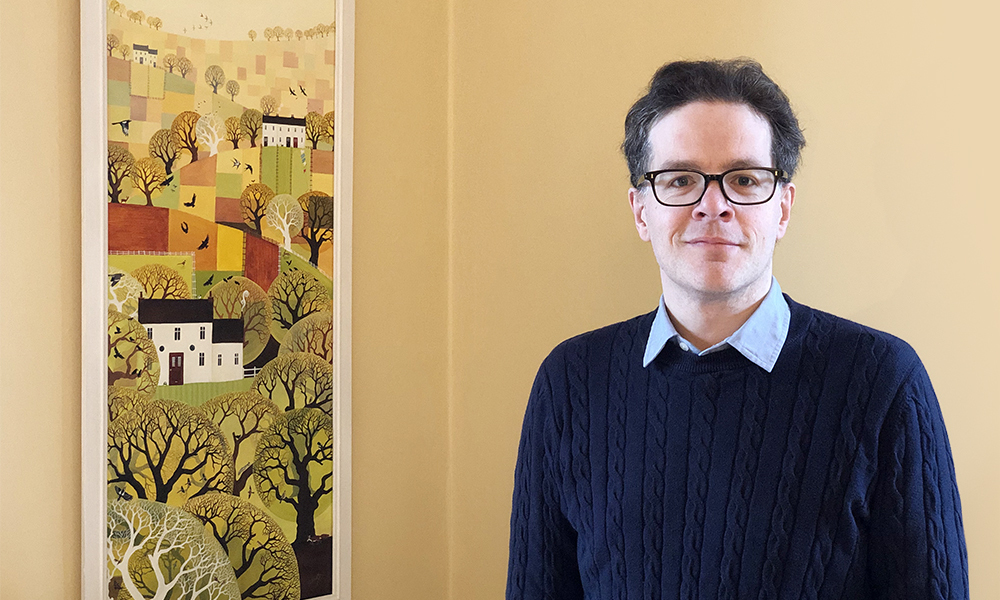 Matthew Hartley's role is to make this dream a reality. Working with colleagues at EMBL's European Bioinformatics Institute (EMBL-EBI) and bioimaging communities, he is coordinating the development of the BioImage Archive (BIA). Here, he shares his thoughts on the challenges and opportunities of his new role.
What is your professional background?
I trained as a physicist and got my undergraduate degree at the University of Cambridge. I then did a PhD at King's College London, followed by a postdoc in computational neuroscience. I really enjoyed the crossover between physics, biology, and computer science.
Next, I provided research computing support at Queen Mary University of London and then moved to the John Innes Centre in Norwich, where I was Head of Core Computational Biology. This involved working with bioimaging and image analysis techniques, which I found extremely interesting.
Why do you find bioimaging interesting?
Bioimaging is such an intrinsically visual part of science, and it can really capture people's imagination.
When they think of science, many people imagine researchers hunching over microscopes. The reality is that today's microscopes are large, complicated pieces of equipment that generate enormous amounts of data, which need to be understood, managed, analysed, and shared. Images are essential to support our knowledge of all living things, and to make new discoveries. But for all this to happen, they need to be easily accessible.
What is the BioImage Archive ?
The BioImage Archive is a repository for biological images, specifically those from scientific publications and key reference data. It aims to become the global archive for bioimaging, spanning imaging types from light microscopy to cryo-electron microscopy and more.
The idea is to make data submission as seamless as possible, encouraging researchers to openly share their data with the community, allowing reuse.
BIA will provide the data storage for other specialised, added-value imaging systems like the Electron Microscopy Data Bank (EMDB), Electron Microscopy Public Image Archive (EMPIAR), and Image Data Resource (IDR), and will hopefully make it easier for researchers to find bioimage data.
How are you working with the community?
None of this is possible without input from bioimaging communities. We're building a resource that will serve them, so it's essential to understand their needs. To do so, we have set up an Ecosystem Working Group, consisting of experts in these communities, as well as data consumers such as experimental biologists, machine learning and artificial intelligence experts, funders, and journals. We always welcome feedback on our work and we hope more people will get involved as the project gathers momentum.
We're also working on a paper outlining minimum metadata standards for biological images.
What are the main challenges you foresee?
One of the main difficulties with bioimages is the range of techniques and formats. Unlike genomic data, which is all fairly standardised, there are hundreds of incredibly different imaging modalities from 2D to 5- or even 6D images. The size also varies from a few kilobytes to one terabyte or more.
The field is progressing so fast that technology can change on a monthly basis, so it can be hard to keep up. There are also many interlocking communities, including subcommunities by species or domain of interest, all with different needs and use cases.
Sounds like you've got your work cut out. What does success look like?
I'm confident that the community will be responsive to our call and will help us set up a useful, comprehensive worldwide archive for bioimages.
This would hugely improve reproducibility in the life sciences, and boost data reuse, enabling researchers to ask new questions and make new discoveries using existing data.
We're on the verge of several artificial intelligence breakthroughs in image data analysis, which are likely to improve how we analyse and understand bioimages, so it's an incredibly exciting time for the field. Bioimaging is also an increasingly important topic at EMBL, with the EMBL Imaging Centre set to open in the coming year. It's a perfect storm for all sorts of interesting things to happen!
Tell us one thing we couldn't find out about you from an online search.
I'm a school governor for the Recreation Road Infant School in Norwich, UK, meaning I help to set the strategic direction of the school. It's a great way to give back to my brilliant local community.
This post was originally published on EMBL-EBI News.