From molecules to ecosystems: EMBL and IAB sign memorandum of understanding
This collaboration strengthens Grenoble as a European research centre in the life sciences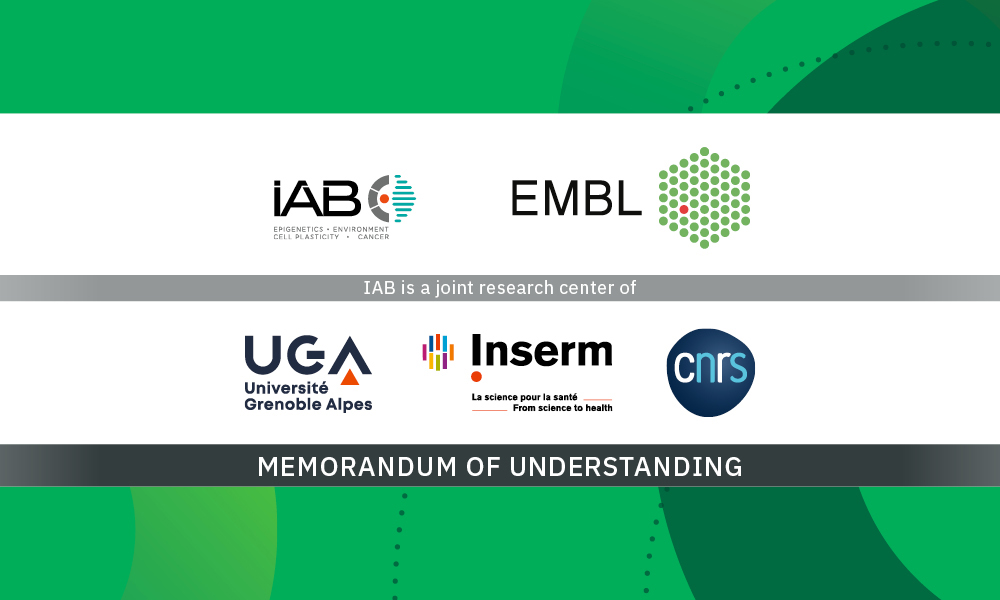 The European Molecular Biology Laboratory (EMBL) and the Institute for Advanced Biosciences (IAB, a joint research centre of Inserm, the CNRS, and Université Grenoble Alpes) have signed a memorandum of understanding, formalising a 15-year collaboration between the two institutes. This collaboration strengthens Grenoble as a European research centre in the life sciences.
The aim of the agreement between EMBL and IAB is to bring together a common vision and scientific programme around the theme 'From molecules to ecosystems', which integrates the study of the mechanisms of life at the level of biological macromolecules in the cell to populations of organisms in their environment. The complementarity of the two institutes represents a continuum of multidisciplinary expertise.
EMBL is an intergovernmental organisation supported by 30 countries, and has six sites across Europe. EMBL's site in Grenoble, France, offers expertise and facilities in structural biology to enable scientists to better understand the biology of RNA and infectious diseases, in particular the protein–RNA complexes involved in gene expression and host–pathogen interactions. IAB is developing a set of fundamental and translational research programmes in the fields of epigenetics, the environment, and cell plasticity, and applying these to research on cancer, parasitic infections, infertility, and environmental effects during the early stages of life.
The new international collaboration will promote this vision through a series of joint projects, training and visitor programmes for young researchers, high-level seminars, and activities to disseminate knowledge to students and the public.
The agreement also promotes access to the two institutes' state-of-the-art research facilities and equipment. This alliance therefore fits perfectly within Grenoble's scientific ecosystem, which is geared towards collaborative research, innovation, and human health. EMBL Grenoble has strong connections with the institutes on the European Photon and Neutron (EPN) Science Campus via the Partnership for Structural Biology (PSB), which includes EMBL, the European Synchrotron Radiation Facility, the Institut Laue–Langevin, and the Institut de Biologie Structurale. The PSB offers a wide range of cutting-edge technologies such as cryo-electron microscopy, robotics for operating synchrotron beamlines, and high-speed crystallography for drug design. The strong links between IAB and Grenoble Alpes University Hospital will enable the joint development of discoveries with a view to applying them to advance human health, particularly in the field of gene expression and the mechanisms linked to the development of cancer and infectious diseases.
"EMBL and IAB are natural partners," explains Head of EMBL Grenoble Stephen Cusack, who, together with EMBL Group Leader Marco Marcia, co-ordinates the joint activities with Saadi Khochbin, Head of the Epigenetics Department at IAB. "This memorandum of understanding makes it possible to link within the two organisations the whole range of research, from the atomic study of molecules to human medicine. It is a further step that makes Grenoble an important place for research in the life sciences."
IAB and EMBL Grenoble have a long history of collaboration in exploring the fundamental mechanisms of biology. "More than 15 years of close and intense scientific collaboration between IAB and EMBL Grenoble have led to remarkable scientific breakthroughs in the regulation of gene expression. These successes have been built on a generation of leaders of international standing, now relayed by a talented, creative, and highly motivated young generation," explains Pierre Hainaut, Director of IAB.
The research carried out jointly by the two institutes will have an impact on the entire knowledge chain. It will provide a better understanding of the mechanisms by which the environment and social vulnerabilities impact cells and gene expression, and how biological systems adapt to environmental constraints, particularly during the development of diseases. This research could lead to the identification of new biomarkers of disease and new targets of therapeutic interest for personalised medicine, and it opens the door to new concepts for disease prevention and healthy living in a changing world.
"The current COVID-19 pandemic, generated by an RNA virus, makes us realise how important it is to understand both the behaviour of RNA in the cell and the zoonotic processes that make it possible for this virus to infect the whole world. This collaboration will develop an integrated understanding of the molecular basis right down to the level of people suffering from infectious diseases or cancers. This union will create enormous opportunities for both institutes," says EMBL Director General Edith Heard.
---
Des molécules aux écosystèmes: l'EMBL et l'IAB signent un protocole d'entente
Cette collaboration renforce Grenoble comme pôle de recherche européen en sciences de la vie.
Le Laboratoire Européen de Biologie Moléculaire (EMBL) et l'Institute for Advanced Biosciences (IAB, Centre de recherche Inserm / CNRS / Université Grenoble Alpes) – ont signé un protocole d'entente, formalisant une collaboration d'une quinzaine d'années entre les deux instituts. Cette collaboration renforce Grenoble comme pôle de recherche européen en sciences de la vie.
L'objectif de l'accord entre l'EMBL et l'IAB est de porter ensemble une vision et un programme scientifique communs autour de la thématique «Des molécules à l'écosystème», qui intègre l'étude des mécanismes de la vie au niveau des macromolécules biologiques dans la cellule jusqu'aux populations d'organismes dans leur environnement. La complémentarité des deux instituts représente un continuum d'expertises multidisciplinaires.
L'EMBL, laboratoire européen de référence en recherche fondamentale au niveau moléculaire, décline sur son site à Grenoble une expertise et des plateformes en biologie structurale pour mieux comprendre la biologie de l'ARN et des maladies infectieuses, en particulier les complexes protéines-ARN impliqués dans l'expression des gènes et les interactions hôte-pathogène. Pour sa part, l'IAB développe un ensemble de programmes de recherche fondamentales et translationnelles dans les domaines de l'épigénétique, de l'environnement, de la plasticité cellulaire, appliquées au cancer, aux infections parasitaires, à l'infertilité et aux effets de l'environnement durant les premières étapes de la vie.
Cette collaboration d'envergure internationale permettra de promouvoir cette vision au travers d'un ensemble de projets conjoints, de programmes de formation et d'accueil de jeunes chercheurs, de séminaires de haut niveau et d'actions de dissémination des connaissances vers les étudiants et le public.
Un des volets de cet accord favorise également l'accès aux installations et équipements de recherche de pointe des deux instituts. Cette alliance s'intègre donc parfaitement au sein de l'écosystème grenoblois, très tourné vers la recherche collaborative, l'innovation et la santé. L'EMBL Grenoble a des fortes connexions avec les instituts du European Photon and Neutron (EPN) campus via le Partenariat pour la Biologie Structurale (PSB), qui inclut l'EMBL, l'European Synchrotron Radiation Facility, l'Institut Laue–Langevin, et l'Institut de Biologie Structurale. Le PSB dispose d'une large gamme de technologies de pointe comme la cryo-microscopie électronique, la robotique nécessaire au fonctionnement des lignes de lumière du synchrotron, et la cristallographie à haut débit appliquée à la conception de médicaments. Les liens forts entre l'IAB et le Centre Hospitalier Universitaire Grenoble Alpes vont, quant à eux, permettre de développer de manière conjointe la valorisation des découvertes en vue de leur application en santé, particulièrement dans le domaine de l'expression des gènes et des mécanismes liés au développement de cancers et de maladies infectieuses.
"L'EMBL et l'IAB sont des partenaires naturels", explique Stephen Cusack, responsable de l'EMBL Grenoble, et coordinateur des activités entre l'IAB et l'EMBL Grenoble avec Marco Marcia, chef de groupe à l'EMBL et Saadi Khochbin, responsable du département Epigénétique à l'IAB. "Ce protocole d'entente permet de lier au sein des deux organisations tout l'éventail de la recherche, depuis l'étude atomique des molécules jusqu'à la médecine humaine. C'est un pas supplémentaire qui fait de Grenoble un lieu de recherche important dans les sciences de la vie."
L'IAB et l'EMBL (Grenoble) ont une longue histoire de collaboration dans l'exploration des mécanismes fondamentaux de la biologie. "Plus de 15 ans de collaboration scientifique étroite et intense entre l'IAB et l'EMBL Grenoble ont conduit à des percées scientifiques remarquables dans la régulation de l'expression des gènes. Ces succès se sont construits sur une génération de leaders de standing international, aujourd'hui relayés par une jeune génération talentueuse, créative et extrêmement motivée", explique Pierre Hainaut, Directeur de l'IAB.
Les recherches menées conjointement par les équipes des deux centres vont impacter sur toute la chaîne des savoirs. Elles vont permettre une meilleure connaissance des mécanismes par lesquels l'environnement et les vulnérabilités sociales impactent l'expression de nos gènes et de nos cellules, et comment nos systèmes biologiques s'adaptent aux contraintes de l'environnement, notamment au cours du développement des maladies. Ces recherches pourront mener à l'identification de nouveaux biomarqueurs de maladies, à de nouvelles cibles d'intérêt thérapeutique pour la médecine personnalisée et ouvrent la porte à de nouveaux concepts pour la prévention et la vie en santé (healthy living) dans un monde en pleine mutation. "La pandémie de Covid-19, générée par un virus ARN, fait réaliser à quel point il est important de comprendre à la fois le comportement de l'ARN dans la cellule et les processus zoonotiques qui font que ce virus a pu infecter le monde entier. Cette collaboration va permettre de développer une compréhension intégrée des bases moléculaires jusqu'aux personnes atteintes de maladies infectieuses ou de cancers. Cette union va créer énormément de possibilités pour les deux instituts", souligne Edith Heard, Directrice Générale de l'EMBL.