Beamline ID23-2 tools up for ESRF upgrade
EMBL instrumentation teams adapting tech to run biological experiments on the synchrotron after its upgrade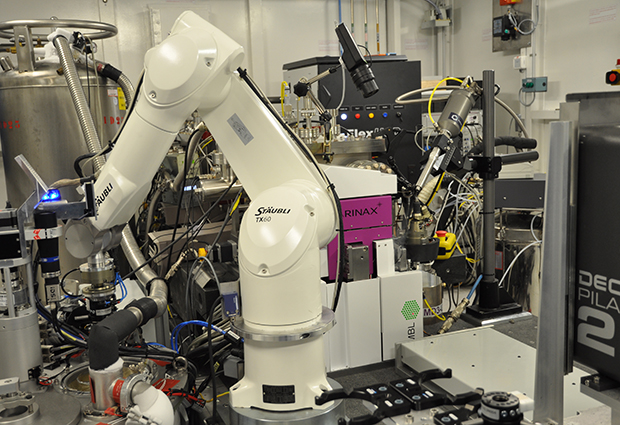 At the end of 2018, the European Synchrotron Radiation Facility (ESRF) will start an important technological upgrade called the ESRF-Extremely Brilliant Source (EBS) project, providing its users with smaller and more intense X-ray beams.
To make the most of new possibilities for structural biology that EBS will bring, EMBL instrumentation teams are adapting the technology currently used to run biological experiments on the synchrotron. The team of EMBL Senior Scientist Florent Cipriani, in collaboration with ESRF, has developed a new sample changer and a new diffractometer that are now installed on beamline ID23-2.
"In order to prepare for the ESRF-EBS upgrade, experimenters need to learn how best to use these small beams," says Cipriani. "ID23-2 will be used as a test beamline for developing the methods and software we need in order to maximise the potential of ESRF-EBS for protein crystallography."
The EMBL-ESRF Joint Structural Biology Group has operated ID23-2 since 2005 with a focus on diffraction experiments using protein micro-crystals. The beamline was recently upgraded to provide a beam with a diameter of approximately 1 micron, for macromolecular crystallography experiments. After the ESRF-EBS upgrade this will be further reduced, and the intensity of the X-rays increased by 100-fold. As a result, scientists will be able to probe smaller crystals in fine detail and study dynamics in protein crystals.
As well as studying smaller crystals, the ESRF-EBS will allow scientists to collect data at rates faster than 1000 frames per second after the upgrade. "We're moving into the millisecond range – this is where most biological reactions take place!" explains EMBL team leader Andrew McCarthy. "This speed makes ID23-2 and other planned ESRF beamlines great for serial crystallography. Now we will need only tens of milliseconds to collect lots of data sets."
The new X-ray technology will also make it possible to study dynamic processes in protein crystals. Normally scientists freeze crystals to prevent them from being damaged. "If you can collect crystals at room temperature," McCarthy explains, "then you can start to look at the dynamics of drug molecules binding to proteins, and the structural changes induced. These can help us better understand some specific biological processes, but also the functioning of specific drugs or drug-candidates."
The screening of many crystals of proteins bound to small molecules, like drug-candidates, will also become much faster and more efficient, further enhancing the capacities of X-ray crystallography as a standard tool for drug-development and increase the number of users from this sector. When the EBS goes live in 2020, the EMBL instrumentation for structural biology will be ready to make the most of it.