Bioinformatics services: Summer 2014
Ensembl's newly annotated human genome | IntAct and Reactome offer new features and data | ChEMBL adds bioactive entity data for crop protection | world-wide Protein Data Bank improves access to large structures | UniProt's latest release | InterPro's latest tools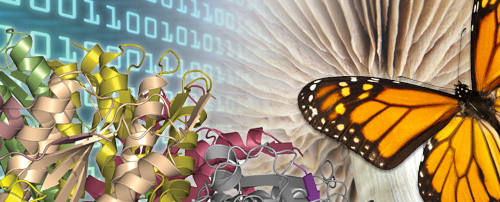 Ensembl – the genome explorer
Ensembl version 76 offers updated data and new features, including the full annotation of the new human genome assembly (GRCh38). Our comprehensive GRCh38 resources include updated variation data, results from the new regulatory annotation build, updated comparative genomics data and tissue-specific alignments of Human BodyMap 2.0 data. There are many reasons to switch to the new human assembly, but if you not able to move just yet, our new archive provides access to the previous assembly and annotation.
ChEMBL database of bioiactive entities
ChEMBL_19 Released – Now with Crop Protection Data! We have expanded the content of ChEMBL to include data relevant to crop protection research. Bioactivity data covering insecticides, fungicides and herbicides were extracted from a number of different journals such as J. Agric. Food. Chem., J. Pesticide Sci., Crop Protection and Pest Manag. Sci. The addition of this dataset to ChEMBL was funded by Syngenta. Other updates include new neglected disease data sets, hepatotoxicity data and coverage of the journal MedChemComm in our routine data extraction. We are most grateful to the RSC for access to the source journal material.
Reactome – the database of biological pathways
In response to user feedback and new feature requests, we are pleased to announce a new version of the Reactome Pathway Browser that integrates a suite of tools for pathway analysis. Using these improved features, you can map protein lists to Reactome pathways, perform pathway over-representation and topology analysis for sets of proteins, small molecules and genes, overlay pathway diagrams with colour representing expression data and compare human pathways with those from model organisms. To support third-party tool integration, the Reactome Pathway Analysis Portal is also available as a RESTful web service.
Reactome release 49 features 12 new pathways, including WNT in cancer, anthrax toxins, Processing-defective Hh variants and Aflatoxin activation and detoxification, among others.
UniProt – the universal protein resource
With its latest release, 2014_07, UniProt offers 80,370,243 protein records. The KnowledgeBase has added cross-references to the Consensus CDS project and to GeneReviews, a resource of expert-authored, peer-reviewed disease descriptions. New diseases have also been added.
UniProt highlight: Lark or owl? PER3 is the answer
Unless you are like Napoleon, whose sleep patterns made him both an early bird and a night owl, you probably have a diurnal preference. Your sleep pattern is not simply a matter of taste – it is down to genetics, and involves the PER3 gene. Read more about PER3 in our latest highlight on the UniProt blog.
Protein Data Bank in Europe
Representing large, macromolecular structures has been made easier by the world-wide Protein Data Bank. To meet the challenges of greater numbers of PDB depositions, involving ever larger and more complex structures, wwPDB has developed a new software system for structure deposition and annotation. Structures that were historically split across multiple entries have now been combined into single PDBx/mmCIF files. You can explore large, intact structures in EMBL-EBI's Protein Data Bank in Europe.
InterPro – protein sequence analysis & classification
We are pleased to announce the release of InterProScan 5.5-48.0. InterProScan is a sequence analysis application (nucleotide and protein sequences) that combines different protein signature recognition methods into one resource. This release uses data from the newly released InterPro 48.0, which contains 26,238 entries.
InterPro version 48.0 integrates 294 new methods from the CATH-Gene3D, PANTHER, Pfam, ProDom and SUPERFAMILY databases, and covers 83.5% of UniProt Knowledgebase release 2014_07. It predicts Gene Ontology (GO) terms for over 50 million UniProt proteins via the InterPro2GO pipeline. The new release includes updates to UniParc (uniparc_match.tar.gz) and UniMES (unimes_match.tar.gz) matches to InterPro methods.
IntAct – the database of molecular interactions
Dataset of the month: In their paper, 'A quantitative chaperone interaction network reveals the architecture of cellular protein homeostasis pathways', Taipale and colleagues use a combination of mass spectrometry and quantitative LUMIER assays to characterise the client specificity of cochaperones, and begin to decipher the proteostasis network as a whole by identifying interactors of all known Hsp90 cochaperones and several known Hsp70 cochaperones. The data were submitted directly to IntAct as part of the publication process, and can be searched using IMEx ID IM-22301 on the IntAct website and the IMEx Consortium pages.
Updates for release R182: The IntAct database now contains 12,947 publications, 33,742 experiments and 454,515 binary interactions.
Complex Portal: Biocurators from the Saccharomyces Genome Database are joining the IntAct curators in work to provide an encyclopaedic resource of protein complexes.
Europe PubMed Central
You can now use Europe PMC to populate your bibliographic references in EndNote and Reference Manager using the RIS export format. You can also email citations to yourself, or others, by selecting this destination option from the Export menu and filling in the required address fields.