EMBL onboard Tara, London 2015
As the research schooner Tara docks in London on its way to the UN Climate Change conference in Paris, EMBL and EMBL-EBI scientists share the excitement and challenges of exploring life in the seas with some of the UK's biggest champions for the life sciences.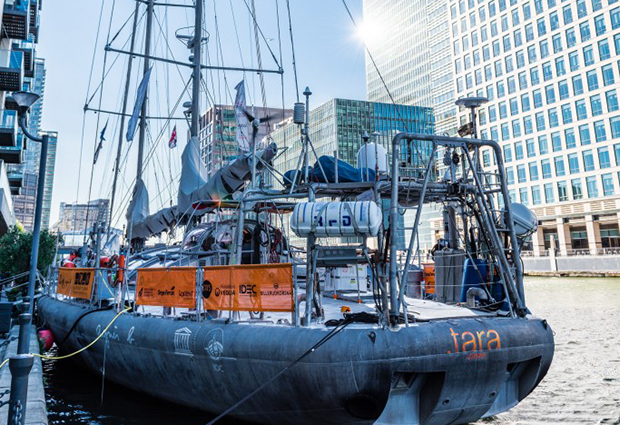 On 10 September 2015, the Tara Expeditions research vessel welcomed scientists, policymakers and funders in the UK aboard. The event, organised by EMBL-EBI, provided an opportunity for cell biologists, sailors and data scientists to showcase some of the major achievements of the Tara Oceans expedition and to talk about how the vital scientific data produced is being shared, optimised and safeguarded for future generations to explore.
The scientific activities of the Tara Oceans expedition, led by EMBL senior scientist Eric Karsenti, present an unprecedented effort that resulted in 35,000 samples containing millions of small organism collected in more than 210 ocean stations, chosen for their climatic significance or biodiversity. Putting to work its extremely advanced microscopy facility, storing analysing the genetic sequences of all organism with sophisticated bioinformatics resources, and explaining the story of life through surprising opportunities in evolutionary biology, EMBL is leading and enabling the on-going analysis of one of the most ambitious marine projects of our time.
Photos from Tara in London, 10 September 2015