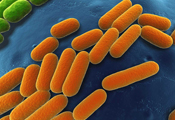 Fighting pesticide pollution with microbes
Pesticides used in agriculture are a major threat for soil and water ecosystems. Although microbes can break down pesticides, it is still not well understood which microbes do this and how they do it. This research project will develop novel approaches to answer these questions, and will help identify ways to better monitor the environment for pesticide contamination, to remove pesticides from the environment, and to design greener chemicals.
See the Zimmermann Group pages for more information.