Welcome to EMBL: Mikhail Savitski
New head of Proteomics Core Facility also runs stability proteomics lab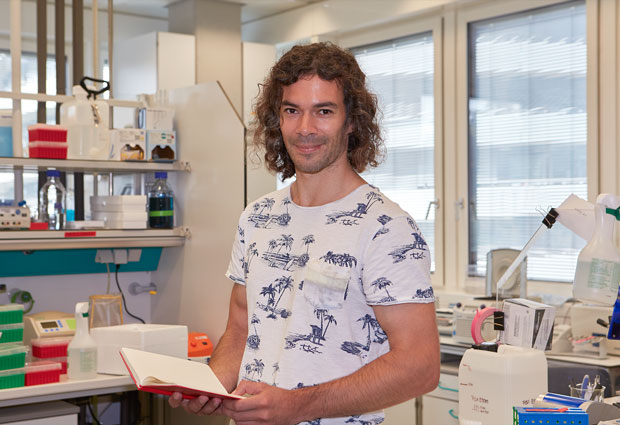 For Mikhail Savitski, running a research group and a core facility is "a fantastic challenge." The cross-pollination between them informs his research, which is based on mass spectrometry. His group is working on a technology that measures the stability of proteins, shedding new light into more effective drug treatments as well as open questions in molecular biology.
I have always worked in very interdisciplinary environments. This to me has always been the best constellation for doing great science.
What got you interested in science in the first place?
Back then it was physics and mathematics that I was mainly interested in. I come from a scientific family. My mother has a Ph.D. in physics, and her parents worked in science. From a very young age, when I lived in Russia, my grandmother would tell me mathematical riddles. Because she always had the same type of riddles, I think at age five I saw the pattern and I told her, 'I think I understand all of mathematics!'
How did you come to EMBL?
After I got my Ph.D. from Uppsala University, I saw an advertisement from Cellzome, an EMBL spin-off company. I had no intention of going into industry at all, but I applied for it because they were doing fantastic science in my area – proteomics – and it was located on the EMBL campus in Heidelberg. I had read a lot about EMBL and I was happy to be closer to it. I was at Cellzome for quite a few years – as a scientist, and then as a group leader in industry. So I essentially skipped the postdoc phase. My main reason for coming to EMBL was because of the research going on over here.
Whose work at EMBL particularly grips you?
I'm intrigued by Nassos Typas' research on how bacteria interact with drugs, other bacteria and the environment. I really like Wolfgang Huber's work; we collaborate in the development of statistics models, which have really clever applications to biology. Eileen Furlong's research on long-ranging gene-enhancer interactions is also fascinating. That's what I like about EMBL: everyone is doing fascinating science!
What are your research interests?
I work in a new area called fold-change stability proteomics, a method of assessing the stability of proteins in living cells. While at Cellzome, I have been working on developing a new technology that turns out to be a very powerful tool for detecting protein-drug interactions inside living cells. In drug studies it is very difficult to ascertain two things: Whether or not a drug actually enters a cell and binds to the protein it is supposed to, and what other proteins this drug binds to. Many drugs, such as those used to treat cancer, can share a lot of undesired off-targets. Meaning that not only do they bind to the protein of interest – which would suppress the disease – but they also interact with other proteins. Sometimes this leads to negative side effects, but it could also sometimes lead to beneficial effects. And the technology that we developed enables us to answer these questions. Currently in collaboration with Wolfgang Huber, Martin Beck, and Jan Korbel we are working on further developing this technology and applying it to fundamental questions in molecular biology.
What have you been reading lately?
Recently, Seveneves by Neal Stephenson – a great fiction writer that always very faithfully describes the scientific aspects in his books. And then of course also just reading about science. I read a lot of things specific to my research, and also about science in general.
What do you enjoy most about being a scientist?
What I really love about my work is that almost on a daily basis, I see things which are completely new, that no one has seen before. You do this experiment, you get data, and you don't know what to expect. You are basically the first person to receive such a thing, and to really start thinking about it. And the process is mesmerizing! Often when you get a lot of new information from certain experiments, you feel like you are standing inside of a cloud. You're trying to understand, 'What does this all mean?' And then a few months later, I can think, 'Oh, this was actually all really logical and simple.' It's really fascinating to start seeing the first simple logic of how things work and interact with each other. Even if you understand all of it, it very often still feels like magic.
Related links