Twinkle, twinkle, little nuclear pore complex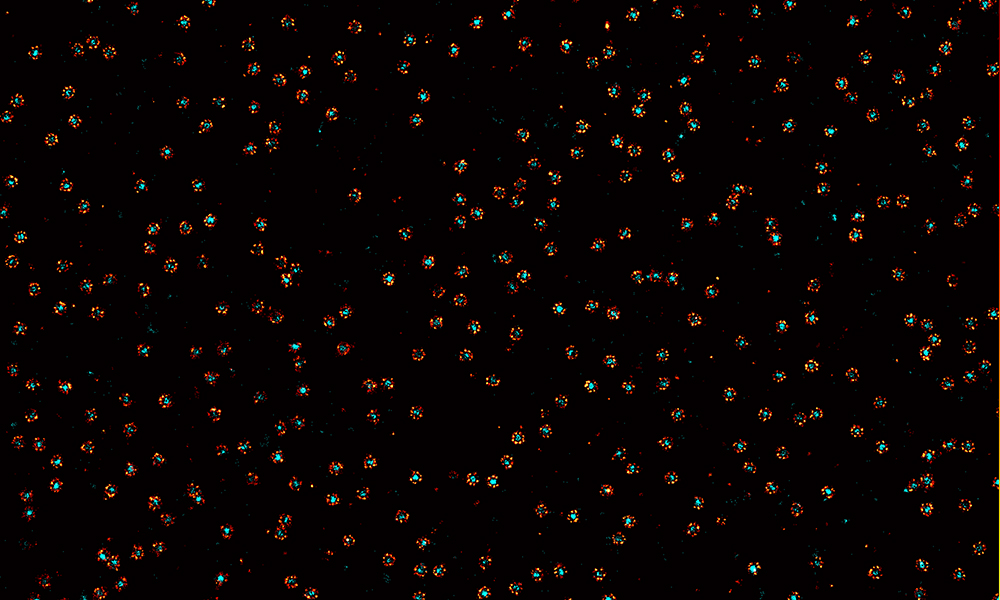 Rather than looking out into the great beyond on a starry, starry night, this image comes from deep within our human cellular universe.
These numerous twinkling objects are actually part of a super-resolution image of nuclear pore complexes (NPCs) in the cell. NPCs are assemblies of proteins that create channels in the membrane surrounding the nucleus. They regulate the transport of molecules between the nucleus and the rest of the cell.
To capture this sparkling image, scientists in the Ries group designed and built a customised super-resolution microscope in their lab. They fluorescently labelled a nuclear pore protein called Nup96 (red) and the central channel of the nuclear pore complex (cyan) using a molecule called wheat germ agglutinin. Members of the Ries group use samples like these to optimise their microscopes for further use. Not a bad view.
Credit: Jervis Thevathasan & Maurice Kahnwald/EMBL
If you have a stunning picture of your science, your lab or your site, you can submit it by email.
---