From cosmetics to blood cells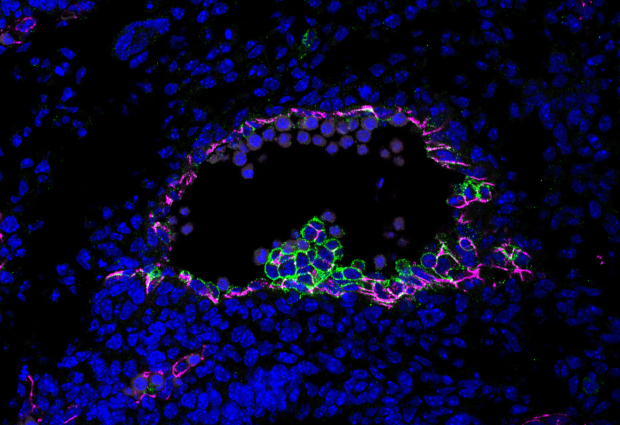 Every day, our body produces billions of blood cells that help keep our organs oxygenated and fight against infections. Blood stem cells – also called haematopoietic stem cells – divide continuously and sustain the mass production of all blood cell types.
Morgan Oatley and her colleagues in Christophe Lancrin's group at EMBL Rome investigated how haematopoietic stem cells emerge from the endothelium in developing mouse embryos. They found out that the expression of a specific marker – the protein CD44 – regulates which embryonic cells become blood stem cells.
Embryos express CD44 on the cell surface, where it binds hyaluronic acid – a key ingredient of anti-aging products in the cosmetic industry. While hyaluronic acid might make your skin look better, it turns out that it also interacts with CD44 to promote the formation of haematopoietic stem cells in developing embryos.
In this confocal image, CD44 coats some cells (green) in a cross-section of an embryonic artery. Magenta shows the expression of a protein in cells that line the interior surface of blood vessels, while nuclei appear in blue, coloured with a fluorescent dye (DAPI).
If you have a stunning picture of your science, your lab or your site, you can submit it here.