A colourful day at EMBL-EBI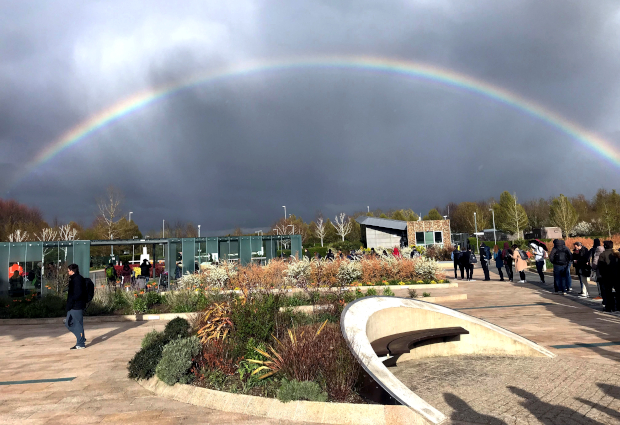 EMBL is an intergovernmental organisation, currently supported by 26 member states, one prospect and two associate member states. There are more than 1700 people working at EMBL, who come from more than 80 countries, creating a multicultural environment.
EMBL also operates from six sites in Europe: Barcelona, Grenoble, Hamburg, Heidelberg, Hinxton and Rome. Not only is each site specialised in a different field of the life sciences, they also come with their own unique flair.
EMBL's European Bioinformatics Institute (EMBL-EBI), in Hinxton, can be found in the Cambridgeshire countryside. Extensive fields surrounding the campus, long hedges and lovely old houses are part of the experience, as well as the occasional British rain shower. The latter is often followed by a stunning rainbow, like the one visible here in this Picture of the Week, showing EMBL-EBI staff members waiting for the bus.
If you have a stunning picture of your science, your lab or your site, you can submit it here.
---