Joining forces to solve global challenges
EMBL and the Swedish Science for Life Laboratory sign agreement to build new collaborative links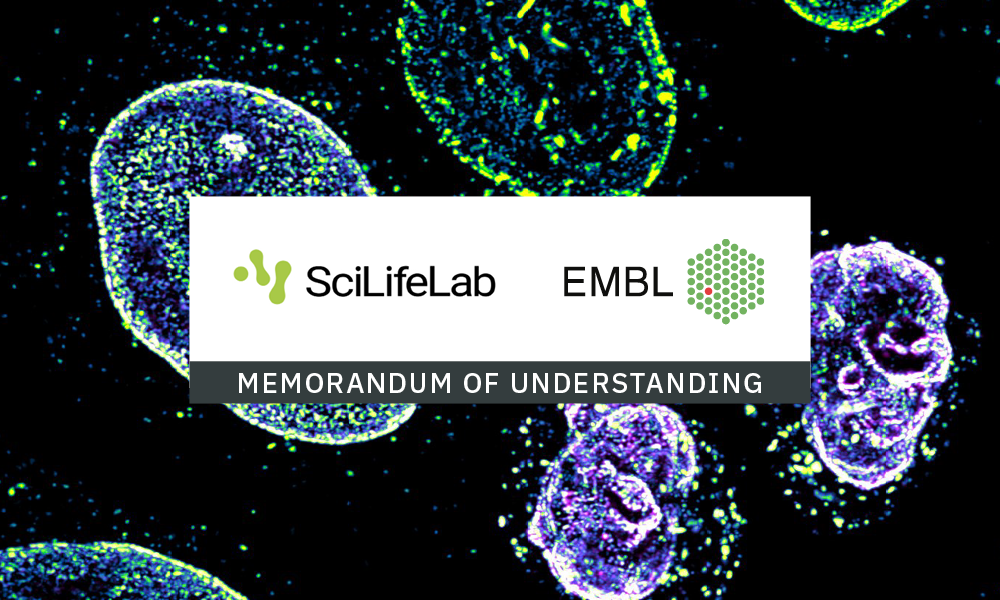 Data science and medical genomics, human and microbial ecosystems, infection biology and planetary biology – these topics are at the core of a memorandum of understanding that has recently been signed between EMBL and the Swedish Science for Life Laboratory (SciLifeLab).
"The remarkable alignment between the research interests and long term goals of EMBL and SciLifeLab indicates how valuable this formalised collaboration will be," says EMBL Director General Edith Heard. "Some of the most pressing challenges we face today are global, and effective solutions to improve planetary and human health require scientists to work together across countries and disciplines."
SciLifeLab, a Swedish national infrastructure for the advancement of molecular biosciences, is a collaboration initiated by the Karolinska Institutet, the KTH Royal Institute of Technology, Stockholm University, and Uppsala University, but engages the whole country. SciLifeLab offers access to cutting-edge life science infrastructure and provides expertise in areas such as biomedicine, cell and molecular biology, ecology, and evolution. The SciLifeLab research community includes more than 200 affiliated group leaders, while its infrastructure has more than 1500 users annually.
"EMBL and SciLifeLab share the goal of advancing life science for the benefit of healthcare, biodiversity, and the environment," says Edith Heard. "In the face of the COVID-19 health emergency in particular, we want to join forces to enable Swedish and European science to provide concrete and timely solutions to global challenges, by pooling expertise, providing access to research infrastructures, and developing resources and technologies together."
"Like EMBL, SciLifeLab follows a data-driven approach to life science," says Olli Kallioniemi, the Director of SciLifeLab. "There is also a strong overlap of interests in the fields of biological imaging across scales, structural biology, proteomics, and metabolomics approaches; bioinformatics, planetary biology, and health. Training and tailored exchange programmes for the next generation of life scientists are also of great interest to both communities."
There are already various links and collaborations between EMBL and Swedish research institutes, such as in the areas of data science, scientific infrastructure services, and structural biology. By formalising their interactions with a memorandum of understanding, EMBL and SciLifeLab commit to developing these further, including in the context of Horizon Europe, the European Union's science funding scheme.
The agreement will enhance connectivity between EMBL and Sweden, increase the availability of scientific data and the use of shared key technologies, and facilitate the exchange of knowledge and talent.
"This memorandum of understanding is another important connection to Sweden, in addition to our greatly valued Nordic EMBL Partnership, of which the Laboratory for Molecular Infection Medicine Sweden (MIMS) is a highly successful node," says Plamena Markova, Head of International Relations at EMBL.
To get things started, EMBL and SciLifeLab met on 31 May for a virtual workshop. This served as a kick-off meeting for scientific collaborations as part of the agreement. The workshop featured introductions to the future plans of EMBL and SciLifeLab, as well as scientific talks by scientists from each institution. It enabled exchange on complementary experimental and computational platforms being developed at EMBL and SciLifeLab, as well as on structural biology, biology in context, and challenges in analysing large multimodal datasets.
---