Use your coding superpowers for good
Q&A with EMBL-EBI PhD student Hannah Currant on how a kids' coding club is challenging perceptions in science and programming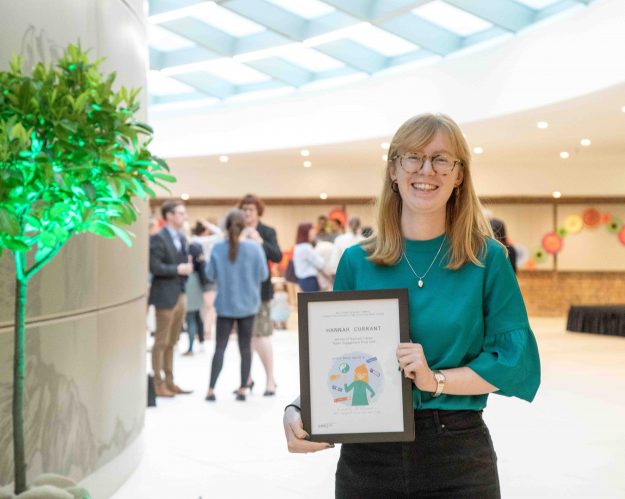 Hannah Currant is a PhD student at EMBL-EBI. She recently received the Early Career Public Engagement Prize on the Wellcome Genome Campus. The award recognised the work Hannah has done to set up the first CoderDojo in Cambridge, UK – a place where young people can gather to learn code and break stereotypes.
What do you do at EMBL-EBI?
I'm a PhD student in Ewan Birney's research group, and I work on the genetics of the human retina. I'm focusing on identifying links between the morphology of the retina, genetics and diseases, in particular glaucoma. One thing I really enjoy about my work is exploring data because a lot of times unexpected things emerge.
How did you get into coding?
I didn't know very much about computer science before going to university, but a few of my friends studied it, and speaking to them got me interested. I learned to code mainly by doing online courses, like Codecademy. My friends recommended Python so I started with that.
What are your tips for learning to code?
I think online courses are great – the more practical, the better. But even more importantly, if there is a community around you, such as a class or a meet-up, definitely join it – that way, when you get stuck, you have people to ask.
What is CoderDojo?
CoderDojo is an international organisation that promotes computer science to young people through free, accessible and fun workshops. Volunteers set up local dojos, where kids come along and learn to code. The format is very flexible and CoderDojo offers lots of different resources to help you get started.
Apart from the regular meet-ups, once a year there's a huge convention where the kids can present their work.
So what does your CoderDojo look like?
My CoderDojo has been running for about two years and each session attracts about 20 to 25 kids and their families. The kids are usually between 6 and 17 years old.
We teach Python and Scratch, a drag-and-drop style coding platform built by MIT especially for teaching children. It's very colourful and has animated cats that you can programme to dance about, so it's lots of fun. But you can also do very creative things with it, like storytelling, building games, quizzes and more.
Participants are given worksheets to complete with the help of mentors, who are all volunteers. None of this would have been possible without the support of volunteers and the organisations that have generously offered us the time and space to hold these meetings.
What do you enjoy most about running a CoderDojo?
It's fantastic to see the excitement of the participants when they get something working. Some of these kids are only six years old – it's amazing that they can type, let alone build things using code!
For example, I have a self-organised team of kids around ten years of age, who have decided they want to build a game. They've set up a Dropbox and they're using Trello to assign tasks. We're working with them to help set up a GitHub. They produce graphics using Blender, and they've even composed their own soundtrack; it's amazing!
At my dojo, parents are asked to stay and that's very helpful because they can help with some of the logistics. Many of them get involved, which is really nice to see. We've had a few parents who didn't know very much about coding, so it's wonderful to see them getting involved and engaging with their kids. I think a lot of people do it as a family activity.
What are your future plans for your dojo?
There are a few things that I'd really like to explore further, particularly the more 'difficult to reach' audiences. For example, teenage girls are underrepresented in our dojo. I'd like to understand how to involve them more. This is partly because I myself wasn't exposed to coding until university, so I feel like it's a bit of a missed opportunity.
Another one is pensioners. I volunteer with Age UK, visiting an elderly person once a week, so I'd really like to do more in that sense. I feel like coding is such a great way of keeping the mind active! It's different, but why not?
Why do you think it's worthwhile doing this type of public engagement?
I find it fun and rewarding. And you don't have to dedicate a huge amount of time to it. A few hours a month is a great start!
Setting up the CoderDojo also meant that I met lots of people from the Cambridge tech community. There's a lot of potential for serendipitous encounters when you do this kind of thing.
What drives you?
I would really like to showcase the diversity of people in science and in code. To show that's it's absolutely OK to be interested in coding and read Vogue. To show that you don't necessarily have to go to university to get a coding job. Or that if you study biology, there are lots of very different career paths you can follow – it doesn't mean you will spend your life in a lab.