EIPOD4: 2019 applications are open
EIPOD4 will prepare researchers for the increasing interdisciplinarity of scientific career paths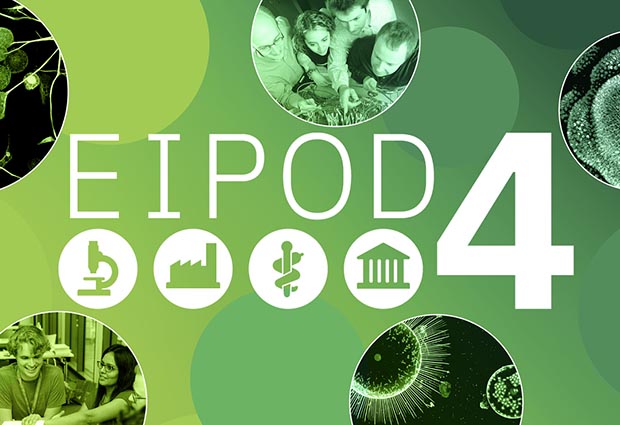 Since 2007, the EMBL Interdisciplinary Postdoc (EIPOD) programme has provided interdisciplinary research training to supported fellows. EIPODs carry out self-designed research projects involving at least two research groups from across EMBL's six sites. The structure of the programme allows the fellows to gain a range of new expertise and fosters collaboration within EMBL.
EIPOD has been co-funded by the European Commission's (EC) Marie Skłodowska-Curie Actions since 2009, previously under FP7 and now under Horizon 2020. The newest version of the programme, EIPOD4, will fund approximately 60 postdoctoral researchers for up to three years. The first call for applications under the new programme is open from 17 June – 5 September. The EIPOD team will host information webinars to provide interested applicants with an overview of the programme on July 1, 09.00 CEST, and July 29, 17.00 CEST. Applicants can also get in touch directly with the EIPOD office for more information by contacting eipod@embl.org.
In this interview, Monika Lachner (ML), Head of Internal Scientific Training & Dean of Graduate Studies, and Brenda Stride (BS), Postdoctoral Programme Manager, describe the unique benefits of the EIPOD4 programme.
Why was the EIPOD programme established?
ML: The EIPOD programme is all about interdisciplinary research. It was established in 2007 with the goal of making use of EMBL's interdisciplinary environment to provide a training scheme for postdoctoral fellows. Every EIPOD fellow has at least two supervisors – they're hosted by two or more EMBL labs – and this contributes to networking and collaboration across EMBL units and sites.
Do EIPOD fellows divide their time equally between their associated groups?
BS: That's up to the fellows and the group leaders. We've seen people based in one group who only occasionally travel to a partner group, and we've seen people who have spent a year at one EMBL site and then relocated to another. We try to give EIPOD fellows maximum flexibility within the programme.
Has the programme developed since its inception?
ML: Yes, a lot! Since 2009, we have been continuously funded by the EC. With each new grant application, we've had to show innovation and added value. As a result, the programme has evolved significantly to the benefit of the fellows.
BS: It means we're constantly trying to make the programme better. For example, one of the major additions with EI3POD was the establishment of a career development service. EIPOD fellows can take advantage of 1-on-1 career advice and we've seen such a benefit from this service that it's going to be rolled out to all EMBL fellows. This really underscores the importance of the EIPOD programme. We can try out new training and career development formats, and when something is really successful we can try to make it available to the entire fellow community.
EMBL has a very dynamic environment. I think that really fosters interdisciplinary research.
What are the new features of the EIPOD4 programme?
ML: EIPOD4 will continue to allow external partner participation from academia and industry. In addition, we now have a clinical track that is intended for fellows interested in translational, biomedical research, and for MD/PhDs who aspire to a career as a physician scientist . It is also possible to have a research partner from a museum with an active research programme. Fellows can spend a portion of their fellowship at the external partner lab.
BS: Under EIPOD4, we have a partnership with the Natural History Museum in London. Their public engagement team will provide our fellows with training, and this will be linked to a large outreach event at the museum itself.
There is also a new mentoring scheme, EIPODs Inspire. Each EIPOD fellow will be paired up with a competitively selected master's degree student. The pairs will receive training and the EIPODs will mentor the junior scientists. EIPOD4 fellows interested in a career outside academia can explore their options in a new career secondment scheme upon completion of their EIPOD fellowship.
Why is EMBL well suited for an interdisciplinary fellowship programme
ML: EMBL has a very dynamic environment: we always have an influx of new group leaders with new ideas and diverse backgrounds. You can see it when you look at the backgrounds of our current group leaders – around 40% of them didn't start their career working in the life sciences. I think that really fosters interdisciplinary research.
The EMBL missions also line up well with an interdisciplinary research programme. We have a strong focus on training and on technology development. In technology development especially, it's common to find people with different backgrounds working together with biologists.
We are looking for people who embrace interdisciplinary research and who will benefit from the programme by gaining new skills.
What are the main challenges faced by postdocs within the EIPOD programme and how does EMBL support them in dealing with these challenges?
BS: Fellows need to learn to coordinate their involvement with multiple research groups. For this, you have to be able to take a leadership role. We're are in touch with the fellows regularly and this allows us to support them as needed.
ML: The EIPOD is a really great opportunity. It's demanding, it pushes you and it challenges you, but this is really important for your career. EIPOD fellows come in as a cohort and they get to know and support each other. This networking is really important because your EIPOD peers might be your future collaborators. Alongside regular meetings with the career advisor and dedicated training days, there is also a range of additional training sessions that fellows can choose from based on what they think is important for their development.
What are you looking for in an EIPOD applicant?
ML: The two main evaluation criteria are scientific excellence and interdisciplinarity.
BS: We are looking for people who embrace interdisciplinary research and who will benefit from the programme by gaining new skills. This has proven to be very successful for many of the programme's alumni.
This project has received funding from the European Union's Horizon 2020 research and innovation programme under grant agreement No. 847543.