Art inspired by data science
Inspired by the idea of storing digital artwork for tens of thousands of years, London-based artist Steve Wright has created an eye-bending work of art that now greets visitors to EMBL-EBI.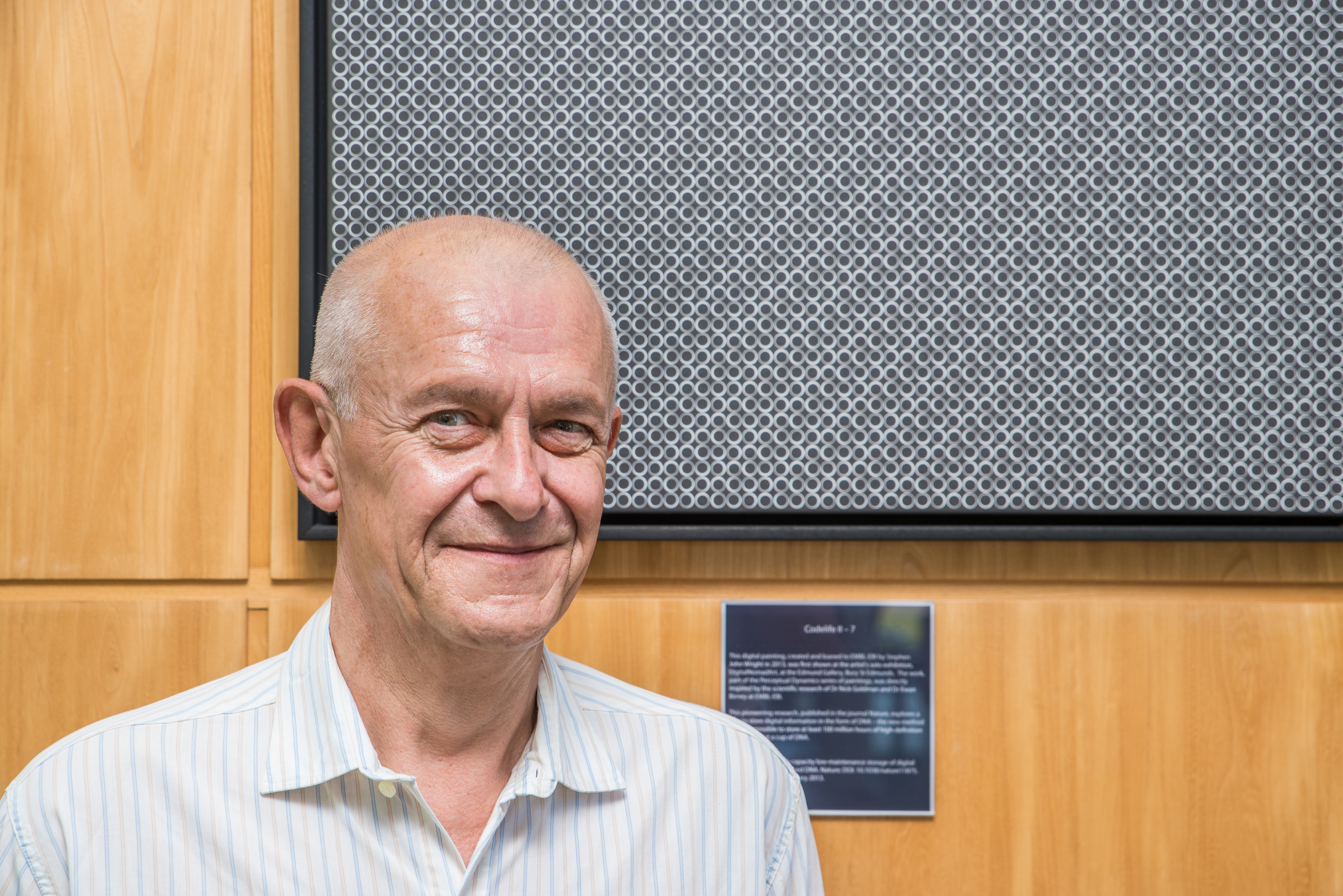 "The idea of storing your digital artwork for thousands of years appeals to the natural megalomania of artists," quips London-based artist Stephen John Wright.
On 25 July 2014, Stephen visited EMBL-EBI to donate his painting, 'Codelife II-7', to EMBL Senior Scientist Nick Goldman. Inspired by research led by Nick Goldman and Ewan Birney into using DNA to store digital information, Stephen created a work of art that features thousands of circles on a black field in a regular pattern that is, for this writer, very hard to look at without getting dizzy.
"I wanted to make a visual simile for DNA, and flows of information," says the painter, who has a keen interest in science. "I've used binary symbolism in black and white, creating lots of motion and tilt to make it come alive. Also, I kept thinking about the conversation Nick and Ewan had in a bar about how they were going to change the way we store digital information – so it's kind of reminiscent of thousands of beer-glass impressions on a table, too."
I wanted to make a visual simile for DNA, and flows of information
The design is composed of groups of four differently oriented, cammed white circles on a black ground, staggered by one circle in each row down. Each circle in a group of four represents one of the DNA base pairs: A, T, G or C. The circles appear to interact simultaneously in many different planes and directions, representing flows of data. For some people, the illusory interactions between the circles create a perception of different colours.
Stephen has been creating digital paintings on his laptop since 9/11, when it became almost impossible to travel with traditional painting supplies. He works using Microsoft Paint, a simple graphics program that has been around for quite a long time. Recently, he has been experimenting with a large-format, high-precision, flatbed printer that can print on almost any medium – paper, canvas, metal, plastics, Perspex, glass, wood and even stone – at up to 8×4 feet. That makes it possible for him to create very large original works, including light boxes.
Codelife was first exhibited in a solo exhibition called DigitalNomadArt at the Edmund Gallery in Bury St Edmunds, Suffolk, UK.
Looking at the painting together, Nick remarked, "I'd call it, 'When Mathematicians Tile Their Kitchens'." Ewan added that it reminded him of Penrose tiling – patterns that will never repeat, infinitely. Next time you find yourself in EMBL-EBI's main building on the Genome Campus, have a look for yourself and let us know what you think by emailing news@embl.de.