EMBL Annual Reception: focussing on young talent
On April 12, EMBL hosted 200 attendees at its Annual Reception in Heidelberg and highlighted its role as a training hub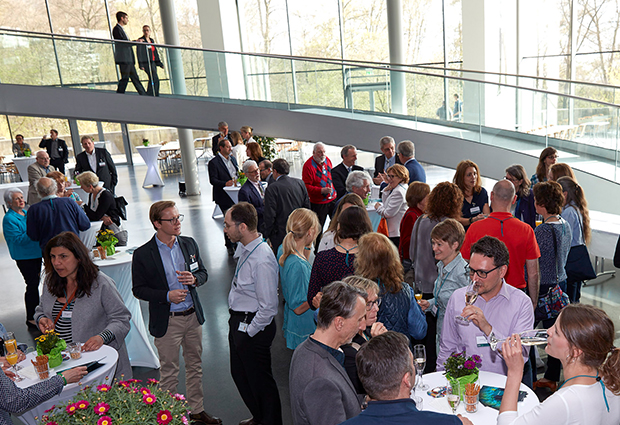 Every year, EMBL Heidelberg invites local supporters, collaborators and friends to the Annual Reception, to say thank you for their ongoing backing. This year, close to 200 scientists, journalists, and policy makers came together in the EMBL Advanced Training Centre to discuss the theme for the evening, 'young talent'. Attendees mingled, meeting friends old and new, on this balmy spring evening.
Supporting scientists
After the welcome reception in the foyer, Iain Mattaj, EMBL Director General addressed the guests and set the tone for the evening. He spoke about the importance of nurturing young scientists and EMBL's role in this; ensuring that young scientists have access to the best and newest technologies, whilst creating a collaborative atmosphere in which life-long networks are forged. By picking some of the many successful alumni-stories, including Jacques Dubochet who recently received the Nobel Prize in Chemistry for work done at EMBL, Iain Mattaj proved that EMBL's concept of encouraging promising, young scientists to pursue ambitious research goals is indeed successful.
Collaborative projects
Yet EMBL does not only support scientists. It also wants to kindle the curiosity and passion that is characteristic of budding scientists. Thus, Iain Mattaj highlighted how EMBL is committed to supporting these even younger talents, through projects such as those run by ELLS, in which school students built and used fluorescence microscopes, and the upcoming EMBL Science Movie Night
Next, EMBL group leader, Wolfgang Huber, gave this year's Friends of EMBL lecture. He introduced his team's research, which focusses on mining huge biological datasets by machine learning. Their work includes a collaborative project between EMBL, Heidelberg University, and the DKFZ which uses biopsies of blood cancer cells from cancer patients to test them for their response to known and novel drugs.
Meet and greet
To round off the evening, guests enjoyed an international buffet. They also met with some of EMBL's young talent from the predoctoral and postdoctoral programmes to get first-hand insights into life in the lab. Guests were interested to find out about the young scientists' poignant lab moments and what inspires them to continue within research. These interesting chats went on late into the evening.
Related links