Playing with science
Vasily Sysoev, PhD student at EMBL Heidelberg, reveals how he successfully juggles research and outreach activities.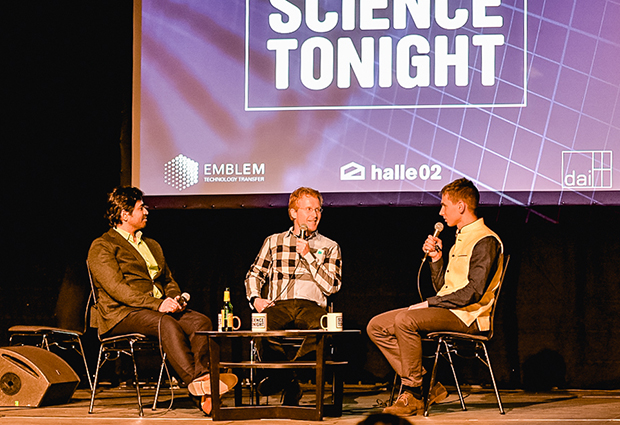 Who said that there's no room for fun during a PhD? Sysoev shows that combining scientific research with entertaining outreach is not only possible, it's a pleasure. Born and educated in Russia, Sysoev is a PhD student in the Ephrussi group, where he studies the role of RNA binding proteins in early fruit fly development. In his spare time, he organises playful events where researchers have the opportunity to communicate their work to the local public.
Where does your commitment to science outreach come from?
I've always believed that scientists should connect more with the public. At EMBL, I had the chance to do it in person, and have been fortunate that Anne Ephrussi, my PhD mentor, has been extremely supportive. I started reaching out to non-scientists about two years ago as an EMBL school ambassador, a role that gave me the opportunity to visit high school kids here in Germany. Later, sponsored by a Russian company, I gave similar lectures at schools and science museums in Russia with two friends, EMBL PhD students Ishaan Gupta and Lars Velten. I enjoyed it so much that I decided to organise my own outreach event: the Heidelberg Science Slam. The concept behind Science Slams is that scientists have 10 minutes to explain their research in an entertaining way to an audience of non-experts that judges the performance. Science Slams are very popular in Germany, but in Heidelberg there were no such events held in English for the international community. I just went to a pub and asked if I could show slides on the screens where they usually show football. Almost two hundred people attended the first Heidelberg Science Slam, so I decided to do it regularly, and so far I've hosted seven events, once every two months on average.
How did you come up with the idea for the recent Science Tonight event?
After organising several Science Slams, I wanted to explore a format that would allow speakers to cover their topic in more detail. With the support of EMBLEM, EMBL's technology transfer partner, I put together a more structured programme where scientists could elaborate on a specific topic and interact with the public in an informal setting. Hosted in a well-known club in Heidelberg, this time the discussion was accompanied by live jazz music and beautiful scientific images.
The discussion was accompanied by live jazz music and beautiful scientific images.
EMBL group leader Lars Steinmetz and clinical bioinformatician Prakash Balasubramanian from the German Cancer Research Center (DKFZ) joined me in a lively panel discussion on the future of personalised medicine. They debated current efforts and the scientific community's vision to tailor disease treatment on the basis of individual patients' genes and lifestyle. Lars also made a stand for a systematic study of healthy individuals, as our success in fighting diseases depends on the understanding of healthy states. It was great to see so many non-scientists engaging with quite difficult scientific concepts during the three-hour event. It was a resounding success and I am looking forward to organising more of these events.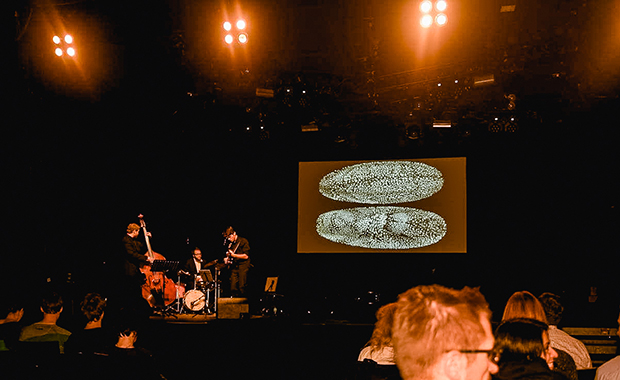 Is there any particular subject that you would like to explore in the future?
I am fascinated by topics that divide public opinion and provoke passionate discussions, like food safety and practical applications of genetic engineering in general. I believe that, as scientists, we should engage people and allow them to make informed decisions on controversial topics.
If you could invite any scientist in the world to your next event, who would it be?
There are many scientists that could share amazing stories and attract a lot of attention, for example Nobel Prize winners or directors of renowned research institutes. However, I am more interested in learning from people that still do experiments and have hands-on experience with current technology, so my choice would definitely be an enthusiastic junior group leader or senior postdoc.
How do you successfully juggle your PhD work and outreach activities?
At the beginning it was more challenging: I was spending quite some time putting together an event, although all the work could be done during evenings or weekends. Now that I've gained experience, I know when to get started with specific tasks – for example, inviting speakers or advertising the event – so it has become no more time consuming than any other hobby.
What else have you learnt from your outreach experiences?
When I went to give lectures in schools, kids were thrilled and bombarded me with unexpected questions and comments on my research. This helped me to think more thoroughly about my PhD project and the way I present it to others. Overall, I think these events are a lot of fun for both the audience and the organisers, so I would recommend anyone to give it a try!