How EMBL alumni created a groundbreaking vaccine technology
A group of Italian EMBL alumni developed a key technology behind some of the most promising COVID-19 vaccines
The first vaccines with demonstrated efficacy against COVID-19 were announced in November, and are now moving rapidly toward implementation.
The vaccines developed by Pfizer/BioNTech and Moderna work by delivering a genetic message into human cells in the form of a molecule called messenger RNA (mRNA), wrapped in a protective coat. mRNA is a type of molecule found in most of our cells, which carries instructions from our DNA to our cells' protein-making machinery. In this case, the mRNA in the vaccine instructs our cells to produce coronavirus proteins, which don't cause illness but do trigger an immune response. If we're infected by the SARS-CoV-2 virus, our immune system is prepared to fight it off, blunting infection.
The Oxford/Astra Zeneca vaccine also delivers a genetic message to human cells, but it does so in the form of 'cargo' carried by another type of virus. In this viral piggyback system, the instructions for producing coronavirus proteins are brought into cells by infecting them with a harmless virus called an adenovirus, which is one type of virus that causes the common cold. This system makes the vaccine easier to produce and store, so it's cheaper and more versatile. To work efficiently, the trick is to use an adenovirus from primates, because a form that infects humans is more likely to be recognised and destroyed by our immune system.
Bringing the EMBL spirit back to Italy
The story that led to the first primate adenovirus-based vaccine began in 1979, when Riccardo Cortese – an Italian medical doctor convinced that fundamental research was the route to improved medicine – was recruited at EMBL Heidelberg. With his rare vision and talent, Riccardo was asked to set up and lead EMBL's Gene Expression Programme, to which he attracted a number of other Italian scientists. "We were all in the same corridor," he said in a 2015 interview, "which apparently had the permanent aroma of espresso." Among this group were two young scientists: Alfredo Nicosia and Alessandra Vitelli. The time the three of them spent together at EMBL sowed the seeds for a lifelong friendship and a professional partnership that gave rise to their work on chimpanzee adenovirus-based vaccines.
When the time came to leave EMBL, Riccardo was called back to Italy to found a new institute for molecular biology research, IRBM, near Rome, as the Italian site of Merck Research Laboratories. Alfredo and Alessandra joined Riccardo, and together they began to learn about drug discovery.
Around that time, Merck had started a project with the aim of producing a vaccine for HIV based on a viral vector. The idea was to insert a set of HIV genes into an adenovirus carrier, to stimulate an HIV-specific immune response that would protect against infection. The approach piqued the interest of Riccardo and his colleagues, who decided to apply it to the development of a vaccine against the hepatitis C virus. The adenovirus vector looked promising, but in people previously exposed to adenovirus the immune response, and hence the effect of the vaccine, was weakened. This prompted the idea of using the chimpanzee adenovirus as a carrier. This virus would be similar enough to human viruses that it could readily infect human cells, but different enough to avoid being rejected by the immune system. The approach worked, and was patented in 2004.
The HIV vaccine project failed to deliver positive results, however, so Merck decided to drop this whole line of vaccine research. Nevertheless, Riccardo was convinced that the approach was promising, and successfully negotiated the licence to further develop chimpanzee adenoviruses at Okairos, a new company he founded in 2007, along with Alfredo and two other colleagues.
This pioneering work led to the development and manufacture of the first simian adenovirus vectors to enter clinical trials in humans. These tackled major infectious diseases such as hepatitis C, malaria, HIV, respiratory syncytial virus, and Ebola. In 2013, Okairos was acquired by GSK under an agreement negotiated by Riccardo, in which the intellectual property was sold but the team of researchers was preserved and reborn as the company ReiThera.
Towards a COVID vaccine
When the COVID-19 pandemic arrived in Italy in early March 2020, ReiThera moved rapidly to adapt their latest, improved adenovirus vector – based on a gorilla adenovirus – to produce a COVID-19 vaccine.
"After the experience at Okairos, we had acquired the know-how," says Alessandra Vitelli, now Chief Scientific Officer at Reithera. "We had isolated a new adenovirus from gorillas, showing better delivery features and stronger immunogenicity in mice than the chimp adenovirus. We had just applied to receive a grant from CEPI – the Coalition for Epidemic Preparedness Innovations – to develop a vaccine platform ready for future epidemic outbreaks. When the current pandemic broke out, we decided to repurpose our new gorilla vector against SARS-CoV-2."
Riccardo Cortese passed away in 2017. Alfredo Nicosia headed ReiThera until 2019, when he took up a teaching post at the University of Naples Federico II. But a new generation of scientists are further developing and improving the original technology. Among them is another EMBL alumnus, Angelo Raggioli, who joined ReiThera in 2019 as Head of Vectorology.
"My current job at ReiThera is very similar to what I did at EMBL Rome," says Angelo, who developed the vector that is currently being used in Reithera's COVID-19 vaccine, called GRAd-COV2. "The only difference is that here we all work towards a single goal, while at EMBL we collaborated on many different projects. Working for a company, I am more limited in the kind of reagents that I can use, as many are covered by patents. On the other side, I enjoy the excitement that comes from the practical implications of my research."
Closing the circle
Riccardo and his colleagues contributed to EMBL's innovative and dynamic spirit and then brought this back with them to Italy, where they've applied it throughout their careers.
"EMBL gave me the opportunity to measure my skills, and to share my experiences," says Alfredo Nicosia. "It gave me access to tools and knowledge, and to an incredible range of expertise. It ingrained in me an open community culture, which I have used throughout my life to connect people and develop ideas. The challenge is to get things started, as Riccardo used to say."
---
Ex ricercatori EMBL artefici di una innovativa tecnologia vaccinale
Un gruppo di scienziati italiani, ex ricercatori dell'EMBL, hanno messo a punto la tecnologia su cui si basano alcuni tra i più promettenti vaccini contro il COVID-19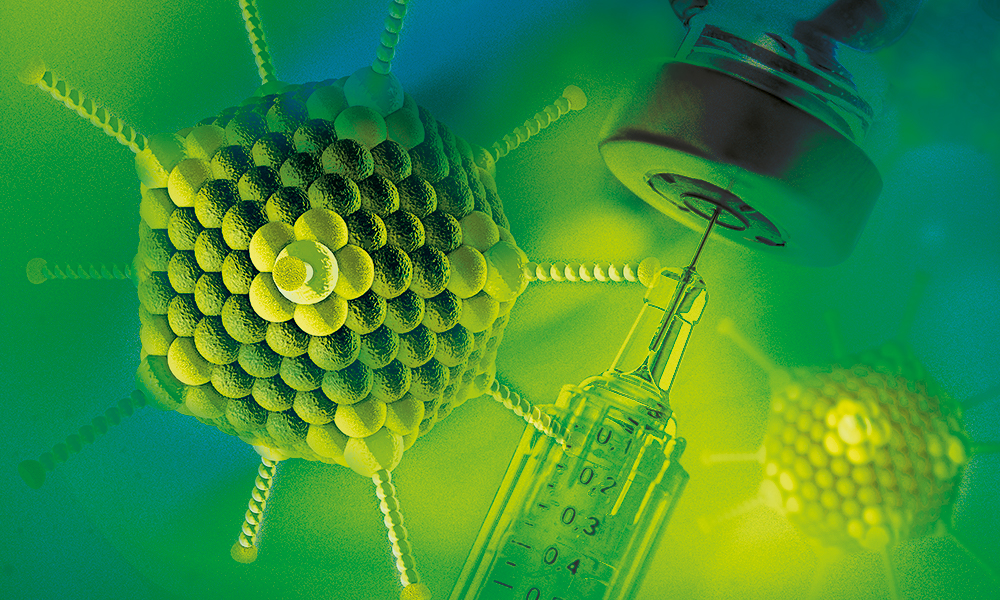 È di queste settimane l'annuncio dei primi vaccini che hanno dimostrato efficacia contro il COVID-19, e della loro imminente produzione su scala mondiale.
I vaccini sviluppati da Pfizer/BioNTech e Moderna funzionano trasportando all'interno delle cellule umane un messaggio genetico, sotto forma di una molecola di RNA messaggero (mRNA) avvolta in un involucro protettivo. L'mRNA è una molecola presente nelle nostre cellule che contiene le istruzioni per la produzione di proteine sulla base delle informazioni genetiche del DNA. In questo caso, l'mRNA del vaccino istruisce le cellule a produrre proteine del coronavirus, innocue per le cellule ma in grado di attivare la risposta immunitaria dell'organismo. Pertanto, in caso di contatto con il virus SARS-CoV-2, il sistema immunitario è già preparato a combattere e sconfiggere l'infezione.
Anche il vaccino sviluppato da Oxford/AstraZeneca si basa sul trasferimento di un messaggio genetico all'interno delle cellule umane. In questo caso, però, le istruzioni per produrre le proteine del coronavirus vengono trasportate all'interno delle cellule da un "vettore", cioè un altro virus non nocivo chiamato adenovirus – che causa il comune raffreddore. Questo sistema rende il vaccino più facile da produrre e conservare, e quindi più economico e versatile. Il segreto per aumentare l'efficacia di questo approccio sta nell'utilizzare adenovirus che solitamente infettano i primati, poiché quelli che infettano l'uomo sono più facilmente riconosciuti e neutralizzati dal nostro sistema immunitario.
Lo spirito dell'EMBL riportato in Italia
La storia che ha portato all'invenzione del primo vaccino basato sull'adenovirus di primati ha le sue origini nel 1979, quando Riccardo Cortese – un medico italiano convinto che la ricerca di base fosse fondamentale per il progresso della medicina – venne reclutato all'EMBL di Heidelberg. Come riconoscimento del suo talento e della sua visione fuori dal comune, gli fu chiesto di fondare e dirigere il programma di espressione genica dell'EMBL, per il quale Riccardo reclutò diversi altri ricercatori italiani. "Eravamo tutti nello stesso corridoio," ricordava in un'intervista del 2015, "un corridoio che sembrava avere l'aroma perenne di caffè espresso." Tra questi c'erano anche due giovani scienziati: Alfredo Nicosia e Alessandra Vitelli. Il periodo che i tre ricercatori trascorsero insieme all'EMBL segnò l'inizio di una lunga amicizia e di un sodalizio professionale che consentì lo sviluppo di una tecnologia vaccinale innovativa basata sull'adenovirus di scimpanzé.
Giunto il momento di lasciare l'EMBL, Riccardo venne richiamato in Italia per fondare vicino Roma un nuovo istituto di ricerca di biologia molecolare – l'IRBM – scelto dai Merck Research Laboratories come loro sede italiana. Alfredo e Alessandra si unirono a Riccardo e insieme cominciarono ad esplorare il mondo della ricerca applicata allo sviluppo di farmaci.
In quel periodo Merck aveva avviato un progetto finalizzato alla produzione di un vaccino contro l'HIV: l'idea era di inserire un gruppo di geni dell'HIV in un vettore di adenovirus in grado di entrare nelle cellule umane e stimolare una risposta immunitaria specifica contro l'HIV che proteggesse l'organismo dall'infezione.
L'approccio suscitò l'interesse di Riccardo e dei suoi colleghi, che decisero di applicarlo allo sviluppo di un vaccino contro il virus dell'epatite C (HCV). Il vettore adenovirale sembrava efficace, ma nei soggetti che erano stati precedentemente esposti all'adenovirus la risposta immunitaria, e dunque l'effetto del vaccino, appariva più debole. I ricercatori pensarono quindi di utilizzare come vettore un adenovirus di scimpanzé. Questo virus, infatti, sarebbe stato sufficientemente simile ai virus umani da infettare efficacemente le cellule umane, ma al tempo stesso abbastanza diverso da non essere riconosciuto e neutralizzato dal sistema immunitario. L'intuizione si rivelò vincente e la nuova tecnologia venne brevettata nel 2004.
La sperimentazione del vaccino contro l'HIV non produsse risultati positivi e Merck decise di sospendere l'intera linea di ricerca sui vaccini. Tuttavia Riccardo, convinto che l'approccio fosse promettente, riuscì a negoziare la licenza per sviluppare ulteriormente i vettori adenovirali di scimpanzé presso Okairos, una nuova azienda che egli fondò nel 2007, insieme ad Alfredo e altri due colleghi.
L'applicazione della loro tecnologia pioneristica consentì la produzione dei primi vaccini basati su vettori adenovirali da primati contro diverse malattie infettive come epatite C, malaria, HIV, virus respiratorio sinciziale e Ebola. Nel 2013, Okairos venne acquisita da GlaxoSmithKline (GSK) in base a un accordo, negoziato anche in questo caso da Riccardo, secondo cui la proprietà intellettuale veniva ceduta, ma il personale veniva interamente preservato ed integrato in una nuova azienda – Reithera – fondata dallo stesso team di ricercatori.
Verso un vaccino per COVID-19
Quando è scoppiata la pandemia COVID-19 in Italia, all'inizio di marzo 2020, ReiThera si è mossa rapidamente per adattare il suo nuovo vettore – ulteriormente migliorato e basato su un adenovirus di gorilla – allo sviluppo di un vaccino contro il COVID-19.
"Dopo l'esperienza in Okairos, avevamo acquisito il know-how," dice Alessandra Vitelli, ora Chief Scientific Officer di Reithera. "Avevamo già isolato un nuovo adenovirus dal gorilla, che mostrava migliori capacità di trasporto nelle cellule e una immunogenicità più forte nei topi rispetto all'adenovirus degli scimpanzé. Avevamo appena presentato una richiesta per ottenere un finanziamento dal CEPI – la Coalizione per le innovazioni nella preparazione alle epidemie – per lo sviluppo di una piattaforma vaccinale che fosse preparata ad affrontare l'esplosione di nuove epidemie. Quando è scoppiata l'attuale pandemia, abbiamo deciso di riconvertire il nostro vettore del gorilla per un vaccino contro il virus SARS-CoV-2."
Riccardo Cortese è venuto a mancare nel 2017. Alfredo Nicosia ha guidato ReiThera fino al 2019, quando ha deciso di ritornare a insegnare all'Università Federico II di Napoli. Tuttavia, una nuova generazione di scienziati sta contribuendo a sviluppare e migliorare ulteriormente la tecnologia originale. Tra questi c'è un altro ex ricercatore dell'EMBL, Angelo Raggioli, che dal 2019 è responsabile della Vettorologia in ReiThera.
"Il mio lavoro in ReiThera è molto simile a quello che svolgevo all'EMBL di Roma," dice Angelo, che ha sviluppato il vettore attualmente utilizzato per la sperimentazione di GRAd-COV2 – il vaccino di ReiThera contro COVID-19. "L'unica differenza è che qui lavoriamo tutti verso un unico obiettivo, mentre all'EMBL collaboravamo a progetti diversi. Lavorando in un'azienda, sono più limitato nel tipo di reagenti che posso utilizzare, in quanto molti sono coperti da brevetto. D'altra parte, qui per me è molto stimolante pensare alle implicazioni pratiche della mia ricerca."
Il cerchio si chiude
Riccardo e i suoi colleghi hanno contribuito a fomentare lo spirito innovativo e dinamico che caratterizza l'EMBL, uno spirito che hanno poi riportato in Italia e alimentato nel corso delle loro carriere.
"L'EMBL mi ha dato l'opportunità di misurare le mie capacità e di condividere le mie esperienze," dice Alfredo Nicosia. "Mi ha dato accesso a strumenti e conoscenze e a un'incredibile gamma di competenze. Ha radicato in me una cultura di comunità aperta, che ho adottato per tutta la vita, mettendo in collegamento le persone e sviluppando idee. La difficoltà sta nel far partire le cose, come diceva sempre Riccardo."