Bork lab peers gather
27 former Bork lab members joined Peer for a full-day get-together this summer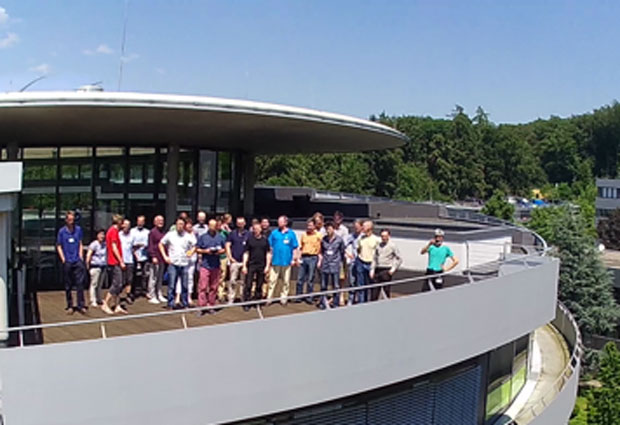 By Mehrnoosh Rayner
EMBL's Peer Bork, whose achievements in nurturing and stimulating young scientists earned him the Nature Award for Mentoring in Science in 2008, held his 2016 lab reunion at EMBL Heidelberg on 24 June.
A total of 27 former lab members joined Peer for the full-day get-together. Its aim was to encourage former lab members to connect, collaborate and stay up-to-date with each other's scientific work.
The Bork lab's influence on the fields of structural and computational biology is far-reaching. Since leaving the lab, 38 PhD students or postdocs (almost 65% of the total) have gone on to senior positions as professors, group leaders, directors or managers in prominent academic and research organisations worldwide.
Roland Krause, now project manager at the Luxembourg Centre for Systems Biomedicine (LCSB) at the University of Luxembourg, and Jan Korbel, himself now a group leader at EMBL, have been the main organisers of the four Bork Group reunions: Heppenheim (2006), Barcelona (2012) and Heidelberg (2009 and 2016).
The meetings offer unique opportunities to collaborate on new projects. One outcome of an earlier reunion was an initiative by Peer, Roland, Jan and Francesca Ciccarelli (now at King's College London) to organise EMBO Practical Courses for young scientists to learn about the computational biology of current life science topics and methodologies.
A huge variety of research was presented at this year's reunion, accompanied by seemingly endless conversations about the "good old days" and almost-forgotten anecdotes. In addition to various ideas for collaboration, a clear outcome of the 2016 reunion was the determination to continue this new tradition.
Roland, who works in LCSB's Bioinformatics Core Facility under former EMBL group leader Reinhard Schneider, added: "I always appreciate learning about the day-to-day challenges and successes of former EMBL colleagues in different countries and settings, and getting a better perspective about my own institution and science. I am already looking forward to the next reunion!"