EMBL-EBI Training has a wide range of bioinformatics training available for anyone around the world to learn from, but it's also there for lecturers, teachers, and trainers to use in their teaching too.
In the on-demand section of the EMBL-EBI Training website you will find:
Course materials – slides, practicals and recordings of live courses
Recorded webinars – recordings of our live webinars which include demonstrations of EMBL-EBI data resources
Online tutorials – self-paced tutorials, including introductions to a wide range of topics in bioinformatics and EMBL-EBI resources
Collections – curated collections of on-demand training on a specific topic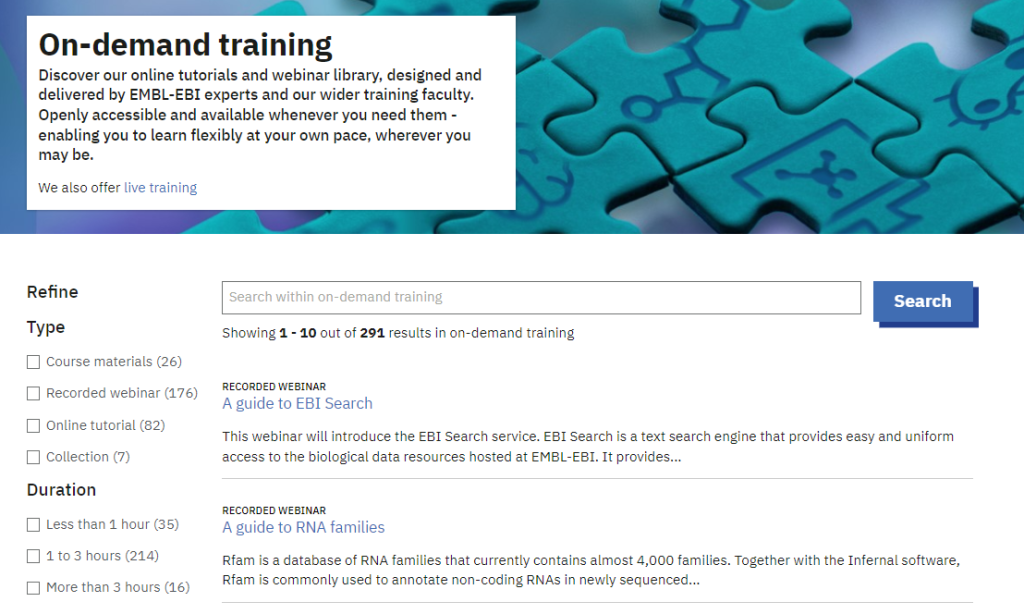 Our training materials include an overview, target audience, and learning outcomes to help you use the right materials for you and your learners.
You are welcome to use or modify any of these on-demand training materials as they are made available under a CC-BY licence, meaning that they can be used, copied or adapted, provided you give appropriate credit.
If you do modify some of our training materials, you are also very welcome to share your modified materials in the EMBL-EBI Training Zenodo Community so others can benefit from them too.
You can also create your own playlists of our on-demand training and materials to share directly with your students or network. Learn more about playlists in our previous blog.
If you have a question about using our training materials or would like to share how you're using them with us, you can contact us at trainonline@ebi.ac.uk.