The Battle of the Sexes
EMBL scientists uncover the gene responsible for keeping females female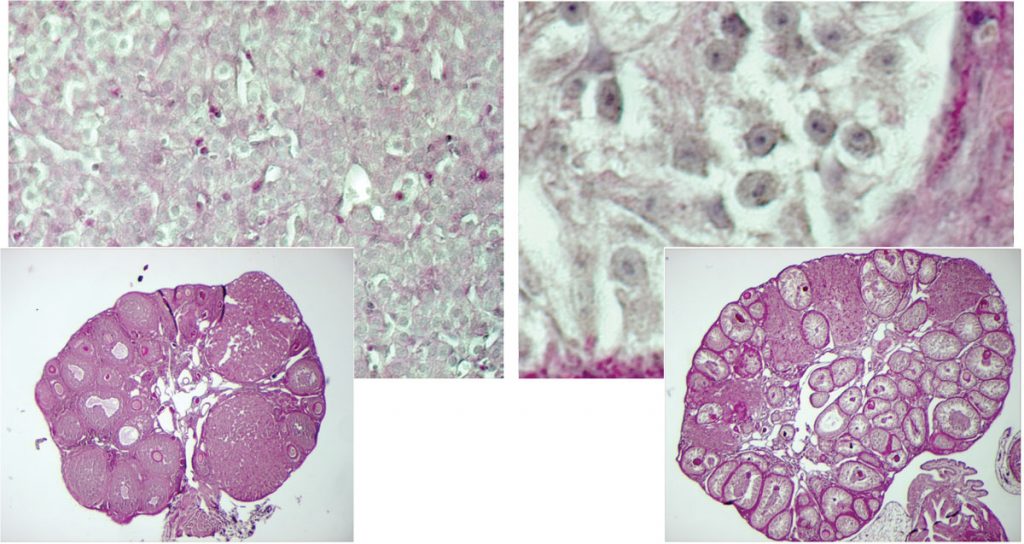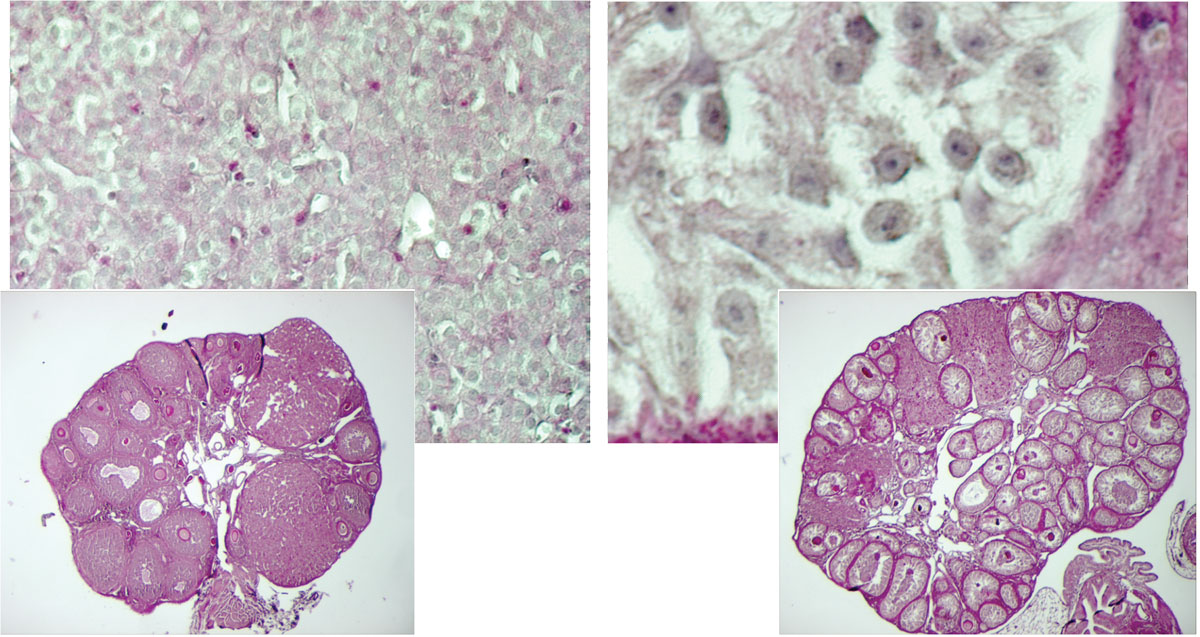 Is it a boy or a girl? Expecting parents may be accustomed to this question, but contrary to what they may think, the answer doesn't depend solely on their child's sex chromosomes. Scientists at the European Molecular Biology Laboratory (EMBL) in Heidelberg, Germany and the Medical Research Council's National Institute for Medical Research (NIMR) at Mill Hill, UK discovered that if a specific gene located on a non-sex chromosome is turned off, cells in the ovaries of adult female mice turn into cells typically found in testes. Their study, published today in Cell, challenges the long-held assumption that the development of female traits is a default pathway. At the same time, it grants a valuable insight into how sex determination evolved.
In humans and most other mammals, an individual's sex is determined by its sex chromosomes: females have two X chromosomes, males have one X and one Y. Scientists had long assumed that the female pathway – the development of ovaries and all the other traits that make a female – was a kind of default: if it had a gene called Sry, which is located on the Y chromosome, an embryo would develop into a male, if not, then the result would be a female. But in adult animals it is the male pathway that needs to be actively suppressed, as Mathias Treier and his team at EMBL discovered.
A gene called Foxl2, which is located on an autosome – a chromosome other than the sex chromosomes – and therefore present in both sexes, was known to play an important role in the female pathway, but its precise function remained elusive. To elucidate the matter, Treier and colleagues ablated, or 'turned off', this gene in the ovaries of adult female mice.
"We were surprised by the results," says Treier: "we expected the mice to stop producing oocytes, but what happened was much more dramatic: somatic cells which support the developing egg took on the characteristics of the cells which usually support developing sperm, and the gender-specific hormone-producing cells also switched from a female to a male cell type."
Thus, the scientists discovered that Foxl2 plays a crucial role in keeping female mice female.
Teaming up with the group of Robin Lovell-Badge at the NIMR, they were able to decipher together the underlying molecular mechanism. They showed that FOXL2 and oestrogen receptor act together by repressing a DNA element called TESCO that Lovell-Badge's group had previously identified to regulate expression of the testes-promoting gene Sox9. Sox9 was known to function in the embryo to make the early gonads become testes rather than ovaries, but the new studies suggest that it can perform the same task in the adult. FOXL2 is therefore critical to keep Sox9 turned off in ovaries throughout life.
"As most vertebrates have Foxl2, oestrogen receptors and Sox9," Lovell-Badge explains, "this mechanism for maintaining female traits probably appeared early on in the evolution of vertebrates, while Sry and the mammalian Y chromosome are relatively new inventions."
These findings will have wide-ranging implications for reproductive medicine and may, for instance, help to treat sex differentiation disorders in children, for example where XY individuals develop as females or XX as males, and understand the masculinising effects of menopause on some women.
The study is discussed by author Mathias Treier in an online video in Cell's 'PaperFlicks' series, which is available on YouTube. You can also watch the video by clicking the link at the top of this page.
---