New approach for testing cancer drug response
Large-scale systematic analysis explores how inherited genome affects drug response of cancer cells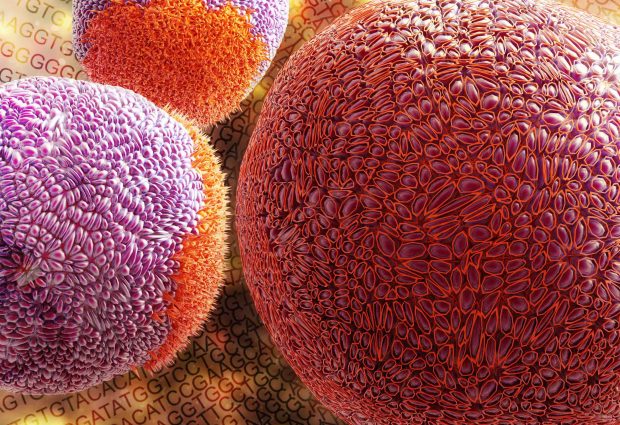 Patients with seemingly similar cancer tumours can respond differently to the same treatment. Over the last decades, scientists have been studying the molecular signatures of tumours to predict drug sensitivity. This approach primarily focuses on understanding the molecular alternations of the tumour itself. One aspect that not many studies include is the germline – or inherited – component of a patient's genome, which includes the analysis of non-diseased cells. This approach means that the relevance of germline variants on drug susceptibility is still largely unknown.
Researchers at the European Bioinformatics Institute (EMBL-EBI) have used a large collection of cancer cell lines to systematically test the relevance of germline variants to explain differences in drug response. The analysis, which leveraged both inherited genetic variants and variants that are caused by the tumour, was applied to 993 cell lines and 265 drugs. Surprisingly, results, published in Nature Communications, showed that the germline contribution to differences in drug susceptibility can be just as important as the contribution of somatic mutations.
A new tool in treatment decisions?
"We combined the cancer somatic and germline genetic information, and looked at how inherited genetic predispositions influence drug sensitivity," explains Michael Menden, who worked on the analysis during his PhD in the Saez-Rodriguez group at EMBL-EBI, and now part of the IMED Biotech Unit at AstraZeneca. "Surprisingly, we found that the germline contribution to drug sensitivity is sometimes larger than the effects of somatic mutations. Although this paper is a proof of concept, we believe further research could help establish the germline component as an additional tool for deciding what treatment to offer cancer patients."
"The germline component could be useful in multiple ways," continues Paolo Casale, previously a Predoctoral Fellow in the Stegle group and now at the Microsoft Research New England lab. "It could help us anticipate how effectively a certain drug would work on a patient depending on their genetic background, and it could also help us identify unwanted side-effects that a drug may have on a subset of patients."