The genetic risk factors for depression
Why taking account of major adversity in life is important for understanding and diagnosing depression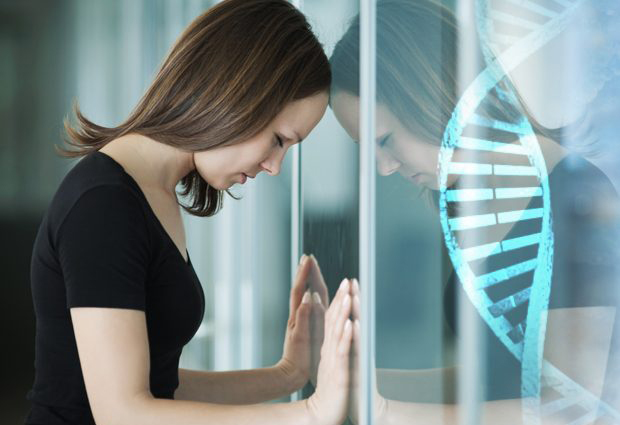 Researchers at the European Bioinformatics Institute (EMBL-EBI), Virginia Commonwealth University (VCU) and the Wellcome Sanger Institute have found that the genetic contribution to depression may differ between people who have experienced serious adversities in their life and those who haven't. Results from this genome-wide association study show that by removing people who have experienced major adversities from a cohort, researchers can get a clearer view of the molecular mechanisms associated with depression.
300 million people affected
According to WHO, more than 300 million people globally suffer from depression. The illness is caused by a complex interaction of social, psychological and biological factors. We're still unsure how those factors interact and what role genetics plays in the development of the condition.
The current paper is a continuation of a previous study published in Nature, which revealed the first two genetic associations for major depressive disorder. This latest study used the same data — collected by the China, Oxford and VCU Experimental Research on Genetic Epidemiology (CONVERGE) project — to take a closer look at the genetic factors associated with depression.
Data in this study was collected from almost 10,000 Han-Chinese women with recurrent major depression. In addition to the disease diagnosis and genotyping data, researchers also collected detailed information on adverse experiences from all participants, many of which strongly predict later-in-life depression.
The study used a binary measure of adversity derived from childhood abuse and stressful life events. These included financial difficulties, bereavement, and marital problems. By removing from the study patients of major depressive disorder who had experienced adversity, researchers are able to detect previously masked genetic factors of the disease.
Novel gene associations
The study also revealed three novel regions of the genome associated with major depressive disorder. These only appeared in participants with no history of adversity. "This was unexpected," explains Na Cai, Postdoctoral Research Fellow at EMBL-EBI and Wellcome Sanger Institute. "Some of the genes implicated by the associated variants play roles in mitochondrial function and metabolism, so one potential direction for future research is to try and understand the link between depression and metabolism."
"We also found evidence that by removing from the cohort people who have experienced major life adversities, we can unveil genetic factors associated with depression whose physiological effects are similar to those caused by adversities," says Cai. "This can help researchers pin down the biological mechanisms involved in depression. This type of research should allow us to get a better understanding of the illness."
"The ultimate goal is to identify high risk individuals for early intervention and personalised medicine," adds VCU Assistant Professor Roseann Peterson. "Genetic approaches, such as we have applied here, will be increasingly used to illuminate clinically relevant subtypes that will have important downstream implications for diagnosis, subtype biotyping, intervention, and treatment."
This post was originally published on EMBL-EBI News.
Related links