Welcome: Jamie Hackett
Meet EMBL Monterotondo's new group leader for epigenetic reprogramming and inheritance, Jamie Hackett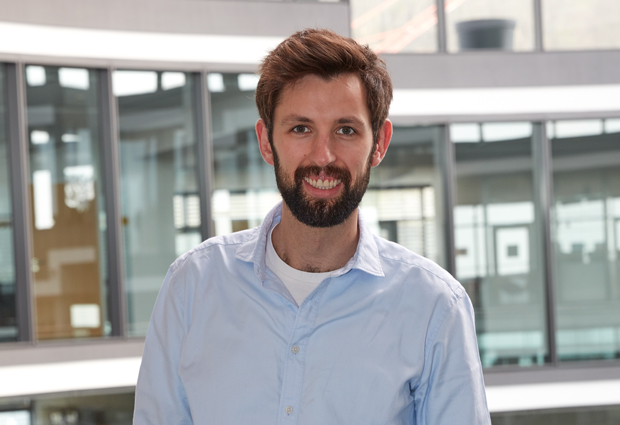 What got you interested in science?
I have always been interested in science, but I think it also comes down having inspiring teachers when I was younger. Both my science and my biology teachers were fascinating characters and very supportive – something that set me on the path to where I am today.
What is your group working on?
I began studying the workings of DNA methylation – a system that helps switch the expression of genes on or off – during my PhD at the University of Edinburgh. This then led me to become interested in a more global perspective of epigenetic systems: how they integrate developmental or environmental changes to affect the way in which our genetic code is interpreted. We want to find out how epigenetic states are established and the extent to which a memory of these epigenetic states can flow between generations – something that is poorly understood at present.
In order for an early embryo to acquire totipotency, which is the capacity in cells to divide and produce different cell types, epigenetic memory must be 'reset' between generations. Our group is interested in how epigenetic reprogramming works, through processes such as DNA demethylation and chromatin remodeling. We are looking at the controversial idea of how some epigenetic information escapes reprogramming and is inherited by offspring – something that could potentially impact development, health and disease over the course of generations. Such 'non genetic' inheritance is a tantalising possibility, but something that must be examined and scrutinised very carefully.
Being a group leader is challenging, but in a very good way
How does it feel being a group leader for the first time?
It's a lot of fun! You go from being a trainee, to a researcher focused on the science, then all of a sudden you are a manager of a team the size of a small company. It means new things; people management, purchasing, budgets and much more besides. What I like most about the role is being able to approach the science with a bigger picture in mind. Instead of being absolutely focused on a single project, I now think about how different projects feed into each other to understand the wider biological questions. It is challenging, but in a very good way.
What sort of skills are you looking for in your lab?
For me the most important attributes are motivation, enthusiasm and the willingness to always ask questions. I am generally much more interested in a person's thought process rather than their specific skills.
Do you have a particular leadership style?
I try to support people to be as independent as possible. I like to discuss the science frequently and informally, but I also try to encourage people to initiate their own ideas. Getting the balance between supervision and independence is a key aspect of developing people, especially as a new group leader. My leadership style will doubtless evolve as my group grows and I fully get to grips with the opportunities of leading a team. I hope I encourage people to have fun as well.
EMBL has an environment that encourages people to help and collaborate with each other that is infectious
How does it feel working at embl?
It feels great. There is a very supportive atmosphere at EMBL and the way the organisation is setup – it is loosely structured under thematic units – generates an environment that encourages people to help and collaborate with each other that is infectious. Everyone ends up working much more collegially, which is very nice, because it enables you to concentrate on the science, while injecting ideas into your work from a vast range of different perspectives.
Which unsolved question would you most like to answer?
I would like to know whether epigenetic information, which is inherited information and not encoded in the genetic code, can influence the characteristics of individuals over the course of several subsequent generations. That is an extremely exciting, but controversial idea. If and how this happens in mammals are questions that are a key focus of our group and finding definitive answers to this is our challenge.
What advice do you have for young scientists that want to become group leaders themselves?
I think it is very important to start considering what the most interesting biological questions are. It is very easy to get wrapped up in a specific focus and sometimes it is always worth taking a step back to consider your wider vision. At the same time, it is important to find a niche that gives you an identity and sets you apart from the pack. It is also important to arrange as much mentorship as you can. It can be a big step from postdoc to group leader and seeking out trusted advice can help with some of the bumps along the way.
Related links