Supporting science at sea
Dozens of postdoc students have boosted their careers with a voyage on board the Tara Oceans' research schooner; Hugo Sarmento shares his experience as one of them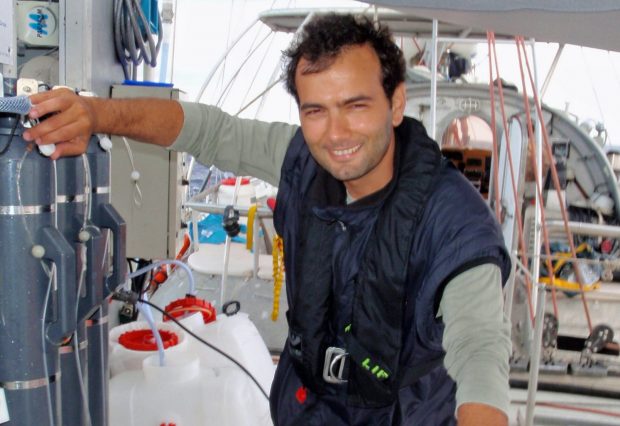 Hugo Sarmento never dreamed he would follow in the footsteps of the Portuguese explorers who set sail from their native shores into the unknown. But after a visit in 2009 from Tara Oceans' Project Director and EMBL visiting group leader Eric Karsenti to the Institute of Marine Sciences (ICM) in Barcelona, where Sarmento was a postdoctoral research fellow, he found himself on board the project's research schooner. Tara was undertaking a feat never attempted before: to sample and study plankton from all the world's oceans to understand marine ecosystems at the global scale. Now a professor in the Hydrobiology Department at the Federal University of São Carlos in Brazil, Sarmento has been collaborating with other Tara Oceans scientists around the world to analyse the microbiome of the ocean. We sat down with him to hear more about his journey.
"By funding postdoctoral positions through the Tara Foundation to study the data collected during the Tara Oceans expedition, the FFEM (Fond Français pour l'Environnement Mondial) supports both the scientists and the science," explains Karsenti. "Their work will create a baseline against which to compare future studies on marine organisms. Also, the techniques that the postdocs learn will empower them to bring other research projects forward and become leaders in the protection of the world's oceans."
What kind of research did you do as part of the Tara Oceans project?
Our lab at ICM was brought onto the Tara Oceans project as a research partner when Eric realised that they needed another group with expertise in marine prokaryotes and viruses. A few other postdocs and I designed all of the collection and experiment protocols, went to France to help prepare the ship, and took turns spending about three weeks on board to implement the procedures and collect data. The ship is very small: there is only room for five or six scientists at a time, so we could only do a few simple procedures in addition to taking thousands of samples. We also helped the ship's crew with their daily activities. It was very hands on.
What makes Tara Oceans unique?
This is the first project that is using genetic sequencing to identify marine organisms down to the gene level at a global scale. It really is a historic landmark in oceanography and the study of the oceans' biodiversity, like beginning to explore the Amazon must have felt for the first naturalists. Tara Oceans has the potential to reveal unprecedented amounts of information about marine species to the global scientific community – information that can be used to better manage and protect our oceans.
Also, the scope of Tara Oceans is so broad it requires the collaboration of scientists with very different backgrounds, coming from all the countries where the expedition took samples. Though the Tara Oceans voyage itself is over, we're continuing to work as a team to analyse the data and explore the links between our respective research areas, like the relationship between species of bacteria and other types of plankton such as phyto- and zooplankton in different climate zones. This intense and diversified collaboration effort makes the project really special.
What was your favourite moment during your experience with Tara Oceans?
I'm Portuguese, and it was not by chance that I was on the first leg that sailed from Lisbon. The moment that struck me the most was actually right as we were leaving the harbour, sailing past a statue on shore that honours the great Portuguese explorers of the 15th century who left to explore the world. I felt a very strong parallel between them and myself: a Portuguese man leaving my country to make a tour of the world by sea. It was very special for me.
How did participating in Tara Oceans help advance your career?
My experience on Tara definitely helped to shape my career afterwards. As a postdoc you frequently focus on projects that only take one or two years to complete. The opportunity to participate in a project like this, on the same scale of expeditions like Darwin's voyage on the Beagle, was a once in a lifetime chance. I got to do great science, make professional contacts with the best researchers, and work with a really interdisciplinary team: researchers from Genoscope in France who had a unique expertise in genetics and but not with the ocean, the great microscopy imaging team at EMBL, a huge team of bioinformaticians from various institutions who had never worked on bacteria before, and many others. Meeting and collaborating with such a diverse team really shaped how I do my job today.
Meeting and collaborating with such a diverse team really shaped how I do my job today.
What do you hope to see from Tara in the future?
I see Tara as an ongoing source of inspiration, serving to teach the general public about the importance of the ocean and to inform the participating scientists and postdocs from South America and other countries so they can undertake future oceanographic studies. We don't have a big oceanography community in South America right now: it's an expensive discipline that still requires significant development. I place great faith in the next generation of local Tara postdocs who will further our initial efforts and bring our understanding of oceanic biodiversity to the next level.