A luminous larval love light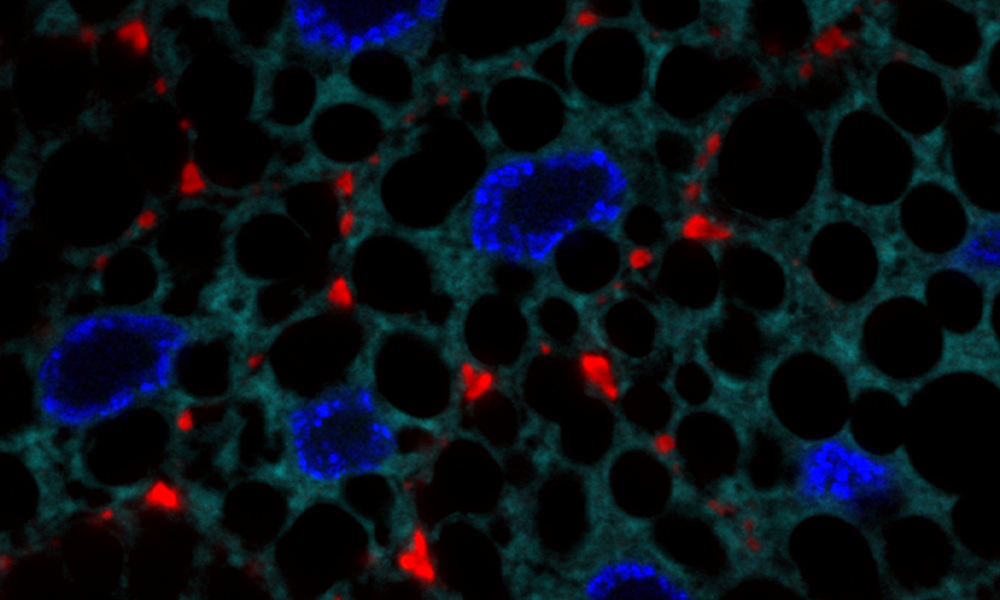 Look closely, and you can see the heart of the matter. Lots of little hearts, in fact. One might say that a fruit fly larva's love-light shines in this close-up of cells from its fat body, a multi-purpose organ that acts as a metabolism hub, nutrient sensor, fat storage, and a major source of key proteins like collagen.
This image is part of a project in which Daniel Rios, former EMBL postdoc, worked with the Leptin Group to study how cells transport bulky proteins to a space outside the cell that is rich in metabolites, ions, proteins, and other substances and is involved in helping the cell to continue living. The team was exploring the role specific genes play in this process. Given that fat body cells secrete a lot of collagen, which is a very large molecule, the scientists used them as a model to understand how this transport is achieved. This led them to SPARC – a protein that binds and helps secrete collagen into the space outside the cell. Rios and his colleagues found that collagen and SPARC need one another: both must be present in the cell before they can be secreted; if one is absent, the other one accumulates inside the cell.
Here, a cytoplasmic protein is seen in cyan with fat droplets as dark round spots within the cells. Nuclei are labelled in blue, and the red heart-shaped regions show where the SPARC protein has been secreted.
Credit: Daniel Rios/EMBL
If you have a stunning picture of your science, your lab or your site, you can submit it here.
---