Wrapped in purple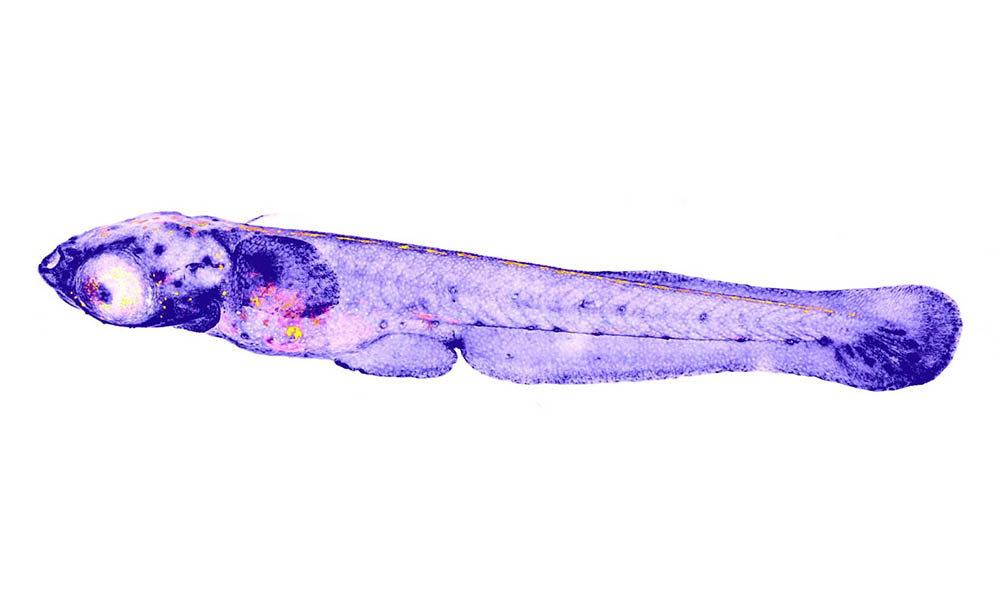 This image shows a young Japanese rice fish, also known as a medaka. The medaka is not only a popular aquarium fish, but also a commonly used model organism among biologists. They have the advantage of having only a short gestation period, and are highly fertile. These features make them easy to raise in the lab.
The medaka shown in this Picture of the Week was captured by Eva Hasel, a postdoc in the Leptin group at EMBL Heidelberg. The image is a fusion of different tile stands made with a confocal laser scanning microscope, available at EMBL's Advanced Light Microscopy Facility.
Eva used a fluorescent protein to highlight cells that express the protein interleukin-1 in purple – the darker the colour, the higher the intensity. Interleukin-1 is an important signalling molecule involved in inflammation in all vertebrates and expressed in the skin and all parts of the immune system.
Eva studied the medaka because she wants to learn more about the innate immune system in fish. This particular image helps her and her colleagues to understand where interleukin-1 is present in the fish – and in what amount. She can also study how its expression responds to injury and infection, and how the molecule is processed during the course of an inflammation.
Autofluorescence of pigment cells in the eye and along the body and the yolk region appear in pink or yellow in the image.
If you have a stunning picture of your science, your lab or your site, you can submit it here.
---