Humans of EMBL: Curiosity
EMBLers across all sites share how their curiosity about the world shapes their everyday life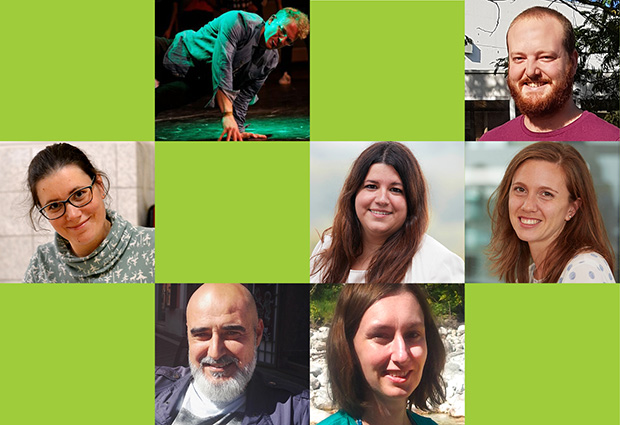 I got into singing through BlaBlaCar
Erika Pellegrini, Postdoc, EMBL Grenoble
A few years ago, I was dedicating all my time to work. Apart from that I just went to the gym – which I do for health reasons mainly – so I thought: I need something for my soul, something different, something that enriches me more. That's why I went for singing.
Back then my husband – who at the time was still my boyfriend – was living in Italy, so we were commuting every weekend to see each other. I joined BlaBlaCar, the ridesharing community where drivers and passengers agree to travel together and share the costs of the journey. Through BlaBlaCar I met this Italian girl who was part of a choir. Eventually we discovered that I was attending the same church where her choir rehearsed and she invited me to join. I said, "Why not? Let's start!" At first it was difficult, because even though I had played the piano as a kid and learnt how to read music, I couldn't read the notes and sing directly. I always need to go to the piano first. Eventually it also got more difficult because I'm an alto, which often involves singing an accompaniment to the main melody while you can hear most people singing something else. I also think it's easier to be a soprano because there are more of those, but my voice doesn't go that high. Still, I really like it, and now I'm going to start a new challenge: making the congregation in a church sing with me. I think I'll enjoy it!
I play rugby on the side
Tom Boissonnet, PhD Student, EMBL Rome
I arrived at EMBL Rome a year ago and as soon as you arrive you meet everyone: it's like a little family and you start doing things together, you get invited everywhere. But I have a second family, because I play rugby on the side! I found a team to join last month, so I've just started – cool guys, cool team, so I'm going to join.
I started playing rugby during university, in Clermont-Ferrand in France. There's a famous rugby team called ASM, who reach the finals almost every year – it's a big event. It looked like so much fun that I kept wondering what it would be like to try it. That's how I started playing, and later I discovered other advantages.
Rugby is my way to 'de-contract' – there's also a yoga club here, but that wouldn't be enough for me, I need to express my frustration sometimes. Every experiment that went badly during the week. With rugby you can relieve the stress with someone who agrees to that. You go and play and have fun with someone who also wants to play like that: running into each other and at the end everyone is exhausted and happy! Then we can go back to work. That's the way I see it. It has to be something physical, and at the end when you just want to lie somewhere, it's such a good feeling.
Nature soothes me
Flavio Zizzo, Administrative and Purchase Officer, EMBL Rome
EMBL Rome is surrounded by mountains. I've been looking at them for over 16 years. I wondered what it would be to walk them, though I never did – until now. I'll be moving to Finland in January for family reasons, so I told myself, "Before I leave, the least I can do is go and see these beautiful places!"
So, it's a recent thing: I started in March. I've started many things over the years, but I'm not very good at continuing. I like taking pictures too. Now I try to combine photography and hiking, but so far I haven't captured anything exceptional. I take the camera but I almost forget I have it: I prefer looking around with my eyes!
The mountains here are small, but full of history. They were busy places during the medieval ages, full of anchorites – people who decided for religious reasons to retire from the world and live in isolation. You can still visit the caves where they lived. I also enjoy walking in the woods. The landscape and the quietness really satisfy me: you feel in harmony with nature and it's so beautiful. While I walk my mind empties, I detoxify and when I reach the top I'm almost clean. The mountaintops soothe me: the beautiful landscape has a really good effect that lasts for over a week.
This is the reason why I started in a rush: until January I want to make the most of my sudden enthusiasm. I wish I'd started doing this when I moved here: I really like it and soon I'll have to give it up.
The science of soap
Morlin Milewski, Research Technician, EMBL Hamburg
I find regular shampoo very harsh on my hair and skin, so I began to think about whether I could use my lab background to create a soap bar that would work better for me. It's something I do for myself and as a present for family and friends – the soap bars smell nice and you can decorate them!
I experiment with my soaps, adapting the recipe every time. Now I've started making soaps for my hair and also for my skin. The ones for the skin need to have some extra oil, so you put in less sodium hydroxide to make sure there's still some fat left to treat your skin. For me it works out fine, because I don't need to use lotions anymore – a really nice side-effect!
I used nettles for my last soap – you can grow them yourself in the garden. They're supposed to make your hair shine. For this one I will also use dandelions. I collected some last spring and macerated them in oil for a few weeks. They colour the soap yellow and they're also supposed to be good for the skin.
Unfortunately I don't have very much time to do this – I have to do it when the kids are in bed so they don't jump around on all my things. But I really like to do something for me, and it's great to use products where you know exactly what's in there!
I need to dance
Dmitry Richter, Master Student, EMBL Heidelberg
In high school talent shows I used to recite poetry, but a guy who did hip-hop was getting all the girls' attention. I thought, "I need to dance!", so I joined lessons at school and now I'm a hip-hop teacher. Dancing – like science – is a fantastic way to explore things and grow as a person. As a grownup, you don't fully explore your curiosity that often. Dancing allows you to do that.
The thing I like most about dancing is the philosophy around it. First, you get the chance to play and be a child again. You keep exploring and playing with the music and your body, being creative. That's really nice, not only as a dancer, but as a person: to explore and try things out without knowing what the outcome will be. Maybe also failing sometimes!
Another thing I like is that it's a very intense activity. You need a lot of control over your body: strength, flexibility, endurance – you need discipline to be that fit. Communication with yourself is really important: when you try to move part of your body in a way you haven't tried before, you get this feeling like, "What is my body doing?!" The more comfortable you feel with your body, the more comfortable you feel overall. It's definitely a mental thing too, not only physical.
In the wild in Europe
Melissa Burke, Scientific Training Officer e-Learning, EMBL-EBI Hinxton
I like being outdoors. I grew up in a farm near Brisbane, Australia, so I spent most of my childhood outside and now I always seek out the sunshine. I'm also trying to see as much of Europe as I can while I'm here. Over the years I've visited France, Sweden, Denmark, Croatia, Iceland, Germany, Italy, Spain and Slovenia. There are still many things I need to see – Portugal is pretty high up the list – but Slovenia is definitely one of the top ten places I've visited!
In Slovenia it feels like they have a culture of being outside and being active. It was sunny while I was there, so it was perfect for enjoying the wilderness and doing something other than sitting in a chair in an office for the whole day. I went there alone – I've tried travelling with my friends, but they usually have other things going on and I think: "If I don't do it, I'm never going to do it." Because I was alone, I joined day trips here and there: hiking and white water rafting were my favourite.
Rafting was really fun: being in a big inflatable boat and going down the rapids in the river, trying to avoid all the rocks. Halfway down, the rafts get pulled out of the river next to this big boulder. We climbed the side of the boulder and jumped off it into the water: it was really fun! It sounds crazy when you sit in an office and talk about it, but in the spur of the moment it was just wonderful. I would definitely do it again!
I feel at home anywhere
Amaranta Amador Bernal, Head of Administration and Senior Legal Advisor, EMBL Barcelona
I come from a small town in the south of Spain with 5,000 inhabitants: Fuente de Cantos. I was always the unusual one – I wanted to travel, see the world! Neighbours asked me: "Why do you want to leave? We eat well here, and it's sunny! Isn't it cold where you're going?" I kept thinking, "Well, weather will not determine my whole life!" Luckily my parents encouraged me to go out and try new things. They thought I would leave for a year or so and then come back, but it's been 13 now since I first left!
When I started working in Luxembourg at the European Court of Justice I got the feeling that I had found my place, because when I work in international organisations – like EMBL – I have this feeling of belonging. Most people are like me: they've moved a lot, lived in several countries, speak several languages. As soon as I arrive I have the feeling of being at home – and it doesn't depend on the country. I know I'm lucky – I studied international law and specialised in international organisations, so I will always be in such environments. I feel very fortunate.
It was clear to me that I wanted to live in other countries and learn languages. I speak six now: Spanish, English, French, German, Italian, Portuguese – even if I am not completely fluent in all of them. I've also just started to learn Catalan. I started living abroad during college: I studied in Lubbock, Texas and then Brussels. After that I started working in Madrid, then Luxembourg City, then Heidelberg, and now Barcelona. I had no plans to return to Spain now, but that's life! I love beginnings, the feeling that everything is yet to be discovered, getting lost in the streets. That feeling of novelty is very joyful to me!