Design for life
EMBL's senior graphic designer Petra Riedinger retires after 40 years producing posters, graphics, artwork and more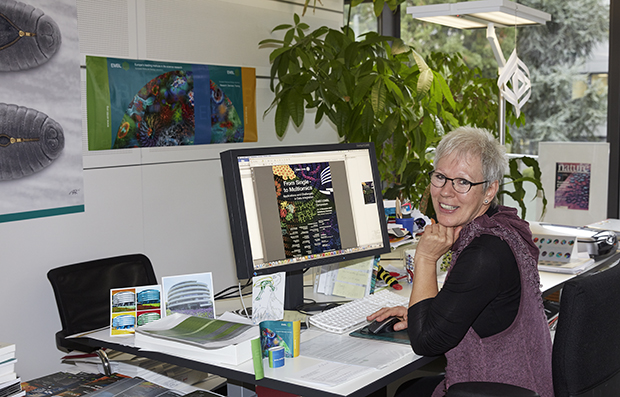 Four decades ago, a newly qualified technical illustrator called Petra Riedinger paid a spontaneous visit to EMBL. Intrigued by the buzz around the development of a new intergovernmental research institution in Heidelberg, near her hometown, she believed she could help researchers at EMBL to visualise their science and bring data to life. She was hired on the spot, beginning a story of graphics, artwork, illustrations, posters, maps, cards and more that has spanned nearly the entire history of EMBL to date. "I immediately remember the special atmosphere at EMBL, which remains the same today as it did 40 years ago – you can smell it and feel it," says Petra. "People at EMBL are very open and willing to share and collaborate, there is lots of freedom and there are opportunities to develop. It is a very special place."
At the time Petra joined, the idea of having a graphics expert at a scientific institution was almost unheard of – but her impact on the laboratory was immediate. "I was very excited to join EMBL because I wanted to learn more about the great research happening here and saw many ways that I could apply my skills," she explains. "I joined before the days that computers were commonly used in graphic design and my early work was painstakingly hand drawn, often after detailed talks with scientists. Corrections and edits to images had to be carefully scratched off the paper – we could only do this two or three times before damaging it, so there was not much margin for error."
Petra began life at EMBL in an office in downtown Heidelberg as the finishing touches were made to the laboratory's headquarters. But as soon as her studio was ready she set up on site next door to EMBL's electronic workshop. "It was amazing to see the institute being built, brick by brick," she recalls. "At the time we were like a small community – EMBL has grown tremendously in size and stature since: there are new buildings, new sites, more people and it has been an incredible journey." Taking inspiration from her colleagues, Petra developed her own techniques. "Using a curve template from the electronic workshop was my own personal revolution," she explains. "It made diagrams and curves much easier to draw: I believe I was the first to adopt this method – and perhaps the only one who ever used it!" she explains.
As the institute grew, Petra frequently became involved in other projects, providing graphics for hundreds of scientific papers as well as a multitude of other projects. "There is an entire shelf of documents destined for EMBL's Archive, while my portfolio has filled hundreds of pages and I will continue working on it into my retirement!" she says.
The rise of computers, Photoshop and colour printing gave even more energy to Petra's creativity, and her work was in high demand. This meant a difficult decision. "I decided to move away from technical illustration and specialise in graphic design," she explains. "Graphics can tell a vital part of the science story: you see the visual and you want to read on. They can simplify something very complex and help specialists and non-specialists alike to understand it."
Petra's favourite project was a graphical analogy of a growing fruit fly embryo for EMBL's Annual Report in 1998. "The laboratory did not have a digital camera at the time, and to make the graphic I brought in an old pair of trousers and imaged the zip under a scanner," she recalls. "It's was very popular and many other biologists have requested versions of it for their own work."
Petra's artwork sometimes held a hidden personal connection. "Together with Volker Wiersdorf, I designed an image used on the cover of the Journal of Cell Science using wooden spools from my mother's old sewing machine," she says. "I digitally modified the engraving on the spools and group leader Peter Becker sent it to the journal to accompany a paper." Her work has also featured on the cover of high profile journals such as Nature, in this case visualising a network for work carried out at EMBL spinoff company Cellzome.
She also reflects on what was perhaps her most difficult brief: drawing Charles Darwin smiling. "For a conference poster, group leader Michael Knop requested an image of a relaxed looking Charles Darwin, socialising with a glass of wine – and somehow cloning and yeast had to be involved! I searched everywhere for an image of the famous naturalist smiling, but he always appears very serious," she recalls. "There was only one thing I could do – draw him myself."
Petra's work has also helped to spread the word of EMBL's science through the global media. "My daughter was once visiting India and she stumbled upon one of my graphics on the front page of a national newspaper profiling a study by group leader Mathias Treier," she says. Another graphic that is frequently used by news organisations is an illustration of an 'exploding' chromosome, used to depict work by group leader Jan Korbel and colleagues that found a link between the inherited mutation and a particularly aggressive form of childhood brain cancer. "EMBL's research is of interest and relevance the world over, and its been a privilege to work with the many inspiring people at the institute – including Nobel and Leibniz prize winners," Petra adds. "It's been a real honour."
She reflects on the diversity of science she has helped to visualise over the years. "Oftentimes the work carried out here by scientists is not in textbooks, it is completely new and I would make time to work with the scientists until we were both absolutely happy with the final product," she says. "There is an incredible openness to EMBL – I always felt free to ask questions, and there are many ways to learn more about the latest research, such as the annual Lab Day when people from all EMBL sites come together to share their ideas."
Working under four EMBL Directors-General, Petra has seen first-hand almost the entire history of EMBL and is excited for its future. But as she moves into retirement she assures us that she is not going far. "One of the great things about EMBL is that alumni are always welcome," she says. "Even when I become a pensioner, I will firmly remain part of the EMBL community. I wouldn't want it any other way: EMBL is a special world."
During her time at EMBL, Petra applied her talents to support the work of many teams, groups and individuals across the laboratory including in science, administration and communications. She is one of a small group of people at EMBL who witnessed the very beginnings of EMBL and she has been a valued member of staff ever since. On behalf of the whole of EMBL, we wish her all the best for the future and look forward to learning about her retirement adventures.
Related links