Awards & Honours
EMBL scientists regularly receive prestigious awards – meet the latest honourees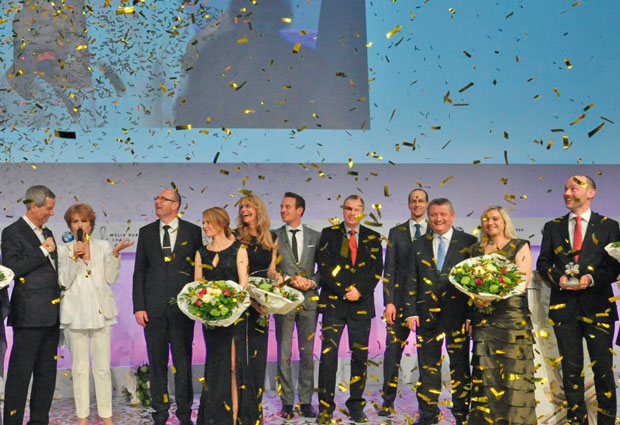 Sharing the stage with government ministers, business and TV personalities, EMBL scientists Peer Bork, Georg Zeller, Anita Voigt and Jessica Oberheim collected the Felix Burda Award 2016 recently for their contribution to the field of colorectal cancer screening. A trophy and 5 000 Euro prize is awarded annually at a gala event that also rewards workplace initiatives and awareness raising campaigns in the fight against colorectal cancer. The team was recognised for their innovative work in identifying gut bacteria constellations that serve as warning signs for colon cancer.
---
Darren Gilmour and Jan Korbel, Group leaders at EMBL Heidelberg, have been named in EMBO's list of new members, elected in recognition of their contributions to scientific excellence. In total, EMBO membership now comprises more than 1 700 of the best researchers in Europe and around the world, whose input has helped to promote excellence in life sciences since 1964. With emphasis always on scientific merit, EMBO Members apply their expertise and insight to guide the execution of the EMBO initiatives and collectively serve the research community.
---
Group leader Christian Häring has been awarded a prestigious 2 milion Euro Consolidator Grant from the European Research Council to reveal the elusive mechanisms behind the functions of the condensin protein complex. Condensin plays a fundamental role in changes in the structure of chromosomes, but its mechanisms are not currently understood. By combining structural biology with biochemical and cell biological methods, Häring seeks to change that. He aims to unravel how condensin coordinates with DNA to influence chromosome architecture, which could shed light on how genomic integrity is affected in various diseases.
---
EMBL Director Matthias Hentze has been elected as a Corresponding Member of the Australian Academy of Science in recognition of his pioneering RNA research. The Academy is a not-for-profit organisation of individuals elected for their outstanding contributions to science and research. Corresponding members are a special category within the Academy's Fellowship that comprises eminent international scientists with strong ties to Australia.
---
The Miklós Bodanszky Award, presented in commemoration of the chemist's outstanding contributions to peptide science, was this year awarded to group leader Maja Köhn. The award acknowledges scientists who make significant contributions to peptide-based drug research within 10 years of obtaining their PhD degree. Maja Köhn is recognised for her critical contributions to the design of peptides targeting protein phosphatases that are involved in diseases such as cancer and diabetes.
---
EMBL Director-General Iain Mattaj has been elected as a Fellow of the Academy of Medical Sciences. The Academy of Medical Sciences is an independent organisation that campaigns to ensure advances in medical science are translated into benefits for patients – its Fellows represent the UK's leading medical scientists. Iain Mattaj was elected alongside more than 40 new fellows in recognition of contributions to medical research and healthcare, the generation of new knowledge in medical sciences and its translation into benefits to society.
---
Kjetil Taskén, Director of the Centre for Molecular Medicine Norway (NCMM) and recently renewed as speaker of the Nordic EMBL Partnership for Molecular Medicine, has received the King Olav V's Cancer Research Prize. Awarded by the Norwegian Cancer Society, the 1 million NOK (105 000 Euro) prize is presented annually to researchers who have advanced Norwegian cancer research. Taskén is recognised for his "major contribution to the understanding of immuno-oncology, work that will become even more relevant in the development of next-generation immunotherapy".