Women in Science Day: school event
EMBL Barcelona organises first school activity to coincide with the International Day of Women and Girls in Science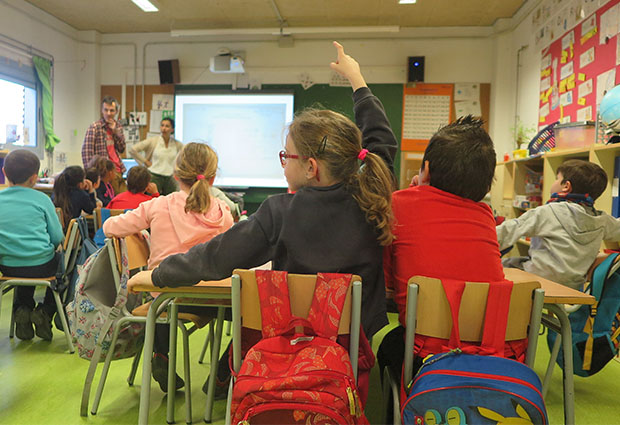 By Carla Manzanas
Neus Martinez and Xavi Diego, members of the Sharpe Group at EMBL Barcelona, visited the Eulàlia Bota Primary School, in the north of the city, to talk about women, science and curiosity with 6-year-old children. The objective of the event was to awake the Einstein and Marie Curie in them and try to share the idea that anyone could be a scientist as long as they are curious!
The talk was organised around three main questions:
What is science? How do we do science? Who does science?
The children were asked about what they think science is and to sum it up in one sentence and one drawing. Many of the children drew volcanos, test tubes, explosions and men with messy hair. The classic Einstein look. Out of almost fifty children, only two drew a woman doing an experiment.
Neus and Xavi then presented four female scientists and their discoveries: Hypatia, Ada Lovelace, Jane Goodall and Marie Curie. Almost like a fairy tale, the children learnt the astronomy of Hypatia, the computers of Ada, Jane's love for the chimpanzees and Marie Curie's radioactivity.
The class started asking their own questions regarding the stars, the way computers work, our similarities to the chimpanzees or where can we find chemicals in objects we use every day. How many stars are in the sky? How does a computer look like inside? What is radioactivity?
We all came to the conclusion that to be a scientist we need to observe, ask questions and carry out experiments to observe the results. Then we need to ask more questions and do new experiments.
Related links