Ageing and disease
Professor Dame Janet Thornton presents the 2019 EMBL Insight Lecture.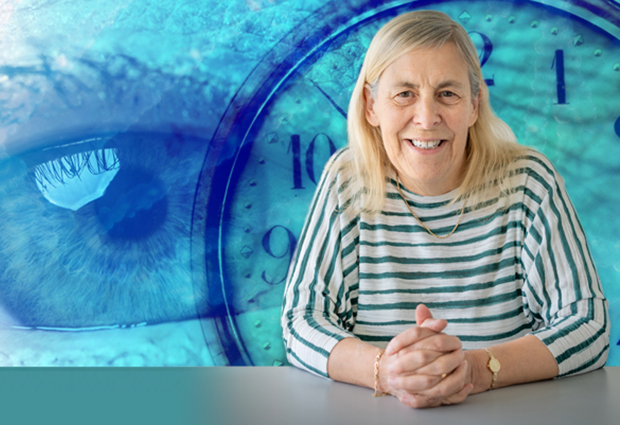 Professor Dame Janet Thornton, Senior Scientist and Emeritus Director at EMBL's European Bioinformatics Institute (EMBL-EBI) presented the 2019 EMBL Insight Lecture: Ageing and disease – what is the link?
Janet Thornton is a leading researcher in structural bioinformatics. She has carried out pioneering research using computational approaches to better understand the three-dimensional structures of proteins. One part of her current research aims to use such computational approaches to identify drugs that may have an impact on human ageing.
The EMBL Insight Lecture series is designed for students and teachers with an interest in the life sciences. The lectures aim to inform young people about current trends in life science research and to show how research is influencing our everyday lives. This year's lecture was hosted at EMBL-EBI and broadcast live to 35 schools in nine different countries around the world.
Following on from the lecture, the on-site audience of teachers and students also took part in various activities hosted by staff across the Wellcome Genome Campus. These included the immersive DNA sequencing experience Open Lab, career speed networking, and exploring the Genome Gallery.
The 2019 EMBL Insight Lecture is available to watch on the European Learning Laboratory for the Life Sciences (ELLS) website.
Click here to watch the video.
Here are three take-home messages from the Insight Lecture.
1) Human lifespan is increasing
Different organisms can live to a variety of ages. For humans, there are at least 4000 genes and many environmental factors that may influence ageing. Overall, the life expectancy of the human race is increasing, with more centenarians across the globe, and we are better at treating life-shortening diseases than ever before.
"Ageing for humans is not fixed; it is not necessarily at its maximum value today," says Professor Janet Thornton. "And so, a question that many people ask is 'How long could we live?'"
2) Age can be predicted
It is known that the chemical modifications within the genome (known as the epigenome) are modified during ageing to alter gene regulation. These changes in the human epigenome can be used to predict the biological age of any human being within an error range of just 3.6 years. This is called the epigenetic clock, and it has great potential to help us better understand the molecular mechanisms of ageing.
3) Drugs to delay ageing
One question faced by researchers today is – can we identify drugs to delay ageing? Janet Thornton's research group is using computational biology approaches to tackle this question. Her group uses open access molecular, evolutionary, and disease data (from EMBL-EBI & Open Targets) to identify, rank, and prioritise drugs used for further testing.
"The goal of this research is to improve health in old age, but there is a lot we need to consider," says Professor Thornton. "When it comes to long-term drug treatment, we have to think of the safety and ethical impact this research might have before we can move forward."