Behind the scenes: Event management
Many of us attend conferences throughout our careers, but have you ever wondered what goes into making them happen?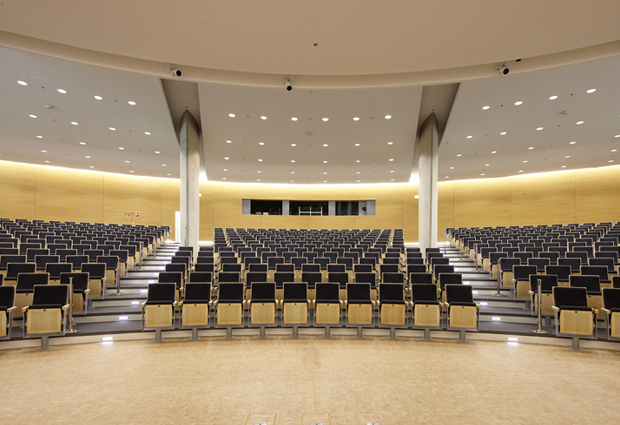 It seemed fitting to start this 'behind the scenes' series by interviewing the longest-standing member of the EMBL Course and Conference Office (CCO) team, Antje Seeck, to learn what happens before a conference even begins. Seeck joined EMBL in December 2005, just months before EMBL Council approved construction of the EMBL Advanced Training Centre (ATC), signifying a commitment to increasing the number and diversity of events at the main laboratory. Seeck shares her experience of working in different roles in the CCO team during a time of growth and expansion, and reveals what goes into hosting successful events.
How does each team member contribute to organising a successful conference?
Looking back, I have seen many new developments and progress in the EMBL Course and Conference Office. I started as a conference officer; we were four people, supporting a programme of around 10 conferences and 15 courses per year. Ten years later, the team has tripled! We are now responsible for event management for up to 25 conferences and 40 courses annually as part of EMBL's Courses and Conference programme, as well as supporting around 20 other conferences and meetings taking place at the EMBL ATC and offsite.
Conference officers liaise with scientific organisers to ensure that events are executed smoothly and professionally. We provide all logistical support – creating websites, managing speakers and delegates, handling abstracts, budget control and local logistics – so that the scientific organisers can focus on content. We now offer a complete service package, complemented by a scientific committee that meets twice yearly to discuss and decide on the programme.
Conference officers liaise with scientific organisers to ensure that events are executed smoothly and professionally.
Event promotion and sponsoring activities have become centralised, thereby streamlining the workflow, giving us more negotiating power, and presenting one voice to sponsors. In 2009, I started in the role of marketing officer and, after the initial phase of setting up structures and procedures, we could offer a more focused approach to promoting events and finding sponsors. Now, the marketing team comprises three marketing officers and a trainee, responsible for event promotion – from social media, email campaigns and direct mailings to video production and media partnerships. A dedicated industry officer takes care of our established and prospect sponsors. Besides the standard promotional activities, we strive to stay in direct contact with our community, keeping them informed as well as entertained.
A growing team needs to be motivated as well as led. We host regular strategic and team-building retreats to strengthen the group and further improve our services, often involving other internal service teams who we work alongside.
How do you attract people to register for a conference?
Multi-channel marketing is the most effective way of keeping our community informed. Our strongest channel is email marketing, and we deliver various alerts to subscribers:
for general training news, the quarterly events newsletter features articles and news, with an overview of upcoming deadlines
topic-specific subscribers receive event email alerts, as well as monthly deadline reminders for courses and conferences.
Twice yearly we issue direct mailings of the annual programme poster and seasonal conference posters. We also provide material for organisers and speakers that they can use to promote their conference; we distribute flyers at other events and trade shows; we publish print adverts in journals and our own abstract books; and we spread the word via online event listings. Online advertising is another channel, mainly in the form of 'banner' adverts, either on the websites of media partners or other platforms such as Research Gate, Facebook or Google.
How has social media changed the marketing approach?
Social media plays an important role in our marketing campaigns, mainly through our dedicated Facebook and Twitter accounts. We provide programme updates, behind the scenes insights and regular competitions, incorporating news articles, videos and pictures. Fun initiatives like 'EMBL Bag around the World', our new 'Tips and Tricks' video series or the Christmas event calendar, aim to engage our followers.
Our event promotion has shifted to a push-pull balance, where the community is in control of what information they receive. We engage more in digital than print media; although printed posters, adverts and flyers are more common in the scientific world, digital media has many advantages – it's more timely, can be more accurate, and provides more incentives and opportunities to share and interact.
How have the conferences evolved since you started? Where do you see EMBL conferences in the future?
Generally speaking, with an increase in size comes an increase in structure, and this also counts for the EMBL Course and Conference Office. We now have a scientific committee and scientific coordinator, who ensure a balanced programme that represents EMBL research as well as emerging and niche topics. New collaborations and joint events with other organisations have been established. CCO now offers the support of a full-service event agency. We review our services, the needs of our delegates, event promotion and sponsoring options on an annual basis and try out new ideas and avenues. We have established a well functioning, motivated and highly skilled team.
Hand in hand with digitisation is Big Data, an important topic in science as well as event management.
In the future, I would like to see more 'green', technologically savvy events that harness digital signage to reduce paper waste. Hand in hand with digitisation is Big Data, an important topic in science as well as event management: with the move to more digital media, we collect increasing information about delegates, exhibitors and promotional activities, and need to invest more time in data and trend analysis. Social media marketing will continue to play an important role and we can extend our presence to other platforms, such as Pinterest, that require more visual content.
What have been the highlights of working at EMBL?
I have seen a lot of changes, not only in our team, but also on campus and across the Laboratory in general. EMBL is continuously changing, thanks in part to its multinational staff, who are from many different personal and professional backgrounds but share the same high level of motivation and enthusiasm.