Two former EMBL staff members have been recognised for their outstanding contributions to research in the fields of brain evolution and cancer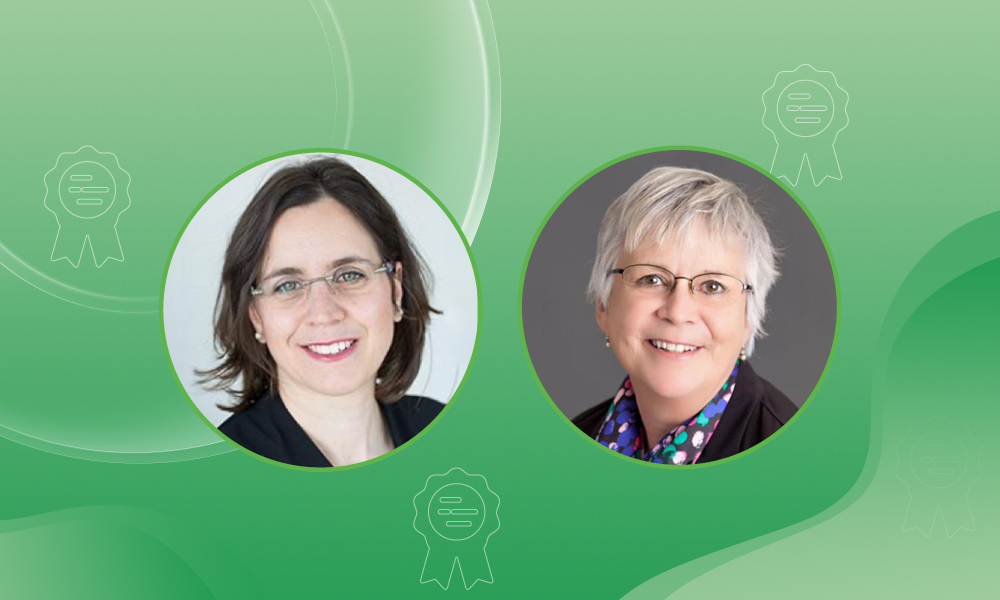 By Tom Furnival-Adams, Alumni Relations Officer
The winners of the 2022 EMBL Alumni Awards have been selected.
Maria Antonietta Tosches has received the annual John Kendrew Young Scientist Award for her original contributions to the field of brain evolution, while Sara Courtneidge has been awarded the Lennart Philipson Award in recognition of her major contributions to foundational and translational cancer research.
The awards will be presented as part of the EMBL World Alumni Day celebrations, which will take place in person at EMBL Heidelberg on Friday 8 July – EMBL Lab Day – and will be streamed live. Registration is free and open to all EMBL staff and alumni.
A former EMBL PhD student in the Arendt Group, Maria Antonietta Tosches's work as a postdoc at the Max-Planck Institute for Brain Research in Frankfurt combined modern methods of genomics and system biology to shed light on the evolution of the central nervous system. Her highly creative approaches and impactful findings have illuminated the likely evolution of the cortex and identified the existence of a claustrum in the reptilian brain for sleep control, establishing important parallels between mammalian and the reptilian brains.
Since joining Columbia University in 2019, Tosches has continued to investigate the evolution of neuronal circuits and established original animal model systems for the study of neuroscience, receiving the 2018 Next Generation Leader Award at the Allen Institute and the 2020 McKnight Scholar Award in Neuroscience.
"I am truly honoured and humbled to receive the 2022 John Kendrew Award," Tosches said. "EMBL is the special place where my journey in science began and has been a source of inspiration for me ever since. I am incredibly proud to be part of a community of alumni who are spreading the EMBL spirit all over the world, sharing the vision that scientific excellence and innovation thrive in a collaborative, diverse, and supportive environment."
Sara Courtneidge is an outstanding academic scientist who reached for translational applications in the 1980s, at a time when this still raised eyebrows in the academic world. Her research on signalling in cancer, most notably the Src family of tyrosine kinases, inspired biotech and pharma companies to start drug discovery programs to identify inhibitors for cancer therapy. As the Chief Scientist and Vice President of Research at Sugen, Sara oversaw key work pioneering this area of drug discovery, eventually leading to FDA approval of Sunitinib for two anti-cancer indications.
Courtneidge has also held leading positions in academic research. She has a distinguished record of playing a bridging role between academia and biotech for four decades, making major contributions to foundational and translational cancer while empowering others to contribute as well.
"At EMBL, we studied the Src family of tyrosine kinases, which are cellular oncogenes," Courtneidge said. "Wanting to learn and contribute more directly to translational cancer research, I then joined SUGEN, a biotech company focused on defining the kinome, and developing kinases inhibitors. Even when I returned to the non-profit sector, I maintained a commitment to translational research, and also support and advise others in this arena. I am deeply appreciative of the support from EMBL which facilitated my career."
These selections follow the announcement of Denis Duboule as the inaugural Kafatos Lectures speaker.
Nominations and applications for the 2023 John Kendrew and Lennart Philipson Awards and the 2023 Kafatos Lecture are now open. Please click here to find out more and submit a nomination or application.