Press contact
EMBL Press OfficeMeyerhofstraße 1, 69117 Heidelberg, Germany
media@embl.org+49 6221 387-8726
A link between our body's energy levels and a protein that wraps our DNA?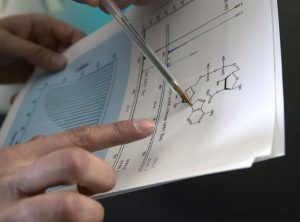 Living organisms need to sense the amount of energy that is available to them and regulate the activity of their genes accordingly. Scientists have made the unexpected finding that a histone protein, which wraps DNA into tight bundles and regulates gene activity, can bind a small molecule produced in our cells. This novel finding in itself was a breakthrough for researchers at the European Molecular Biology Laboratory [EMBL], but what made it more interesting was which specific molecule it binds – one from a pathway known to be linked to obesity and aging.
The EMBL researchers studied a pathway involving an enzyme [Sir2], whose activity is regulated by the availability of nutrients, and an energy molecule [NAD]. This pathway, and the enzyme Sir2 in particular, has been heavily investigated because nutrients are known to regulate Sir2's activity on genes.
"Each enzyme's job is to turn starting materials into final products. These usually have important functions, but while several scientists have studied the enzyme Sir2, no one has identified a role for one of the final products of the reaction in humans," says EMBL Group Leader Andreas Ladurner.
When Sir2 binds to NAD, it breaks down the energy molecule into smaller components. What the EMBL researchers found was that one of these components plugs neatly into a special pocket of the histone that the researchers were studying.
This discovery is the first evidence of a small compound binding directly to a histone. As the activity of Sir2 is regulated by the amount of food and nutrients, this finding suggests the existence of a direct link between one of the products of the Sir2 pathway and gene regulation.
"It is very exciting that a histone should be able to recognize one of the compounds that Sir2 produces. We are now looking at how such a small molecule may be able to tweak our genes and therefore our body's response to changes in the availability of food and energy," Ladurner says. PhD student Georg Kustatscher and Dr. Andreas Ladurner.