TREC: A two-year mission to study human impact on Europe's seas and coastal regions
Europe's life science laboratory EMBL is leading the TREC project: the first pan-European and cross-disciplinary effort to examine life in its natural context at unprecedented scales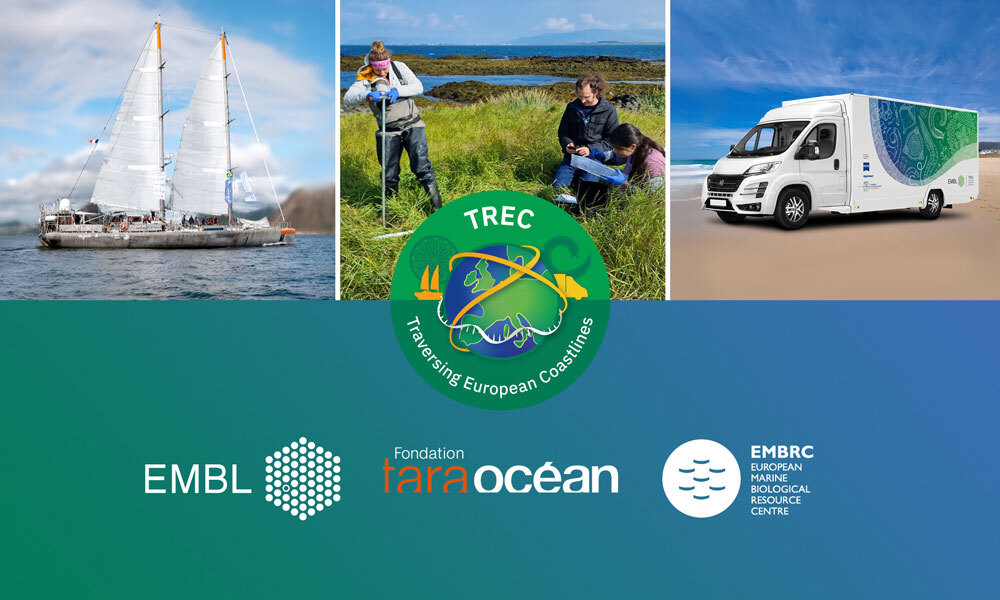 Europe's coastlines are environments rich in biodiversity that also represent important sites of industry, culture, and heritage. Forty per cent of Europe's population live within a coastal region, and many European societies have been, and still are, defined by their relationships with the sea.
Our seas and coasts represent key ecosystems that host an extremely rich diversity of life and play critical roles in the stability and sustainability of wider ecosystems. However, anthropogenic interferences such as pollution, farming, and building construction, as well as the impact of climate change, are leading to accelerated loss of species' genetic diversity and destruction of functional ecosystems.
To minimise the future impact of such external factors on coastal biodiversity, we must understand the molecular and cellular basis of how organisms interact in ecosystems and react to external pressures in the context of their natural habitats.
TREC – Traversing European Coastlines – is a pan-European expedition to study coastal ecosystems and their response to the environment, on scales from molecules to communities. It is the first continent-wide project of its type and combines the rich expertise and infrastructure of Europe's life sciences laboratory EMBL, the Tara Ocean Foundation, the Tara OceanS Consortium, the European Marine Biology Resource Centre, and numerous European partners.
Led by EMBL, and with a focus on coastal habitats, with their rich species diversity as well as the pollution and changing climate they are exposed to, TREC aims to initiate a new era of coastal ecosystems exploration. It will combine the scientific expertise of many partners as well as existing knowledge of local ecosystems and processes, with EMBL's latest technology developments and expertise in examining life at the smallest scales.
"Our ocean and soils still hide a myriad of unanswered – but important – questions," said EMBL Director General Edith Heard. "TREC will change that. Because of the scientific and technological advances that were made in recent years, we now have the tools and knowledge needed to document, examine, and probe coastal ecosystems at the molecular level, on land and by sea, in real time, with many partners from different nations. This is a wonderful example of science without frontiers that EMBL is so important for."
46 regions in 22 European countries
Scientists now have at hand the most advanced molecular and cell biology technologies that make it possible to study – in the field – the mechanisms of life on Earth at a scale and level of detail that was not possible before. From genomics and metabolomics to imaging and artificial intelligence, we can generate and integrate big data from the smallest microbes through to animals and plants in different ecosystems on land, in the water, and at their interface.
TREC will examine the biodiversity and molecular adaptability of life at the molecular scale at 120 coastal sampling sites across 46 regions in 22 European countries during 2023 and 2024.
Scientists will collect soil, sediment, aerosol and water samples, as well as selected model organisms and numerous environmental data. Their work will cover different scales of life – from viruses and bacteria to algae, plants and animals – on land, in river estuaries, and at sea.
They will study the molecular basis of species' interactions, the role of organisms in their habitats, and how organisms respond to and at the same time influence their environment. In addition, the researchers will collect information on factors such as the presence of pollutants, antibiotics, pesticides, or hormones, as well as temperature, salinity, and oxygen levels.
"Marine biologists, ecologists, and environmentalists have studied water and soil habitats for centuries. With the technologies that molecular biologists have to hand today, we are able to study these ecosystems at unprecedented detail," said Professor Peer Bork, Director of EMBL Heidelberg and coordinator of the TREC project. "At the same time, the pan-European nature of this project means that samples will be taken in a standardised fashion. This will make it possible to compare and probe data across Europe instead of a regional or national system in a way that was not previously possible."
European partnerships
TREC builds on the resources, infrastructure, knowledge, and expertise provided by EMBL, including new EMBL Mobile Laboratories able to travel to remote locations, together with a vast network of European partner institutions.
The EMBL Mobile Labs will include cutting-edge light microscopy, sample preparation for (cryo)-electron microscopy, and single-cell genomics. Additionally, advanced tools for environmental measurements from soil, air, sediment, and water samples will be part of the standard equipment.
TREC's multinational core partners are the Tara Ocean Foundation and Tara OceanS Consortium, which will provide the Tara schooner and survey ocean sampling and metadata collection, as well as the European Marine Biological Resource Centre (EMBRC-ERIC), which coordinates its marine stations as important scientific bases along the coast and provides services and local expertise.
Through TREC, EMBL will bring some of the most advanced technologies available to life scientists into the field. Biological samples can be fragile; as soon as water or soil is removed from its natural environment, the organisms and ecosystems within them begin to change. By bringing advanced laboratory tools to the field, scientists can address entirely new questions.
Engaging communities with science
Improving coastal health will require not only scientific knowledge but changes to the way societies interact with and use our seas, oceans, and coastal regions. This is why EMBL, the Tara Ocean Foundation, and many local partners will also offer different public engagement and school education activities along the TREC route and beyond.
Citizens will be able to experience first hand the power of molecular biology in tackling human and planetary health challenges. They will be able to hear from scientists or explore science themselves to understand the connections between land and sea, humans and the planet. Teachers and educators will be able to access training and resources to engage and inspire the next generation of scientists.
EMBL acknowledges the generous support of many institutions, donors and sponsors, in particular the Manfred Lautenschläger-Foundation, Eppendorf SE, Carl Zeiss Microscopy, and Friends of EMBL in helping make TREC possible.
---
Zweijährige Mission beginnt Erforschung der Auswirkung menschlicher Faktoren auf Natur und Umwelt entlang europäischer Meere und Küstenregionen
Das TREC-Projekt startet unter der Leitung des Europäischen Laboratoriums für Molekularbiologie (EMBL): es ist das erste paneuropäische und interdisziplinäre Projekt zur Untersuchung des Lebens in seinem natürlichen Kontext in noch nie dagewesenem Maßstab
Die europäischen Küsten sind reich an biologischer Vielfalt und stellen gleichzeitig wichtige Standorte für Industrie, Kultur und Kulturerbe dar. Vierzig Prozent der europäischen Bevölkerung leben in einer Küstenregion, und viele europäische Gesellschaften wurden und werden durch ihre Beziehungen zum Meer geprägt.
Unsere Meere und Küsten stellen wichtige Ökosysteme dar, die eine außerordentlich reiche Vielfalt an Leben beherbergen und eine entscheidende Rolle für die Stabilität und Nachhaltigkeit dieser Ökosysteme spielen. Anthropogene Eingriffe wie Umweltverschmutzung, Landwirtschaft und Bauwesen sowie die Auswirkungen des Klimawandels führen jedoch zu einem beschleunigten Verlust der genetischen Artenvielfalt und zur Zerstörung funktionaler Ökosysteme.
Um die künftigen Auswirkungen externer Faktoren auf die biologische Vielfalt in Küstengebieten zu minimieren, müssen wir die molekularen und zellulären Grundlagen davon verstehen, wie Organismen in Ökosystemen miteinander interagieren und wie sie reagieren, wenn externe Belastungen auf ihre natürlichen Lebensräume einwirken.
TREC – Traversing European Coastlines – ist eine paneuropäische Expedition zur Untersuchung von Küstenökosystemen und ihrer Reaktion auf die Umwelt, auf der Ebene von Molekülen bis hin zu Artengemeinschaften. Es ist das erste kontinentweite Projekt dieser Art und vereint das umfangreiche Fachwissen und die Infrastruktur des EMBL, der Tara Ocean Foundation, des Tara Oceans Consortium, des European Marine Biology Resource Centre (EMBRC-ERIC) und zahlreicher europäischer Partner.
Der Schwerpunkt der Expedition unter der Leitung des EMBL sind Küstenlebensräumen mit ihrer reichen Artenvielfalt, und die Verschmutzung und der Klimawandel, dem sie ausgesetzt sind. TREC soll so eine neue Ära der Erforschung von Küstenökosystemen einleiten. Das Projekt wird das wissenschaftliche Fachwissen zahlreicher Partner sowie deren Wissen über lokale Ökosysteme und Prozesse mit den neuesten technologischen Entwicklungen und dem Fachwissen des EMBL bei der Untersuchung des Lebens im kleinsten Maßstab kombinieren.
"Unsere Ozeane und Böden bergen noch immer eine Unzahl unbeantworteter, aber wichtiger Fragen", sagte EMBLs Generaldirektorin Edith Heard. "TREC wird das ändern. Dank der wissenschaftlichen und technologischen Fortschritte, die in den letzten Jahren erzielt wurden, verfügen wir jetzt über die notwendigen Instrumente und Kenntnisse, um Küstenökosysteme auf molekularer Ebene zu dokumentieren, zu untersuchen und zu erforschen, an Land und auf See, in Echtzeit, und mit vielen Partnern aus verschiedenen Ländern. Dies ist ein wunderbares Beispiel für Wissenschaft ohne Grenzen, für die das EMBL so bedeutend ist."
46 Regionen in 22 europäischen Ländern
Wissenschaftler*innen stehen heute die fortschrittlichsten molekular- und zellbiologischen Technologien zur Verfügung, die es ermöglichen, die Mechanismen des Lebens auf der Erde in einem Umfang und Detaillierungsgrad zu studieren, der bisher technisch nicht möglich war. Mit Methoden von der Genomik und Metabolomik bis hin zur Bildgebung und künstlicher Intelligenz können wir große Datenmengen zu den kleinsten Mikroben bis hin zu Tieren und Pflanzen in verschiedenen Ökosystemen an Land, im Wasser und an ihren Schnittstellen generieren und integrieren.
In den Jahren 2023 und 2024 wird TREC die biologische Vielfalt und die Anpassungsfähigkeit des Lebens auf molekularer Ebene an 120 Probenahmestellen entlang der Küsten in 46 Regionen in 22 europäischen Ländern untersuchen.
Die Forschenden werden Boden-, Sediment-, Aerosol- und Wasserproben sowie ausgewählte Modellorganismen und zahlreiche Umweltdaten sammeln. Ihre Arbeit wird sich auf verschiedene Lebensbereiche erstrecken – von Viren und Bakterien bis hin zu Algen, Pflanzen und Tieren – an Land, in Flussmündungen und im Meer.
Auch werden die molekularen Grundlagen der Interaktionen zwischen den Arten, die Rolle der einzelnen Organismen in ihren Lebensräumen, sowie die Art und Weise, wie Organismen auf ihre Umwelt reagieren und diese gleichzeitig beeinflussen, untersucht. Darüber hinaus werden die Forschenden Informationen über Faktoren wie das Auftreten von Schadstoffen, Antibiotika, Pestiziden oder Hormonen sowie über Temperatur, Salzgehalt und Sauerstoffgehalt sammeln.
"Meeresbiolog*innen, Ökolog*innen und Umweltschützer*innen haben die Lebensräume von Wasser und Boden seit Jahrhunderten untersucht. Mit den Technologien, die den Molekularbiolog*innen heute zur Verfügung stehen, sind wir in der Lage, diese Ökosysteme in einem noch nie dagewesenen Detailgrad zu untersuchen", so Professor Peer Bork, Direktor des EMBL Heidelberg und Koordinator des TREC-Projekts. "Gleichzeitig bedeutet der europaweite Charakter dieses Projekts, dass die Proben auf standardisierte Weise genommen werden. Dadurch wird es möglich sein, Daten aus ganz Europa zu vergleichen und auf bisher nicht mögliche Weise zu untersuchen, anstatt regional oder national begrenzte System zu verwenden."
Europäische Partnerschaften
TREC stützt sich auf die Ressourcen, Infrastruktur, Wissen und Erfahrung des EMBL, inklusive des neuen mobilen EMBL-Labors, welches entlegene Orte anfahren kann, sowie ein umfangreiches Netz europäischer Partnereinrichtungen.
Die mobilen EMBL-Labore beinhalten modernste Lichtmikroskopie, Probenvorbereitung für (Kryo)-Elektronenmikroskopie und Einzelzell-Sequenzierung. Außerdem werden fortschrittliche Instrumente für Umweltmessungen an Boden-, Luft-, Sediment- und Wasserproben zur Standardausrüstung gehören.
Die multinationalen Hauptpartner von TREC sind die Tara Ocean Foundation und das Tara OceanS Consortium, die den Tara-Schoner zur Verfügung stellen werden, sowie das European Marine Biological Resource Centre, das seine Meeresstationen als wichtige wissenschaftliche Stützpunkte entlang der Küste koordiniert und Dienstleistungen und lokales Fachwissen zur Verfügung stellt.
Durch TREC wird das EMBL einige der fortschrittlichsten Technologien, die Biowissenschaftler*innen zur Verfügung stehen, in der Praxis anwenden. Biologische Proben können empfindlich sein; sobald Wasser oder Boden aus ihrer natürlichen Umgebung entfernt werden, beginnen sich die Organismen und Ökosysteme darin zu verändern. Indem sie fortschrittliche Laborgeräte ins Feld bringen, können Wissenschaftler*innen völlig neue Fragestellungen angehen.
Einbindung der Gesellschaft in die Wissenschaft
Die Verbesserung der Gesundheit der Küsten erfordert nicht nur wissenschaftliche Erkenntnisse, sondern auch Veränderungen in der Art und Weise, wie die Gesellschaft mit unseren Meeren, Ozeanen und Küstenregionen interagiert und sie nutzt. Aus diesem Grund werden das EMBL, die Tara Ocean Foundation und viele lokale Partner entlang der TREC-Route und darüber hinaus verschiedene Aktivitäten zur Einbeziehung der Öffentlichkeit und der Schulbildung vor Ort anbieten.
Bürgerinnen und Bürger können aus erster Hand erfahren, welche Möglichkeiten die Molekularbiologie bei der Bewältigung menschlicher und planetarischer Gesundheitsprobleme bietet. Sie werden die Möglichkeit haben, von Wissenschaftler*innen zu lernen oder die Wissenschaft selbst zu erforschen, um die Verbindungen zwischen Land und Meer, dem Menschen und dem Planeten zu verstehen. Lehrer und Erzieher haben Zugang zu Schulungen und Ressourcen, um eine nächste Generation von Wissenschaftler*innen zu begeistern und zu inspirieren.
Das EMBL bedankt sich für die großzügige Unterstützung vieler Institutionen, Spender und Sponsoren, insbesondere der Manfred Lautenschläger-Stiftung, Eppendorf SE, Carl Zeiss Microscopy und Friends of EMBL, die TREC möglich machen.
Bildunterschrift: TREC – Traversing European Coastlines – ist eine paneuropäische Expedition zur Erforschung von Küstenökosystemen und ihrer Reaktion auf die Umwelt, vom Molekül bis zur Artengemeinschaft.
---
Une mission de deux ans pour étudier l'impact des activités humaines sur les mers et les régions côtières d'Europe
L'EMBL, le Laboratoire européen pour les sciences de la vie, dirige le projet TREC : le premier effort paneuropéen et interdisciplinaire visant à examiner la vie dans son contexte naturel, à des échelles sans précédent.
Les littoraux européens sont des environnements riches en biodiversité et constituent des lieux importants pour l'industrie, la culture et le patrimoine. Quarante pour cent de la population européenne vit dans une région côtière, et de nombreuses sociétés européennes ont été, et sont encore, définies par leurs relations avec la mer.
Nos mers et nos régions côtières sont des écosystèmes clés qui abritent une diversité de vie extrêmement riche, et jouent un rôle essentiel dans la stabilité et la durabilité d'écosystèmes plus vastes. Toutefois, les interférences causées par les activités humaines telles que la pollution, l'agriculture et la construction de bâtiments, ainsi que l'impact du changement climatique, entraînent une perte accélérée de la diversité génétique des espèces et la destruction des écosystèmes fonctionnels.
Pour minimiser l'impact futur de ces facteurs externes sur la biodiversité côtière, nous devons comprendre, au niveau moléculaire et cellulaire, comment les organismes interagissent dans ces écosystèmes et comment ils réagissent aux pressions externes dans le contexte de leurs habitats naturels.
TREC, Traversing European Coastlines, est une expédition paneuropéenne visant à étudier les écosystèmes côtiers et leur réaction à l'environnement, et ceci à plusieurs échelles, des molécules aux communautés. Il s'agit du premier projet de ce type à l'échelle du continent, qui combine la riche expertise et l'infrastructure de l'EMBL, de la Fondation Tara Océan, du consortium Tara OcéanS, du Centre européen de ressources en biologie marine et de nombreux partenaires européens.
Mené par l'EMBL, TREC vise à lancer une nouvelle ère dans l'exploration des écosystèmes côtiers, en portant un regard spécifique sur les habitats côtiers, avec leur riche diversité d'espèces mais aussi leur exposition à la pollution et au changement climatique. Cette expédition combinera l'expertise scientifique de nombreux partenaires, nos connaissances actuelles sur les écosystèmes et les processus locaux, ainsi que les derniers développements technologiques et l'expertise de l'EMBL dans l'étude de la vie à sa plus petite échelle.
"Notre océan et nos sols cachent encore une myriade de questions sans réponses – mais qui sont tout à fait essentielles", a déclaré Edith Heard, directrice générale de l'EMBL. "TREC va changer cela. Grâce aux progrès scientifiques et technologiques réalisés ces dernières années, nous disposons désormais des outils et des connaissances nécessaires pour documenter, examiner et sonder les écosystèmes côtiers au niveau moléculaire, sur terre et en mer, en temps réel, avec de nombreux partenaires de différents pays. C'est un merveilleux exemple d'une science sans frontières, pour laquelle l'EMBL joue un rôle si important.".
46 régions dans 22 pays européens
Les scientifiques disposent désormais des technologies les plus avancées en matière de biologie moléculaire et cellulaire. Celles-ci permettent d'étudier, sur le terrain, les mécanismes de la vie sur Terre à une échelle et à un niveau de détail qui n'étaient pas envisageables auparavant. De la génomique et la métabolomique, en passant par l'imagerie et l'intelligence artificielle, nous pouvons générer et intégrer de grands volumes de données; des plus petits microbes jusqu'aux animaux et aux plantes, dans différents écosystèmes sur terre, dans l'eau et à leur interface.
TREC examinera la biodiversité et l'adaptabilité de la vie à l'échelle moléculaire sur 120 sites d'échantillonnage côtiers, dans 46 régions de 22 pays européens entre 2023 et 2024.
Les scientifiques collecteront des échantillons de sol, de sédiments, d'aérosols et d'eau, ainsi que des organismes modèles sélectionnés et de nombreuses données environnementales. Leurs travaux porteront sur différentes échelles de la vie, des virus et bactéries aux algues, plantes et animaux; aussi bien sur terre que dans les estuaires des rivières et en mer.
L'expédition permettra également d'étudier au niveau moléculaire les interactions entre les espèces, mais aussi le rôle des organismes dans leurs habitats et la manière dont ils réagissent à leur environnement, tout en exerçant une influence sur ce dernier. En complément de cela, les scientifiques collecteront des informations sur des facteurs tels que la présence de polluants, d'antibiotiques, de pesticides ou d'hormones, mais aussi des niveaux de températures, de salinité, et d'oxygène.
"Les biologistes marins, les écologistes et les environnementalistes étudient les habitats de l'eau et du sol depuis des siècles. Grâce aux technologies dont disposent aujourd'hui les biologistes moléculaires, nous sommes en mesure d'étudier ces écosystèmes avec un niveau de détail sans précédent", a déclaré le professeur Peer Bork, directeur de l'EMBL Heidelberg, et coordinateur du projet TREC. "De plus, les échantillons seront prélevés de manière standardisée grâce à la nature paneuropéenne de ce projet. Cela permettra de comparer et de sonder les données à travers l'Europe, à la place d'un système régional ou national, et d'une manière qui n'était pas possible auparavant."
Partenariats européens
TREC s'appuie sur les ressources, l'infrastructure, les connaissances et l'expertise fournies par l'EMBL, avec notamment les nouveaux laboratoires mobiles de l'EMBL capables de se rendre dans des lieux éloignés, ainsi que sur un vaste réseau d'institutions partenaires en Europe.
Les laboratoires mobiles de l'EMBL incluront la microscopie optique de pointe, la préparation d'échantillons pour la microscopie (cryo)-électronique et la génomique unicellulaire. De plus, des outils avancés pour les mesures environnementales à partir d'échantillons de sol, d'air, de sédiments et d'eau feront partie de l'équipement standard.
Les principaux partenaires multinationaux de TREC sont, d'une part, la Fondation Tara Océan et le consortium Tara OcéanS, qui fourniront la goélette Tara, l'échantillonnage en mer et la collecte de métadonnées; et d'autre part, le Centre européen de ressources biologiques marines (EMBRC-ERIC), qui coordonnera ses stations marines en leur qualité de bases scientifiques essentielles le long des régions côtières, et offrira des services et une expertise locale.
Grâce à TREC, l'EMBL apportera sur le terrain certaines des technologies les plus avancées dont disposent les scientifiques des sciences du vivant. Les échantillons biologiques peuvent être fragiles : dès que l'eau ou le sol sont retirés de leur environnement naturel, les organismes et les écosystèmes qu'ils contiennent commencent à changer. En apportant sur le terrain des outils de laboratoire avancés, les scientifiques peuvent aborder de nouvelles questions.
Faire participer les communautés à la science
L'amélioration de la santé des écosystèmes côtiers nécessitera des connaissances scientifiques, mais aussi des changements dans la façon dont nos sociétés interagissent avec nos mers, nos océans et nos régions côtières, et comment elles les utilisent. C'est pourquoi l'EMBL, la Fondation Tara Océan et de nombreux partenaires locaux proposeront également différentes activités de sensibilisation auprès du grand public et des écoles, pendant l'expédition TREC et au-delà.
Les citoyens pourront découvrir en personne le pouvoir de la biologie moléculaire pour relever les défis de la santé humaine et planétaire. Ils pourront écouter des scientifiques ou explorer la science par eux-mêmes pour comprendre les liens existants entre la terre et la mer, les humains et la planète. Les enseignants et les éducateurs pourront accéder à des formations et à des ressources éducatives pour faire participer et inspirer la prochaine génération de scientifiques.
L'EMBL remercie le soutien généreux de nombreuses institutions, donateurs et sponsors, en particulier la Fondation Manfred Lautenschläger, Eppendorf SE, Carl Zeiss Microscopy et 'Friends of EMBL', qui ont rendu possible l'expédition TREC.
---
Una missione di due anni per studiare l'impatto umano sui mari e le regioni costiere europee
Il laboratorio europeo di scienze della vita EMBL coordina il progetto TREC: il primo sforzo paneuropeo e interdisciplinare per studiare la vita nel suo contesto naturale ad una scala senza precedenti.
Le coste europee sono ambienti ricchi di biodiversità che rappresentano anche importanti siti industriali, culturali e patrimoniali. Il 40% della popolazione europea vive in regioni costiere, e molte società europee sono state e sono tuttora definite dal loro rapporto con il mare.
I nostri mari e le nostre coste rappresentano ecosistemi chiave che ospitano una ricchissima diversità di forme di vita, e svolgono un ruolo fondamentale per la stabilità e la sostenibilità di ecosistemi più ampi. Tuttavia le interferenze antropiche come l'inquinamento, l'agricoltura e la costruzione di edifici, nonché l'impatto del cambiamento climatico, stanno portando a una accelerazione della perdita di diversità genetica delle specie e alla distruzione degli ecosistemi funzionali.
Per minimizzare l'impatto futuro di questi fattori esterni sulla biodiversità costiera, dobbiamo comprendere le basi molecolari e cellulari dell'interazione degli organismi negli ecosistemi e la loro reazione alle pressioni esterne nel contesto dei loro habitat naturali.
TREC – Traversing European Coastlines – è una spedizione paneuropea per studiare gli ecosistemi costieri e la loro risposta all'ambiente, su scale di grandezza che vanno dalle molecole alle comunità. È il primo progetto di questo tipo a livello continentale, e combina le profonde competenze e infrastrutture del laboratorio europeo di scienze della vita EMBL, della Fondazione Tara Ocean, del Consorzio Tara OceanS, dell'European Marine Biological Resource Centre, e di numerosi partner europei.
Guidato dall'EMBL, il progetto TREC è incentrato sugli habitat costieri, con la loro ricca diversità di specie e l'inquinamento e i cambiamenti climatici a cui sono esposti, e ha l'obiettivo di avviare una nuova era di esplorazione degli ecosistemi costieri. Combinerà le competenze scientifiche dei numerosi partner e le conoscenze attuali degli ecosistemi e dei processi locali, con i recenti sviluppi tecnologici e le competenze dell'EMBL nello studio della vita su piccola scala.
"I nostri oceani e i nostri suoli nascondono ancora una miriade di domande importanti senza risposta", ha dichiarato la Direttrice Generale dell'EMBL Edith Heard. "Il progetto TREC cambierà questa situazione. Grazie ai progressi scientifici e tecnologici compiuti negli ultimi anni, ora disponiamo degli strumenti e delle conoscenze necessarie per documentare, esaminare e sondare gli ecosistemi costieri a livello molecolare, sulla terraferma e in mare, in tempo reale, con molti partner di diverse nazioni. Questo è un meraviglioso esempio di scienza senza frontiere, in cui l'EMBL svolge un ruolo importante".
46 regioni in 22 Paesi europei
Gli scienziati hanno oggi a disposizione le più avanzate tecnologie di biologia molecolare e cellulare che consentono di studiare – sul campo – i meccanismi della vita sulla Terra su una scala e a un livello di dettaglio che prima non erano possibili. Dalla genomica e dalla metabolomica all'imaging e all'intelligenza artificiale, possiamo generare e integrare grandi quantità di dati, dai microbi più piccoli fino agli animali e alle piante in diversi ecosistemi: sulla terraferma, nell'acqua e nella loro interfaccia.
Il progetto TREC esaminerà la biodiversità e l'adattabilità molecolare della vita su scala molecolare in 120 siti di campionamento costiero in 46 regioni di 22 Paesi europei nel corso del 2023 e 2024.
Gli scienziati raccoglieranno campioni di suolo, sedimenti, aerosol e acqua, oltre a organismi modello selezionati e numerosi dati ambientali. Il loro lavoro coprirà le diverse scale della vita – da virus e batteri ad alghe, piante e animali – sulla terraferma, negli estuari dei fiumi e in mare.
Studieranno le basi molecolari delle interazioni tra le specie, il ruolo degli organismi nei loro habitat e il modo in cui gli organismi rispondono e allo stesso tempo influenzano il loro ambiente. Inoltre, i ricercatori raccoglieranno informazioni su fattori quali la presenza di inquinanti, antibiotici, pesticidi o ormoni, ma anche sulla temperatura specifica, la salinità e i livelli di ossigeno.
"I biologi marini, gli ecologisti e gli ambientalisti hanno studiato gli habitat dell'acqua e del suolo per secoli. Con le tecnologie che i biologi molecolari hanno a disposizione oggi, siamo in grado di studiare questi ecosistemi con un livello di dettaglio senza precedenti", ha dichiarato il Prof. Peer Bork, Direttore della sede EMBL di Heidelberg e coordinatore del progetto TREC. "Allo stesso tempo, la natura paneuropea di questo progetto consentirà un campionamento standardizzato. In questo modo sarà possibile confrontare e sondare i dati a livello europeo, non regionale o nazionale, in una maniera che finora non era possibile."
Partnerships Europee
TREC si basa sulle risorse, le infrastrutture, le conoscenze e le competenze fornite dall'EMBL, compresi i nuovi laboratori mobili dell'EMBL in grado di raggiungere località remote, insieme a una vasta rete di istituzioni partner europee.
I laboratori mobili dell'EMBL comprenderanno microscopia ottica all'avanguardia, preparazione dei campioni per la microscopia (crio)elettronica e genomica a singola cellula. L'attrezzatura standard comprenderà inoltre strumenti avanzati per la misurazione ambientale di campioni di suolo, aria, sedimenti e acqua.
I principali partner multinazionali di TREC sono la Fondazione Tara Ocean e il consorzio Tara OceanS, che forniranno la goletta Tara e il campionamento oceanico e la raccolta di metadati, nonché l'European Marine Biological Resource Centre (EMBRC-ERIC), che coordina le sue stazioni marine come importanti basi scientifiche lungo la costa e fornisce servizi e competenze locali.
Attraverso TREC, EMBL porterà sul campo alcune delle tecnologie più avanzate a disposizione degli esperti nelle scienze della vita. I campioni biologici possono essere fragili: non appena l'acqua o il terreno vengono rimossi dal loro ambiente naturale, gli organismi e gli ecosistemi al loro interno iniziano a cambiare. Portando sul campo strumenti di laboratorio avanzati, gli scienziati possono affrontare domande completamente nuove.
Coinvolgere le comunità con la scienza
Il miglioramento della salute delle coste richiederà non solo conoscenze scientifiche, ma anche cambiamenti nel modo in cui le società interagiscono e utilizzano i nostri mari, oceani e regioni costiere. Per questo motivo EMBL, la Fondazione Tara Ocean e molti altri partner locali offriranno diverse attività di coinvolgimento del pubblico e di educazione scientifica lungo il percorso del progetto TREC e oltre.
I cittadini potranno toccare con mano il potere della biologia molecolare nell'affrontare le sfide della salute umana e planetaria. Potranno ascoltare gli scienziati o esplorare loro stessi la scienza per comprendere le connessioni tra terra e mare, tra gli esseri umani e il pianeta. Gli insegnanti e gli educatori potranno accedere a formazione e risorse per coinvolgere e ispirare la prossima generazione di scienziati.
L'EMBL riconosce il generoso sostegno di molte istituzioni, donatori e sponsor, in particolare della Fondazione Manfred Lautenschläger, di Eppendorf SE, di Carl Zeiss Microscopy e del gruppo 'Friends of EMBL', che hanno contribuito a rendere possibile il progetto TREC.
---
Una misión de dos años para estudiar el impacto humano en los mares y regiones costeras de Europa
El laboratorio europeo de las ciencias de la vida, el EMBL, lidera el proyecto TREC: el primer esfuerzo paneuropeo e interdisciplinar para examinar la vida en su contexto natural y a diferentes escalas, sin precedentes hasta la fecha.
Las costas europeas son entornos muy ricos en biodiversidad, que a la vez representan importantes emplazamientos industriales, culturales y patrimoniales. El 40% de la población europea vive en una región costera, y muchas sociedades europeas se han definido, y siguen definiéndose, por sus relaciones con el mar.
Nuestros mares y costas representan ecosistemas clave que albergan una enorme riqueza de biodiversidad y desempeñan un papel fundamental en la estabilidad y sostenibilidad de otros ecosistemas mayores, de los que forman parte. Sin embargo, interferencias antropogénicas tales como la contaminación, la agricultura y la construcción, así como el impacto del cambio climático, están provocando la pérdida acelerada de la diversidad genética de las especies y la destrucción de ecosistemas funcionales.
Para minimizar el impacto futuro de estos factores externos sobre la biodiversidad costera, debemos comprender las bases moleculares y celulares sobre cómo los organismos interactúan en los ecosistemas y cómo estos reaccionan a las presiones externas en sus hábitats naturales.
TREC – Traversing European Coastlines – es una expedición paneuropea para estudiar los ecosistemas costeros y su respuesta a cambios en el entorno, a una escala que va desde las moléculas hasta las comunidades. Es el primer proyecto continental de este tipo y combina la experiencia e infraestructura del laboratorio europeo de las ciencias de la vida EMBL, la Fundación Tara Ocean, el Consorcio Tara Oceans, el Centro Europeo de Recursos de Biología Marina así como un gran número de socios europeos.
Dirigido por el EMBL y centrado en los hábitats costeros y su rica diversidad de especies, así como en la contaminación y el clima cambiante a los que están expuestos, TREC pretende iniciar una nueva era de exploración de los ecosistemas costeros. Combinará la experiencia científica de muchos socios, así como los conocimientos sobre los ecosistemas y procesos locales, con los últimos avances tecnológicos del EMBL y su experiencia en el análisis de la vida a las escalas más pequeñas.
"Nuestros océanos y nuestros suelos esconden todavía un sinfín de preguntas sin respuesta, pero de gran importancia", declara Edith Heard, Directora General del EMBL. "TREC cambiará esta situación. Debido a los avances científicos y tecnológicos de los últimos años, disponemos en la actualidad de las herramientas y los conocimientos necesarios para documentar, examinar y sondear ecosistemas costeros a nivel molecular, en tierra y mar, en tiempo real y con muchos colaboradores de distintas naciones. Este es un maravilloso ejemplo de ciencia sin fronteras en la que el EMBL desempeña un papel importante".
46 regiones de 22 países europeos
Los científicos y científicas disponen actualmente de las más avanzadas tecnologías en biología molecular y celular que permiten estudiar -sobre el terreno- los mecanismos de la vida en la Tierra a una escala y con un nivel de detalle que antes no era posible. Desde la genómica y la metabolómica hasta la obtención de imágenes y la inteligencia artificial, podemos generar e integrar grandes volúmenes de datos. Datos que provienen de los microbios más pequeños hasta los animales y plantas de distintos ecosistemas terrestres y acuáticos, así como en su interfaz.
TREC examinará la biodiversidad y la adaptabilidad molecular de la vida a escala molecular en 120 puntos costeros de muestreo, de 46 regiones en 22 países europeos durante 2023 y 2024.
Los científicos recogerán muestras de tierra, sedimentos, aerosoles y agua, así como organismos modelo seleccionados y numerosos datos medioambientales. Su trabajo abarcará diferentes escalas -desde virus y bacterias hasta algas, plantas y animales- en tierra, en estuarios fluviales y en el mar.
Estudiarán la base molecular de las interacciones entre especies, el papel de los organismos en sus hábitats, cómo responden a su entorno y cómo, al mismo tiempo, éstos influyen en él. Además, el personal investigador recogerá información sobre factores como la presencia de contaminantes, antibióticos, pesticidas u hormonas, pero también sobre la temperatura específica, la salinidad, los niveles de oxígeno, etc.
"Los biólogos marinos, los ecologistas y ambientalistas llevan siglos estudiando los hábitats del agua y del suelo. Con las tecnologías de que disponen hoy los biólogos moleculares, podemos estudiar estos ecosistemas con un nivel de detalle sin precedentes", afirma el Profesor Peer Bork, Director de la sede del EMBL en Heidelberg y coordinador del proyecto TREC.
"Al mismo tiempo, la naturaleza paneuropea de este proyecto significa que las muestras se tomarán de forma estandarizada. Esto permitirá comparar y examinar datos de toda Europa y no a nivel regional o nacional, hecho que antes no era posible."
Colaboraciones europeas
TREC se basa en los recursos, la infraestructura, los conocimientos y la experiencia proporcionados por el EMBL, incluidos los nuevos Laboratorios Móviles del EMBL, capaces de desplazarse a lugares remotos, junto con una amplia red de instituciones europeas asociadas.
Los Laboratorios Móviles del EMBL incluirán microscopía óptica de vanguardia, preparación de muestras para (crio)microscopía electrónica y genómica unicelular. Además, contará con diversas herramientas avanzadas para mediciones medioambientales a partir de muestras de tierra, aire, sedimentos y agua, que formarán parte del equipamiento estándar.
Los principales socios internacionales de TREC son la Tara Ocean Foundation y el Tara OceanS Consortium, que proporcionarán la goleta Tara y la infraestructura para el muestreo oceánico y la recopilación de metadatos, así como el Centro Europeo de Recursos Biológicos Marinos (EMBRC-ERIC), que coordina sus estaciones marinas como importantes bases científicas a lo largo de la costa y proporciona servicios y experiencia local.
A través de TREC, el EMBL pondrá sobre el terreno algunas de las tecnologías más avanzadas de que disponen los especialistas en las ciencias de la vida. Las muestras biológicas pueden ser frágiles: en cuanto el agua o la tierra se sacan de su entorno natural, los organismos y ecosistemas que contienen empiezan a cambiar. Llevando al terreno herramientas avanzadas de laboratorio, los científicos podrán abordar cuestiones totalmente diferentes.
Involucrar a la comunidad con la ciencia
La mejora de la salud costera no sólo requerirá conocimientos científicos, sino también cambios en la forma en que las sociedades utilizan e interactúan con nuestros mares, océanos y regiones costeras. Por ello, el EMBL, la Tara Ocean Foundation y muchos socios locales ofrecerán también diferentes actividades de participación ciudadana y educación escolar a lo largo de la ruta de TREC. Los ciudadanos podrán experimentar de primera mano el poder de la biología molecular para afrontar los retos de la salud humana y planetaria.
Podrán aprender de los científicos o explorar la ciencia por sí mismos para comprender las conexiones entre la tierra y el mar, los seres humanos y el planeta. Los profesores y educadores podrán acceder también a formación y recursos para implicar e inspirar a la próxima generación de científicos y científicas.
El EMBL agradece el generoso apoyo de muchas instituciones, donantes y patrocinadores, en particular de la Manfred Lautenschläger-Foundation, Eppendorf SE, Carl Zeiss Microscopy y Friends of EMBL, que han contribuido a hacer posible TREC.
---